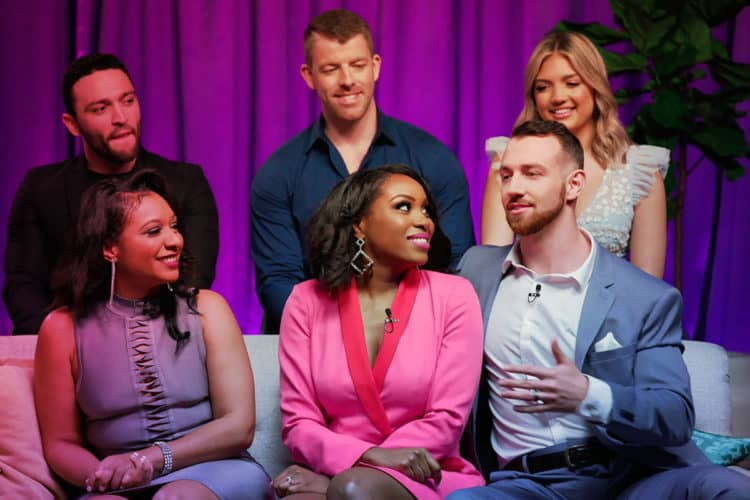 So far in the second season of Love is Blind, families of the couples are all asking the same question, Are you ready? It's not every day that you get to meet someone and marry them after barely knowing each other for a month. This exercise is as unorthodox as any can get, and the people outside of it are as clueless as the people in it. One thing is certain however, there are weddings in the offing, and at the end of it all, some people are going to say "I do". The last episode came to an end when Shayne was about to meet his future in-laws. Natalie had to mentally prepare her parents, who'd been sidelined by the whole process. Shayne walks in to meet Natalie's parents in person. From the beginning, it was Natalie's goal that they'd get together, and perhaps like him for who he is. Lucky for Natalie, Shayne is also on board when it comes to the family train. He comes bearing gifts and emphasizes more on the importance of family in the process. Asked what inspired her choice, Natalie says that Shayne's humor made him number one on her list. Shayne, on the other hand, loved that Natalie was vulnerable from the get-go. Though Natalie's mum was a bit skeptical at the beginning, meeting Shayne calms her nerves. She gets different energy from Shayne, and that's enough for her to accept him as part of the family.
Only nine days to the wedding, Mallory and Sal get into an argument over a blast from the past. It's morning, and everyone's in a separate bedroom. Sal's ex had come into contact with his sisters and caused a bit of drama. The pair had previously agreed on a consensually non-monogamous relationship which apparently ended when Sal decided to take to the pods. Mallory is disturbed by the fact that Sal introduced the girl to his sisters. "Was there a promise?" She asks. According to Sal, the only promise he has made is to be with Mallory, and he does not take that lightly. Mallory is forgiving, but if something else comes up, they are done. Deepti is at lunch with Shake, and the conversations are more or less the same. Because of the emotional connection he feels towards Deepti, he thinks she is the perfect girl for him. He wants everything they have, but he wants the physical as well. "We should be on top of each other non-stop," he says. He's not willing to give the relationship up, but that small aspect of it is too big to ignore. The physical connection has been overshadowed by the emotional one. Will that be a problem? Deepti believes that relationships do not have to be so crazy right away. What Abhishek is experiencing is the paradox of choice. When you have so many options, it is difficult to choose one. Somehow, they'll figure it out.
Iyanna had previously warned us that her parents are conservative. As soon as they walk in, they meet Jarrette in the kitchen. It's only a matter of seconds before Jarrette thinks he is in the hot seat. Jarrette convinces them that he is ready to settle down and start a family. Besides the small conflict over his extroverted demeanor and her introverted nature, Jarrette and Iyanna have not had an argument yet. He assures her parents that he's ready to let go of some bits of his single life. After meeting Natalie's parents, Shayne is eager for Natalie to meet his mom. He's gone on and on about her, and it would mean the world for him if his two favorite ladies in the world got along. When Shayne's mum asks what made Natalie pick her son, Natalie says she was sold by the third day of talking to Shayne. The emotional connection between the two of them, Natalie insists, was too hard to ignore. Shayne is a happy man when his mother and future wife turn out to like each other. Families are now out of the way, and the reactions are mixed. While it's clear that all this has happened so fast, the show has to go on. In comes Vanessa and Nick Lachey, who guide the couples and some of their families on choosing the best dresses and suits for their big day. With the weddings only a week away, part of the couples' families and friends have shown up to help them get the perfect fit. Mallory has brought her best friends who she's known for more than fifteen years, Iyanna shows up to the fitting with her sister-in-law to be, Natalie has brought her sister, her mom, and Shayne's mom. Natalie and Shayne's moms are meeting for the first time, and they couldn't be more supportive of their children's wedding. Deepti is here with a friend and her sister.
The ladies work with a stylist to bring the visions of their wedding gowns to life. Deepti knows for a fact that she should be in a sari. She finally finds a dress that makes her feel like a bride, but will she be married in the end? As soon as Mallory walks into the room in her gown, all jaws drop to the floor. The 'wows' do not go unnoticed. Mallory tries on a different dress, even more gorgeous than the first one. She's convinced that she's found her dress, but wishes that her mom and sister could be there to share the moment with her. Iyanna steps out in a sparkly dress that everybody likes but her. Her second fit, an off-shoulder lacy marvel is a dress that was made for her. Jarrette's sister agrees that the dress is everything and some more. Over at the boy's side, as Jarrette tries on his suit, the conversation about his reservations comes up. Since Iyanna is set on getting her Master's degree, the financial situation between them may be a bit complicated. At the ladies' corner, Danielle's mom thinks there's something off about her first dress. When she comes in her second dress, Danielle's mom is overwhelmed with emotion. " Honey, it's so you," she says while fighting her tears. Salvador arranges an intimate dinner for Mallory, which makes up for the drama about his ex. Life out of the bubble has been an emotional rollercoaster, and the least he could do is be a caring man. The eighth episode comes to an end when Danielle and Nick treat us to yet another insensible fight. She's got a week to figure out whether it's going to work out.
Tell us what's wrong with this post? How could we improve it? :)
Let us improve this post!