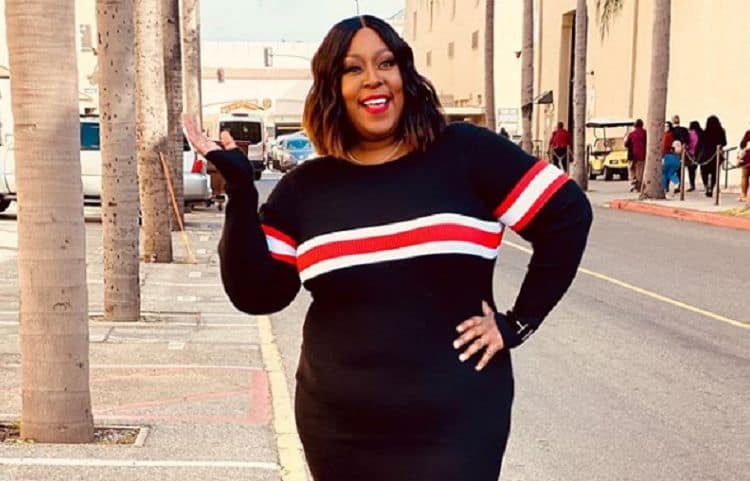 There's a new dance competition heading E!'s way, and if the early signs are anything to go by, it's a corker. The Funny Dance Show aims to showcase the lighter side of dance by taking a bunch of comedians and tasking them with learning a series of choreographed routines. The eventual winner will be awarded $10,000 for the charity of their choice. Judging the contestants will be Allison Holker, Justin Martindale, and Loni Love, a comedian who, over the past decade or so, has managed to rise to the top of the food chain as an author, TV host, roving reporter, and stand up. Find out more about her with these ten little facts.
1. Early Days
Before she came to prominence as a comedian, Love worked as an electrical engineer. Her interest in the profession came after she spent a brief time working on a General Motors assembly line attaching doors on 1993 Oldsmobile Cutlasses. With her interest sparked, she enrolled in an electrical engineering degree course at Prairie View A&M University in Texas… only to discover standup comedian after winning a $50 competition. She spent the rest of college flipping between studying and honing her talents on stage. Her early career continued the trend: during the day, she worked as an engineer at Xerox; during the night, she entertained the crowds at the Laugh Factory. After 8 years of juggling her two very different talents, she left Xerox to concentrate on comedy.
2. Collaborator
During her Love Train tour of comedy clubs and universities, Love was frequently joined on stage by numerous other female comics, Chelsea Handler being just one of them. The two must have struck up a close bond, as Handler has since become one of Love's most frequent collaborators. "Chelsea has done so much to help stand-up in general, it doesn't matter what the gender is," Love has said of her friend to The Tower Light. "In her own way, with her show, she's helping to make stand-up popular again."
3. Girl Power
Throughout her career, Love has been a vocal advocate for increased female representation in comedy, believing a female perspective can offer a whole different perspective to the worn-out subjects of male-driven comedy. "A lot of times females feel like, 'I have to be a man when I do stand-up," she told The Tower Light. "You don't. You don't have to act like a man to get people's attention. Be a female, and there are certain things females can do that males can't. "You can talk about certain issues that men don't know about," she went on to explain. "Also, if you're working with a crowd, you can flirt with a man and the crowd will be more comfortable, more so than a man flirting with a man."
4. Author
These days, Love's more than just a comedian and TV personality. Over the past few years, she's moved into writing, with two books to her name so far. The first, "Love Him Or Leave Him, but Don't Get Stuck With the Tab: Hilarious Advice for Real Women", tackles the world of relationships in Love's usual no-nonsense style. Her latest, which is due to hit the shelves in May 2020, is "I Tried to Change So You Don't Have To: True Life Lessons", a laugh out loud chronicle of Love's attempt to abandon self-improvement and learn to love herself instead.
5. WW Ambassador
In May 2019, Love was announced as the new ambassador for WW (formerly known as Weight Watchers). "I want to learn to keep eating real fresh food but make healthy choices so I can be my best," the comedian told People after the announcement. "I also have great concerns for the overall health in my community and recognize we don't take care of ourselves in the best way. Sometimes you need help. WW is a tool that can help!" Apparently, Love's interest in WW was inspired by none other than Oprah Winfrey. "She told me that I can still have my tequila shots," Love explained. "I was sold!"
6. Millionaire
Since exploding onto the comedy scene in 2003, Love has worked her way up through the ranks, working steadily across a range of film and TV projects and pulling in several respectable endorsement deals. The rewards of her efforts are clear to see: as of March 2020 (and according to Celebrity Net Worth) the comedian is worth a cool $1 million.
7. Loni in Love
Love is currently exactly in that. Since August 2018, she's been dating 55-year-old actor and small business owner, James Welsh, and she's clearly enamored. "He's a really nice guy," she told PEOPLE about her partner, who she met on a dating app. "He hit me, and I was like 'Wow, he has really kind looking eyes,'" "Everybody is so surprised, and I'm surprised myself," she added. "We get along, we like each other, we understand each other."
8. Roasted
Love's been a WW ambassador for almost a year, and while it may be doing wonders for her waistline, it's not necessarily doing the same for her popularity. During a recent episode of The Real, Love got emotional after revealing that before starting the WW program, she'd never really understood what healthy eating meant. "Let me tell you, I did not know how to eat," she shared "Growing up in the projects, we just had to eat what we could. A lot of women in the African American community don't know how to eat because we grew up that way." The comment triggered a social media backlash, with keyboard warriors latching on to Love's comment that black women "don't know how to eat" and giving it a serious rinsing.
9. Film Star
In 2004, Love made her first appearance on the big screen as a waitress in the comedy-drama, With or Without You. Since then, she's appeared in numerous movies, including Soul Place (2004), Bad Asses (2014), Gutshot Straight (2014), Paul Blart: Mall Cop 2 (2015), Bad Asses on the Bayou (2015), Mother's Day (2016), and Adopt a Highway (2019).
10. Award Winner
Since 2013, Love has appeared as one of the co-hosts on the daytime talk show, The Real. Along with her fellow hosts, Tamera Mowry, Adrienne Bailon, Jeannie Mai, and Tamar Braxton, she's won a slew of awards for her work, including two NAACP Image Awards and a Daytime Emmy Award.
Tell us what's wrong with this post? How could we improve it? :)
Let us improve this post!