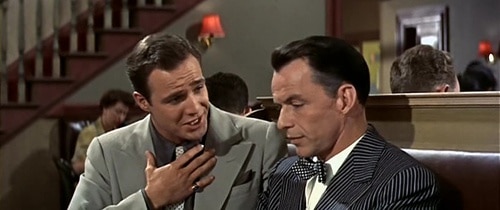 There are a lot of incidents that happen on set that make people wonder how actors really feel about each other, but there doesn't appear to be any misconception when it came to how Frank Sinatra really felt about Marlon Brando on the set of Guys and Dolls. It does sound as though Sinatra had beef with Brando to start with for getting the lead role he wanted, especially since Brando couldn't sing nearly half as good as Sinatra and was a method actor, something that Frank detested since he couldn't stand the idea of people flubbing their lines so much and getting away with it. He even took to calling Brando 'Mumbles' after a while since his singing voice did improve, but not by enough to suit Sinatra. Brando fired back more than once after it was made known that the two men didn't like each other and would pick at Sinatra over his receding hairline, thereby making things worse and inciting Frank to keep talking. In short, both men couldn't stand each other the set of the movie and it was quite possible that apart from being on screen together they didn't even want to be in the same vicinity as each other.
This has happened more than a few times in the history of cinema since there are people that have a huge issue with one another for some reason when on set, but the reasons tend to vary. In this case, one could say it's that Sinatra wanted the title role since he could act and sing, whereas he didn't even think Brando was that great of an actor. Opinions are bound to vary when it comes to such things since some people might say that Brando was one of the greatest actors ever, while others might point that he needed to have his lines placed somewhere off-screen where he could read them since he was notorious for not wanting to learn his lines. This irritated the hell out of Sinatra, who like so many other actors knew how to study his lines and heighten his craft by being able to perform when it was needed, and that's easy to understand. The ego of each man was a little too great at this time to really back down, so one can just imagine how this must have played out on set now and again since placing two people that are very strong-willed and don't want to be told no on the same set is bound to create a few sparks here and there.
It didn't help during one scene when Sinatra was supposed to be eating a piece of cheesecake and Brando was flubbing his lines over and over, since at one point Sinatra rose from his seat shouting at anyone within earshot how much he was expected to eat since as it's been discussed in other articles, actors don't want to eat until they're ready to burst, and each take that they have to eat, many of them try to eat as little as possible, or do their best to purge themselves afterward. Obviously neither of these methods worked for Sinatra, but it's easy to imagine that trying to work with someone that refuses to learn their lines would be more than a little frustrating. Just imagine working with a co-worker that refuses to learn the job and just wants the paycheck, and how frustrating it might be to continually make them look good while trying to do your own job. Sinatra definitely had an ego, but trying to blame him for Brando's shortcomings is kind of difficult since a lot of people have had beef with Brando over the years for various reasons, as he wasn't always a well-respected actor throughout much of his career. To say that he was a good actor was all well and good, but to think that he was one of the best is a stretch since he had his good movies, but what went on behind the scenes appears to have been more conflict and drama than many people wanted to deal with.
A person should wonder if Sinatra was any easier to deal with since like it or not, he had a pretty big ego too. But instead of blaming both parties, it's easier to think that at some point they simply pushed through and made the movie and likely didn't interact with each other after that. A lot of people might look at the movies and figure that the actors are having a good time and are getting along just fine, but now and again we get to find out that certain actors just couldn't stand each other and were more than ready to throw down now and again for one reason or another. But seriously, putting two big stars such as this in the same movie should have raised a red flag or two.