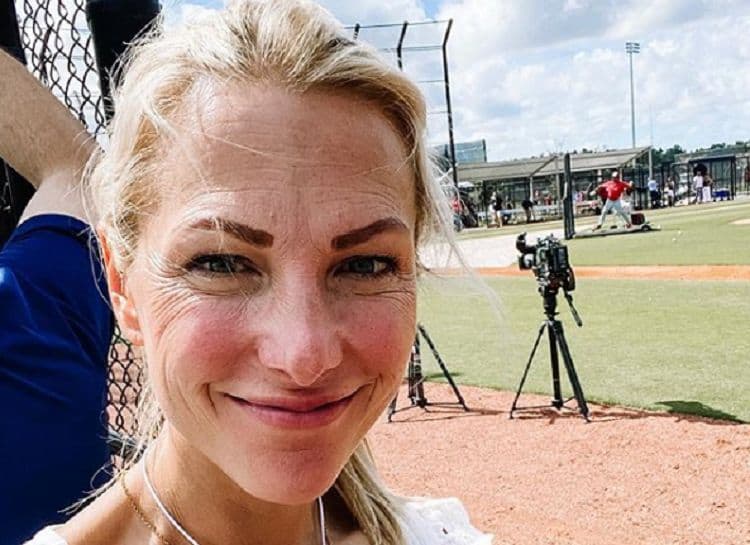 Lindsay Czarniak credits her rising career to not memorizing news but in knowing the full story. It has helped her become a successful reporter, and one significant achievement is being the first sportscaster to talk to various players when Sean Taylor died. That moment remains memorable, and she has also had the opportunity to be coached by wrestler Ronda Rousey who realized that Lindsay was a lost cause. So, let's get into the details of what more you might not know about this renowned sports anchor.
1. Her son helped to choose her daughter's name
Some children will throw a tantrum the minute they realize that they will not be the center of attention anymore after another comes into the family. Some are, however, always ready to love and care for their younger siblings. Delano, at first, did not want a sibling but then, later on, could not wait to welcome his little sister and become the dotting older brother. Therefore every time he would refer to the unborn baby as "Sibby," a short form for sibling. With time Lindsay and her husband came to love the name and found a name that would go with the given nickname; hence they named their daughter Sybil.
2. How she met her husband
Lindsay had just finished covering the Olympics held in Beijing in 2008 when she went back to work at NBC4 and found a new face. The new guy was Craig, and during a commercial break, the two officially met, and they clicked. They began talking and found out they both liked live music and Whatchamacallit candy bars. Besides, since every girl wants some attention, Lindsay could not help but feel like she was the only woman in the world who mattered whenever she spoke to Craig, as she told Article Bio.
3. She and her husband kept the sex of their second child a secret
Lindsay and Craig thought it best to keep the sex of their second-born away from the public and even family. Matter of fact is even Delano did not know if he was getting a little brother or sister; hence he stuck with "sibling." Still, while Lindsay did not mind having either sex, Craig was hoping that the second child would be a girl so the family would be a complete set.
4. She was not happy about getting an early maternity leave
As much as getting enough rest before her baby was due was important, Lindsay was not ready to go on maternity leave yet. She told People that she felt guilty about it even though she would have more time to be with her son. For her, being away from her job due to maternity leave, yet there was still no baby did not make sense. Fortunately, it gave her time to watch how other mothers of two children handled the family.
5. She kept her relationship with Craig a secret for months
People have been told to keep three things private; their income, next move, and love life. Lindsay and Craig took this advice to heart and thought it best not to tell anyone that they were dating. Perhaps it would have caused a strain in their working relationship had the romance not worked out. However, once they were sure that they wanted to develop into a more serious relationship, then they felt no need to keep hiding it from their colleagues.
6. Her family's Christmas tradition
Meeting his future in-laws during the Christmas holidays took Craig by surprise because Lindsay had not warned him of any weird practices they had. Craig was therefore taken aback when they finished their meal and sang "Happy Birthday" to Jesus, whom they had removed from the manger. Lindsay and her family took the tradition seriously because, just like any other birthday, Jesus also got a cake to celebrate his too. However, those are the traditions she grew up with, and now that she has a family of her own, she wants to create new ones.
7. Her son preferred to go to a corner than potty-train
Potty training has become one of the worst nightmares for parents since children will take time to get used to the cold toilet seat; no wonder innovators keep coming up with new exciting ways of enticing the little ones to relieve themselves. Delano was at the right age for potty training but still took his time. Therefore instead of going to the potty, he would prefer to go to a corner. His father reasoned that Delano was ashamed to be going to the potty in public hence the need for privacy.
8. She thought George Michael was pranking her about giving her a job
When the late George Michael, who used to host "Redskins Report," saw Lindsay, he knew he had found whatever it is they were looking for in a sportscaster. He said she had the "it" factor, so he called her. However, Lindsay could not believe it was him on the other end, so she hung up on him and told her mother the strange incident. She ended up accepting George's offer and joined NBC4 in June 2005.
9. She is always ready for a challenge
Lindsay is not one to be content until she has put her best forward and taken on a new challenge. Even as a young girl, as her mother told Nothern Virginia, she still wondered if people could do more. Lindsay's mother recalled that she took her daughter to an art exhibit, and when Lindsay looked at one painting, she asked if the artist could have had a better drawing had he tried harder. It is this drive that saw her become the class president and homecoming queen.
10. She had strange cravings during her pregnancy
Pregnancy cravings are expected, and women can drive their spouses crazy with the weird things they desire. Lindsay's craving was for Cheez-It, and she loved them so much that she once posted she would hide her stash from her son, who also enjoyed them. Luckily, she has a supportive husband who would get up in the middle of the night to help her with her desires.
Tell us what's wrong with this post? How could we improve it? :)
Let us improve this post!