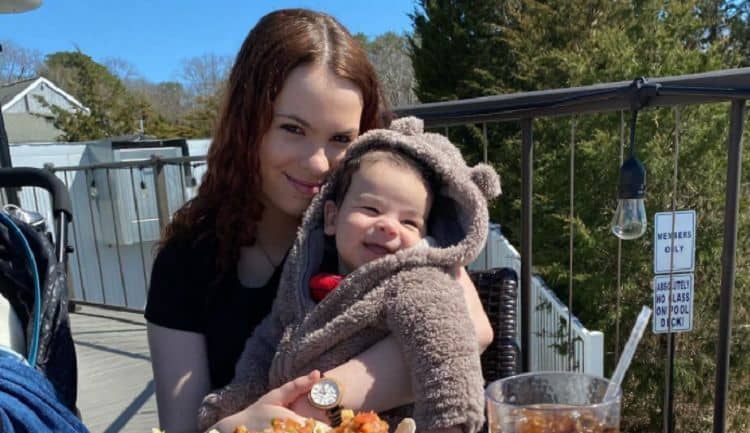 Raising children can be challenging no matter how old you are when you have them, but those challenges increase exponentially when you have children at a young age. Lilly Bennett learned this first hand when she became a teenage mother. Lilly decided to share her journey with the world as a cast member on TLC Unexpected. On top of getting pregnant at a young age, Lilly struggled to get her boyfriend, James, onboard with the responsibilities of parenting. James and Lilly eventually parted ways. Not long after, she began dating another young man named Lawrence. About two years into their relationship, Lilly became pregnant again. Although she's now a mother of two at just 20-years-old, Lilly is determined to give her children the best possible lives. Keep reading to learn 10 things you didn't know about Lilly Bennett.
1. She Loves Connecting With Fans
Since being on Unexpected, Lilly has become a bonafide reality TV star. She has built a large following on Instagram and people love being kept in the loop with what's going on with her and her family. Lilly loves getting the chance to interact with her fans and it's become quite common to see her replying to questions and comments from fans.
2. She's A YouTuber
Watching Unexpected isn't the only way you can get a behind-the-scenes look at Lilly's life. She has also started a YouTube channel where she posts a series of videos including vlogs and tours. Her channel currently has nearly 50,000 subscribers and has gotten more than 954,000 views.
3. She Supports Social Justice
When it comes to issues such as the fight to end racism, Lilly had made it very clear which side she stands on. In the summer of 2020, she participated in a virtual show of solidarity called Blackout Tuesday. As the mother of two bi-racial children, she has an extremely personal reason to want to support the movement.
4. She Was In A Serious Car Accident During Her First Pregnancy
On top of dealing with the stress of getting pregnant during high school, Lilly was also involved in a car accident while she was carrying her daughter. According to Distractify Lilly said, "We were going to pick up my cousin, my baby's godmother, when we had a head-on [collision] with a big truck, right in front of the meeting house in Aquebogue [N.Y.]. The way it happened, we maybe even should have been dead. And I knew God was protecting this baby. Something was there. Something really saved us."
5. She Was On Birth Control When She Got Pregnant For The Second Time
When Lilly got pregnant for the second time, it wasn't a planned situation. In fact, she was taking birth control so she thought the possibility of getting pregnant was completely off the table. However, she admitted that she wasn't always on top of taking her pills and that she missed a few doses. She thought she could make up for it by doubling up on pills. Not following the proper schedule with birth control can drastically reduce its efficacy.
6. She Likes Being Pregnant
There are a lot of women out there who find that their pregnancies are so hard on their bodies that they simply see those nine months as the means to an end. Lilly, however, enjoys being pregnant which caused some people to think that she got pregnant with her second child on purpose. As mentioned above, that wasn't the case.
7. She's Been Helping TLC Find New Cast Members For Unexpected
Unexpected has been on since 2017 and it appears that the series is still going strong. The network is looking to grow the cast and apparently, Lilly is helping them find people who may be interested. She has shared several posts on social media with instructions on how to apply to the show.
8. She May Not Be Able To Have More Children
Despite her young age, Lilly has already had some issues with her reproductive system. After having her first child, Lilly found out that she had to undergo surgery to have ovarian cysts removed. Doctors also told her that her fallopian tubes were "dying". She was told that she wouldn't be able to have any more children, however, she defied the odds when she became pregnant with her son. Although she was able to successfully get pregnant a second time, there is a chance that she won't be able to get pregnant again.
9. Unexpected Is Her Only TV Experience
From what we can tell, Lilly has never been on any other TV show — reality or otherwise — and it doesn't look like she's ever attempted to be on any. Lilly probably never imagined that she would be a reality TV star, but as we all know, life has a funny way of working things out.
10. She Has A Strong Support System
There are a few young women who have been featured on Unexpected who have struggled because of a lack of support. In fact, some parents have essentially refused to accept the fact that their daughter is having a baby. Lilly, on the other hand, has been very fortunate to have the support of her loved ones.