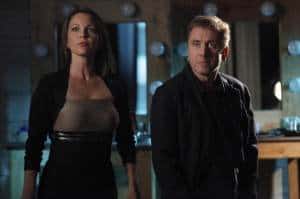 Say it with me, Lie To Me fans: it's a big, unruly mob…
Alright, so it's not a musical episode, but there is definitely a big, unruly mob in this week's hour. Not to mention, we open with Cal setting off the house's smoke detector. Almost lighting stuff on fire is always fun. It's obvious Cal is a bit high-strung this episode, as shown by how he snipes at Gillian in front of a potential client, then tries to hack into her computer. He's in a particularly childish mood. Perhaps it's apt since this week brings him to a teen beauty pageant, where he deduces "it's all going to go horribly wrong for someone."
He's particularly concerned about a young girl named Megan (Adelaide Clemens) with a typically overbearing pageant mother. His first major question to her is if she's ever considered suicide – much to the horror of everyone within earshot – and he deduces that someone has done something to her. The massive bruise on her shoulder proves that, and she immediately accuses Thomas Fletcher (Life's Brent Sexton) of hurting her. Cal doesn't entirely believe her, though, as he warns her that "you've just rung a bell you can't unring." I'm starting to think Cal isn't that different from Law & Order: Criminal Intent's Robert Goren; both are exceedingly quirky characters who seem to know the answers while the rest of us look stupid.
In comes Detective Wallowski to interrogate Fletcher about the accusations, which he vehemently denies. Cal tells her that Fletcher didn't molest Megan, and lets him walk free, right into a big, angry mob of pageant participants and their parents. He's more interested in Megan's mother Laura, and he and Gillian go back to talk to both women. She notices that "she even uses the royal we; there's no separation of mother and daughter." (It seems to be popular this TV season to use the episode title in a sentence.) While Gillian tries to talk sense into Laura, Cal is out breaking into a vending machine and trying to make nice with Megan. The next scene, he's sniffing his keyboard and deducing that Loker has been on his laptop. Or maybe he's just stalling because he still has writer's block regarding his elusive second book.
Whatever the reason, he hauls Megan and Laura back to the office, having Gillian take Megan's statement regarding exactly what happened between her and Fletcher while he and her mom look on. Megan is completely unconvincing in her recounting of events, obviously playing it up for attention. Watching her overact, Cal tells Laura "that's not pain; she's enjoying herself. She's getting off on your pain." No sooner has he deduced that then two more girls step forward to accuse Fletcher of molesting them as well.
This doesn't bode well for Fletcher; his daughter is taken away from him by Wallowski as he pleads his innocence. He admits that he used to be involved with Laura, and that Megan came on to him; when he turned her down, she flipped out. He's now Public Enemy #1 amongst the pageant folk.
"Triumph at losing. You don't see that every day," Torres remarks when she uncovers footage of Megan taking an attention-seeking dive at a previous pageant. She'll do anything she can to get attention. Armed with that further information, Cal brings Megan, Laura, Fletcher and pageant organizer Candice together, ostensibly to watch as everyone throws everything out on the table. Laura is more concerned about being disqualified from the pageant than anything else. When Fletcher points out he may lose his daughter, it seems to hit a new level of suffering, which we all know by now Megan enjoys.
Gillian is interviewing the other accusers with Wallowski, and finds that they're just repeating the exact same thing, word for word. The detective soon gets a phone call: Megan's gone missing. This starts a proverbial witch hunt, and as Wallowski goes to get Fletcher from his trailer, she publicly announces that his daughter is in the ICU so everyone can hear. Who should turn up at the ICU but Megan, disappointed to find that Lightman is there waiting for her. Without so much as batting an eyelash, she tries to seduce him, all the while armed with a razorblade in her hand. Apparently it's not just other people's pain that she likes. She threatens to accuse him if he tells anyone about her real motivations, at which point he reveals her mom and Wallowski have been standing right outside the whole time.
In the aftermath, Cal and Gillian discover that the whole concocted molestation story is directly excerpted from Laura's diary. Megan is using her mother's pain to survive between chances to cause more of her own. This leads right into an overly cutesy moment involving a falling feather as Lightman confronts Megan, now dressed in angel wings, in the pageant theater. He tries to relate to her by telling her about his mother's suicide, and she finally unloads about her mother. He convinces her that he can help her get back at her mother.
Later that night, the pageant is at its end, with Megan in it as Cal and Gillian look on. She is named first runner-up, much to her mother's dismay, which is exactly what she wanted. After it's all over, she confronts her mother about the diary, with Cal's help. "I'm not doing this anymore, Mom," she says emphatically, finally beginning to separate herself and become her own person.
While that's certainly a welcome ending (one wonders how many real-life pageant kids and teens feel the same way Megan does, albeit not to that extreme), our main characters continue to stagnate in the same place. Loker applies for a job at the Pentagon (though we know Brendan Hines hasn't been rumored to be leaving anytime soon), but Torres doesn't do much (she even gets cut off by Cal at one point) and Gillian gets all of two scenes to herself. Cal, however, continues to become more childish and reckless, making me miss the days when he had Ben Reynolds to rein him in. If he's going to continue to be slightly overbearing and able to figure out almost everything by himself, he's going to become insufferable, no matter how great Tim Roth's acting is. At least he finally started writing that long-overdue book!
Next week, we get up close and personal with Monique Gabriela Curnen's Detective Wallowski, and maybe even shed some light on Cal's fixation with her. That ought to be interesting…