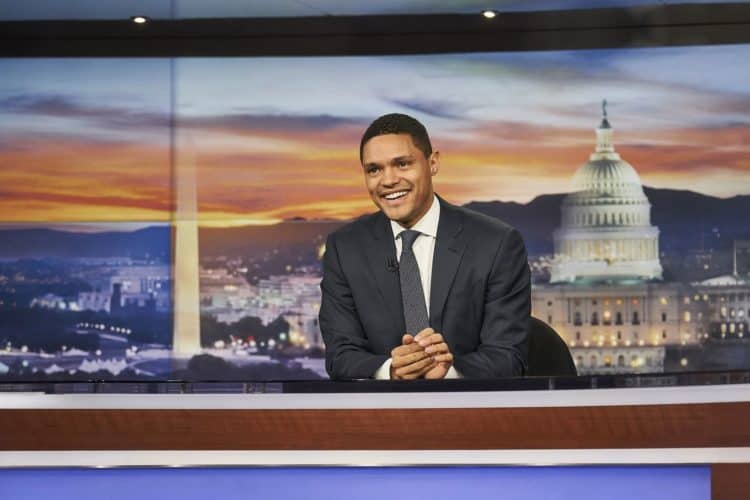 Late night franchise The Daily Show with Trevor Noah will broadcast a live midterm election night episode titled, "Democalypse 2018: Let's Try This Again, America" on Tuesday, November 6 from 11:00-11:30 p.m. ET on Comedy Central.
This marks the eighth time The Daily Show with Trevor Noah has aired live, having previously done so during the 2018 State of the Union address, throughout the 2016 Presidential Election on election night, after the presidential and vice presidential debates, and on the final nights of both the Republican and Democratic National Conventions.
As previously announced, in advance of the midterm elections, The Daily Show with Trevor Noah will head to Florida, a state that highlights many of 2018's most important election issues. The late-night series will film a week of shows "undesked" from The Fillmore Miami Beach at the Jackie Gleason Theater and air nightly from Monday, October 29 through Thursday, November 1 at 11:00 p.m. ET/PT.
Trevor Noah, Steve Bodow, Jen Flanz and Jill Katz are the executive producers of The Daily Show with Trevor Noah, with Justin Melkmann as co-executive producer, and David Kibuuka and Zhubin Parang as producers. Max Browning, Eric Davies, Pam DePace, Ramin Hedayati and Elise Terrell serve as the supervising producers. Dan Amira is the head writer, with Lauren Sarver Means and Daniel Radosh as senior writers. The series is directed by Paul Pennolino. Sarah Babineau and Ari Pearce are the executives in charge of production for Comedy Central.
The Daily Show with Trevor Noah airs Mondays to Thursdays at 11:00 p.m. ET/PT on Comedy Central and is available to stream the following day exclusively on thedailyshow.com and the Comedy Central app.