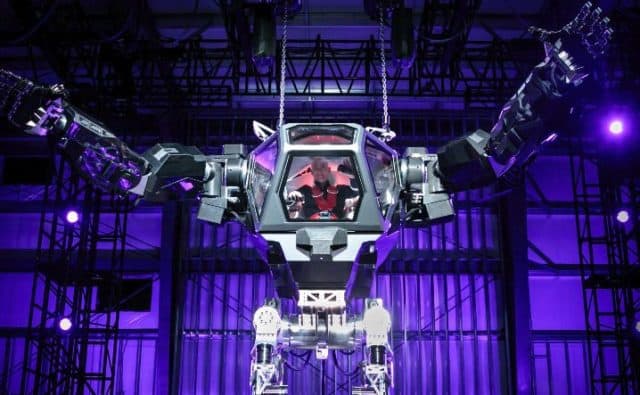 Does this plot sound familiar? It is post-World War III. War is outlawed. In its place, are matches between large Robots called Robot Jox. These matches take place between two large superpowers over disputed territories. The main character Achilles is a pilot in one of the large Robots. The plot revolves around him and a match for the state of Alaska. While this isn't the exact plot of the United States….yet, Jeff Bezos appears to be a modern day version of Achilles in this tweet.
I just got to pilot an awesome (and huge) robot thanks to Hankook Mirae Technology. Nice! #MARS2017 pic.twitter.com/MvN6ghEYFi

— Jeff Bezos (@JeffBezos) March 20, 2017
Anyone else a little freaked out by this? Yeah, so am I. According to Mashable: Bezos hopped in this mechanical robot, known as the Method-2, and went full-on Avatar to demo the technology at Amazon's annual MARS conference – an elite gathering that offers a glimpse at innovative Machine-Learning Automation, Robotics and Space Exploration technology. Get it? MARS.
The Method-2 robot is a product of the South Korean company, Hankook Mirae Technology. According his Instagram page, the designer, Vitaly Bulgarov, has worked with Panasonic, Dreamworks, Intel, MGM, Paramount and more, which explains why the design looks like it belongs in an action movie.
"Belongs in a movie?" Are you kidding me? This IS a movie. It's called Robot Jox. If anyone wasn't worried about a Robot apocalypse before please tell me you'll at least consider getting a little bit concerned. There's only so much time left for us humans to be in control. This is truly terrifying. Anyone remember this scene? This is about to become REAL.