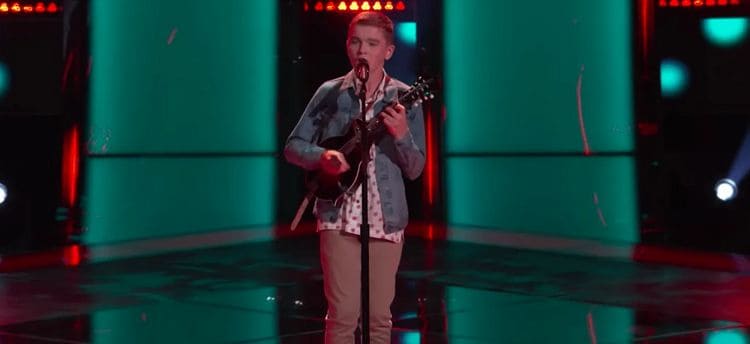 On February 25, 2020, Levi Watkins went up on stage for a blind audition hoping to have at least one of the judges turn his chair. It took Blake Shelton around 50 seconds to turn his chair, and the country singer was surprised to find that Levi was only fourteen. For Blake, he felt he had hit the jackpot and could not help but rub it in the faces of the other judges. Levi, on the other hand, thought it was a dream come true since he got Blake to be his coach, and the teenager cannot wait to become a better performer. Here is everything we have discovered so far about Levi.
1. He learned to play the mandolin specifically for "Hey Soul Sister."
Levi had never auditioned for any other competition using "Hey Soul Sister," but he had always wanted to play the mandolin. Therefore when he decided to sing the song, he thought it best to give it his touch by replacing the ukulele with the mandolin since they sound similar. Levi consequently learned how to play the instrument, which came in handy for his audition on "The Voice."
2. He was shaking as he went on stage for his audition
The first time to do anything can send you into panic mode regardless of how many times you have practiced. Therefore it was no surprise that even if Levi felt ready to perform in front of the judges, he was still so nervous that he was shaking and breathing hard. After all, it was his first time to perform for an audience. Luckily, when he started singing, the singer became more comfortable enough to deliver a breathtaking performance.
3. He has type 1 diabetes
Imagine selling frozen treats and not getting to taste any, and you will have the picture of Levi helping in his father's business but not eating any of the ice-pops. The teenager has Type 1 diabetes, but there are no details as to when he was diagnosed. Typically, the condition, caused by little to no insulin production, manifests itself during adolescence, so maybe Levi was recently diagnosed. Unfortunately, he will have to live with it since it has no cure, but it can be managed.
4. He acknowledges music as a gift to be shared
Maybe it is his Christian upbringing that is guiding him towards some of the expressions he uses. His family attends the Church at Brook Hills, and Levi must have been taught always to give thanks to God and use whatever he has to glorify Him. Therefore when he talked to Shelby County Reporter, Levi said that he only had to thank God for giving him the opportunity to be on stage as well as the gift of music. Therefore he felt it was his duty to share it with others.
5. He is enterprising
At the age of 14, the need for independence usually sneaks in, and the allowance you get from your parents is not enough to cater for all your needs. Well, instead of waiting on his parents to provide for his expenses, Levi thought it best to take matters in his hands; therefore, he began mowing lawns years ago, alongside one of his brothers who operates a lawn care business. Whenever he can spare some time, the musician also likes to help his father in the all-natural frozen treats business.
6. His musical training
Levi admits that he comes from a musical family since both of his parents are musicians. However, he must perfect his craft if he wants to be in the league of celebrated musicians, considering he is going up against outstanding singers. He has been preparing for such a moment through learning to play different musical instruments, including guitar, drums, and recently, the mandolin. He takes his lessons at Homewood School of Music in Birmingham under the guidance of instructor Allen Barlow.
7. His father told him to audition for "The Voice."
Perhaps the fact that his parents have a musical background facilitated in their decision to help Levi make his star shine in the show. They say that fathers provide not only support but encouragement too; thus, Levi's father encouraged him to audition, and since he had made a video with some of his friends, Levi submitted it to the show for consideration. Within a month and a half, Levi had positive feedback regarding his video since the show's producers wanted him to go to Atlanta for a callback.
8. He is homeschooled
Homeschooling is an option for most parents who feel their children are better off at home, maybe due to being bullied in school. Levi, now a freshman in high school, has been homeschooled for a while but does not reveal the reasons for not attending regular school. However, with the road to success he is already walking on, homeschooling will most probably the only option as he struggles to keep up with performances and classes. Luckily for him, celebrity musicians have proven that homeschooling is still a viable option to get your high school diploma.
9. He is a songwriter
Levi has recently added songwriting to his title of a musician. Unlike most songwriters who prefer a positive to their music, he does not disclose the type of lyrics that he likes. Besides, although he did not sing an original for his audition, he loves singing original compositions. His musical inspirations include other renowned artist who double up as artists and songwriters; they include Ed Sheeran, John Mayer, Chris Stapleton and Kaleo, a rock band whose lead singer Levi idolizes.
10. He was in a daze when Blake chose him for his team
Going for "The Voice" auditions, Levi already knew the two coaches he would want to coach him; Blake Shelton and Nick Jonas. Of course, since each contestant gets one coach, Levi was so excited to have Blake turn his chair that he went into a daze and cannot recall what happened next. As he recounted his experience to Idol Chattery, he was nervous being on stage but having Blake go up on stage made him even more anxious, so he froze.
Tell us what's wrong with this post? How could we improve it? :)
Let us improve this post!