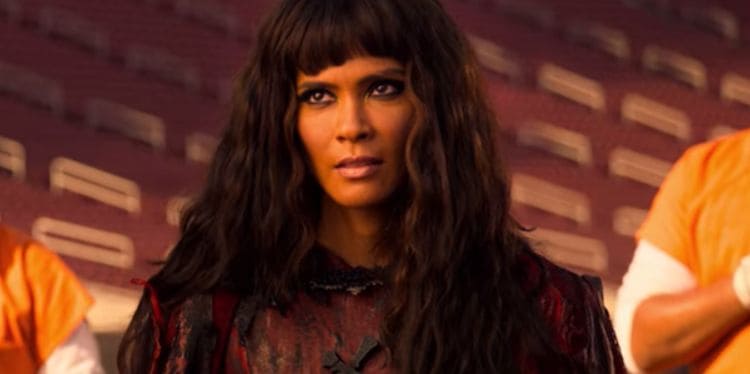 In the more than 10 years since Lesley-Ann Brandt made her on-screen debut, she has gone from an unknown actress to an international star. Her work has reached countless people all over the world, and viewers have fallen in love with her ability to play a wide range of characters. No matter what kind of project you've seen her in, there's a very good chance that Lesley-Ann left a lasting impression on you. From the big screen to the small screen, her ability to bring characters to life is undeniable. Lesley-Ann is best-known for her role in the popular TV series Lucifer, and she also has a new project in the works. Here are 10 things you didn't know about Lesley-Ann Brandt.
1. She's A Formally Trained Actress
While it's unclear exactly where Lesley-Ann completed her studies or who she trained under, we do know that she studied the world-famous Meisner Technique. According to the Nashville Film Institute, "The Meisner Technique is a unique training form that teaches actors to respond to stimuli and trust their instincts".
2. She Likes Helping Others
Throughout her career, Lesley-Ann has done her best to use her position as a celebrity to help those in need. She has collaborated with several charitable organizations including a company called Stands that allows celebrities to create limited-edition merchandise to raise money for charity.
3. She Loves Sports
Lesley-Ann has always been the kind of person who loves to stay active, and she also has a competitive side. Playing sports is one of her favorite ways to tap into both of those things. She played competitive hockey for several years. We weren't able to find any information on when she stopped playing. As a spectator, she enjoys watching a variety of sports including baseball.
4. She Has A Huge Social Media Following
Social media has become a very powerful tool for people in the entertainment industry, and Lesley-Ann completely understands this. Lesley-Ann has built a very large social media following across several platforms. At the moment, she has more than two million followers on Instagram and nearly 367,000 followers on Twitter. She has also created an account on TikTok although she's yet to upload any content.
5. She's A Producer
Lesley-Ann has spent the majority of her career in front of the camera, but that isn't the only place where she feels comfortable. In 2020, she decided to explore storytelling from the other side. She made her debut as a producer with a short film called Adult Night. There's a good chance we'll see even more behind-the-scenes work from her in the future.
6. She's A Wife And Mother
Even though Lesley-Ann has never been one to let the world into every detail about her personal life, we do know that family is very important to her. She's been married to actor Chris Payne Gilbert since 2015 and the couple has one child together. When she isn't working, she loves spending as much time with her family as possible.
7. She Loves Hiking
Lesley-Ann's love for staying active doesn't just include playing sports. Hiking is another one of her favorite ways to stay active and she loves being able to get outside and enjoy the beauty of nature. Going on hikes is also another great way for Lesley-Ann to challenge herself.
8. She Has Been In Music Videos
TV shows and movies aren't the only time Lesley-Ann has graced screens all over the world with her presence. She has also starred in two music videos over the years. In 2007, she was in the video for the song "Love in a Fallout Shelter" by Battle Circus. That same year, she was also in the video for "R.S.V.P." by Nesian Mystik.
9. She Isn't Afraid To Speak Her Mind
Standing up for the things you believe in is usually much harder than it seems, but Lesley-Ann has never let that difficulty stop her from saying what she wants. Over the years, she has been very vocal about the causes that are close to her heart. She has been very vocal about ending racism and she has also spoken out about the struggles that women of color often face during childbirth.
10. She Likes To Read
Lesley-Ann's days as a student may be long gone, but that doesn't mean that she's done with learning. She is always interested in expanding her knowledge and reading has become one of the best ways for her to do that. She loves to sit down with a good book and occasionally she'll share what she's reading with her followers on Instagram.
Tell us what's wrong with this post? How could we improve it? :)
Let us improve this post!