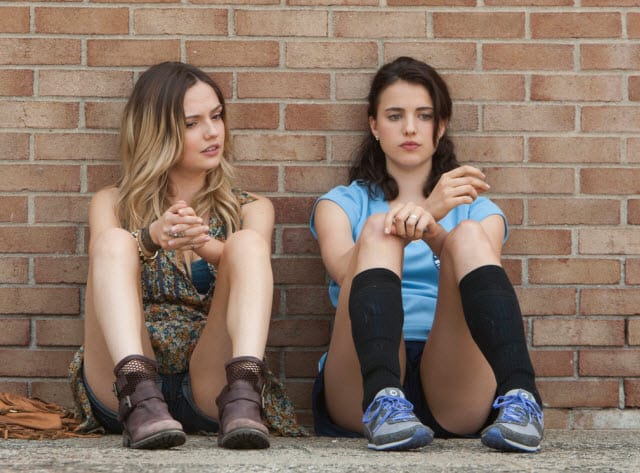 Damon Lindelof and Tom Perrotta present an interesting concept with The Leftovers. The tone of the pilot may be quite somber, but nonetheless it's still a compelling premise with excellent storytelling from one of the best showrunners in recent years.
Opening on an average day in the life of a single mother with a crying baby at a laundromat, you have no idea what's about to happen. She gets into the car and all of a sudden the wailing from the car seat stops. The baby is gone, and chaos erupts around her in the parking lot as other people's loved ones have also vanished into thin air. So, what just happened?
Three years later, and that question remains. No matter if people were directly affected by it or not, everyone is dealing with this loss of 2% of the world's population differently.
We first meet Kevin Garvey (Justin Theroux), the Mapleton police chief who is struggling just as much as everyone. His two teenage kids are acting out in their own ways and he's left to deal with them since his wife left. The big reveal of Laurie (Amy Brenneman) being Kevin's wife shouldn't have come as much of a surprise. It actually made sense that the 4 main characters introduced in the pilot are all related.
Laurie is a member of the Remnant, a cult of people who left their families behind for whatever personal reasons and took up residence in a cul-de-sac in town. They all sleep in communal rooms, wear white, don't speak, and chain smoke like there's no tomorrow. Whatever they hope to accomplish by following normal people and silently judging them from afar is yet to be determined. However, since Laurie's latest target Meg (Liv Tyler) succumbed to the group, we should expect to get a better understanding of them.
Tom (Chris Zylka), Kevin's son, is involved in another cult entirely. He's acting as an errand boy for this revered Holy Wayne guy, the leader of this compound. Whatever power Wayne possesses over people is another question that is raised. For now, all we know is he's decided to trust Tom with the very important task of protecting Christine, while also warning him to keep his hands off her.
The only other member of the Garvey family still at home with Kevin then is Jill (Margaret Qualley.) Her best friend Aimee (Emily Meade) is a frequent guest in their house, joining the father and daughter for dinner while serving as a good buffer between the two. Jill's angry at her dad and rebelling for typical teenage reasons, including a house party that she didn't come home from after borrowing her dad's car. Eh, at least her new friends Adam and Scott (Max and Charlie Carver) are entertaining.
Now Kevin himself has got a lot on his plate aside from his fractured family. He's constantly disagreeing with Mayor Lucy Warburton (Amanda Warren) about having a Heroes Day on the 3rd anniversary of the "Departure". Another person in a meeting with the mayor actually raised the question of why are they honoring those who disappeared as heroes, and I really liked her answer: "they're heroes because no one's gonna come to a parade on 'we don't know what happened' day."
Reverend Matt Jamison (Christopher Eccleston) probably agrees with the mayor because he was at the parade preaching to whoever would listen that whatever happened wasn't the Rapture or religious in nature at all. It'll be very interesting to learn more about this character and his take as a man of God.
Last but not least, dogs play a big role in the pilot. At the beginning, Kevin comes across a lost dog that appears to be friendly and, more importantly, someone's pet. As he's calling the dog over to him, the dog is shot dead by a man who takes off in his truck. Kevin later sees this man again in a bar after the parade and chases him out. On his drive home, Kevin witnesses firsthand a pack of dogs viciously attack an innocent deer. That's when the same dog killer pulls up and starts shooting at them, even questioning what Kevin is waiting for. Surprisingly, he actually pulls out his gun and joins the guy.
It wasn't all doom, gloom, and animal cruelty though. A couple of lighter moments included a news program remembering the Pope and Gary Busey as some of the notable public figures raptured. Tom was also talking about The Bachelor with Christine. I'm not sure if that's good news or bad news that even in a post-apocalyptic world like that, reality TV would still exist. Sounds kinda scary to me!
I really loved it and can't wait to watch the story unfold. If we learned anything from Lost, it's that we might not get answers to every little thing, but what matters most are the characters. So far, the Garvey family and other Mapleton residents are proving to be as complex as characters come. What'd you think?
[Photo via HBO]