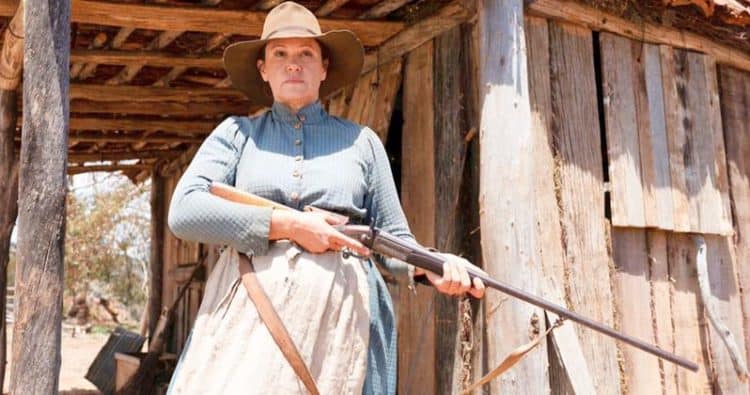 Building a career as an entertainer hasn't always been easy for Leah Purcell, but no matter what kinds of obstacles she's faced, she's always refused to go up. All of her hard work and sacrifices certainly haven't gone unnoticed. Since making her first on-screen appearance in the mid-1990s, Leah has gone on to become well-known in her home country of Australia and other parts of the world. Her versatility as an actress has allowed her to play a variety of roles, and she's brought something special to each one. Many of her fans are looking forward to seeing her in the upcoming comedy series All My Friends Are Racist. Here are 10 things you didn't know about Leah Purcell.
1. She's An Indigenous Person
Leah was born and raised in Australia to a white father and an indigenous mother. She has always felt especially close to her indigenous side because her father wasn't very active in her life. Leah has made it a point to use her platform to raise awareness of the struggles that indigenous people face both in and out of the entertainment industry.
2. She Is A Musician
Acting is what Leah has become most well known for, but music has also played a very important role in her life. She is a talented singer and used to be part of a band. Her singing skills have also come in very handy during her acting career because she also has theater experience.
3. She Is An Award Winner
Making it as an actor requires lots of time and energy, and performers always want to know that their hard work hasn't been in vain. Winning awards is a great way to prove that. Leah has already brought home several awards including an AACTA in 2013 for Best Lead Actress in a Television Drama.
4. She Is A Playwright
Not only does Leah have theater experience as an actress, but she's also a playwright. She has written several plays and she's performed in many of them as well. After writing one of her most recent plays, The Drover's Wife, she turned the story into a novel of the same name.
5. She Was A Teen Mom
When Leah was a teenager, she found herself in an abusive relationship and she was pregnant by the time she was 17. Sadly, Leah's mother passed away about a month after her daughter was born. Having a child so young can cause some people to lose focus on their goals, but not Leah. Her daughter made her even more motivated and she did her best to raise her. Leah is now proud to be a grandmother of two.
6. She Enjoys Her Privacy
There are lots of people who work in the entertainment industry who have a hard time keeping their personal lives away from the spotlight. However, Leah has always been very careful about what she's chosen to share with the world. She seems to really like to stay low-key.
7. She Loves To Read
Leah probably doesn't get a lot of free time, but when she does reading is one of her favorite ways to spend it. She enjoys curling up with a book and getting lost in a good story. Every once in a while, she'll share a picture of the book she's reading on Instagram. She seems to enjoy a wide variety of stories.
8. She Is A Very Talented Weaver
Reading isn't the only thing Leah likes to do in her free time. She also enjoys crafts and she likes weaving jewelry for her family and friends. It doesn't appear that any of her pieces are available for sale, but her fans can see pictures of them on her Instagram profile. Not only is her jewelry great for gifts, but it's also another way for her to express her creative side.
9. She Isn't Shy About Speaking Her Mind
As mentioned earlier, Leah has never been shy about discussing issues that impact the indigenous community. However, that isn't the only thing she's been vocal about throughout her career. She has also used her platform to shed light on women's rights and the harm caused by police brutality.
10. She Loves Nature
Leah may be an international star, but that doesn't mean that she's too good to get her hands a little dirty every once in a while. She enjoys spending time outdoors and it's the perfect way for her to relax and decompress after a long day at work. Some of her favorite activities include walking (with her dog, of course), hanging out by the water, and checking out the beautiful scenery.