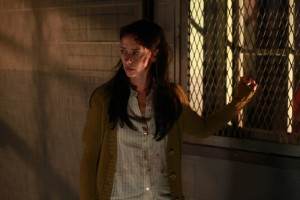 Since this is my first ever review for Law & Order: SVU, I need to give you some backstory before I tell you my feelings about this episode. First, I've watched every single episode of SVU more than twice. For years a local channel in Canada aired it every night as I got home from work and started preparing dinner. So there's not much about the show that surprises me anymore. Not in the sense of quality, but more in terms of the cases. In terms of quality, some SVU episodes stand out more than others in recent years, but I'm always happy to watch the show even if it's not the best episode.
Second, I never watched Ghost Whisperer, so my knowledge of Jennifer Love Hewitt's acting abilities comes from Party of Five, Sister Act 2 and I Know What You Did Last Summer.
All of that being said, let me summarize this episode in one word: amazing. Love Hewitt's performance blew me away completely and she held this episode together in a way that not every guest star could.
The case itself was simple, though pretty horrific. A young woman by the name of Vicki Sayers (Love Hewitt) had been raped by the same man four times over a period of 15 years. Essentially stalking her at different periods of her life, her rapist and his threats drove her to become a hermit, until Benson and Stabler became involved after the latest rape. Unfortunately, there was a hitch. She never saw his face during the latest rape and Benson had to visit different cities, including Detroit and LA (more on that later) to try and retrieve DNA samples to prove the case and get around the statute of limitations issues.
The rape kit done in the hospital is one of the most heartbreaking and brilliant scenes of this show. Love Hewitt's character told her horrible story while being photographed and examined. Her pain and fear is palpable through every moment of this scene. I wanted to scream and cry in the scene where she begs her rapist to forgive her for getting the police involved because she's afraid for her life. In other words, Jennifer Love Hewitt knocked this one out of the park.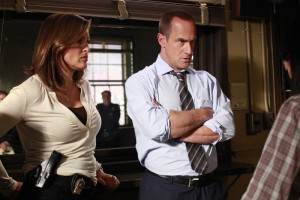 Mariska Hargitay was fantastic as usual, particularly in Olivia's interactions with Vicki when she's trying to convince her to get over her fear and stand up to her rapist. The perp (Bill Harris) is played to perfection. He plays innocent through much of the episode until the end, when his creepiness and obsessive tendencies will weird anyone out.
SVU also served as a launching platform tonight for the newest spin-off in the Law & Order franchise – Law & Order: Los Angeles, which is airing at 10:00 p.m. on Wednesday nights (and premieres tonight). While you know the appearance was a set-up, it actually made sense within the story and it didn't feel cheap. It gave us an opportunity to meet Skeet Ulrich's L&O: LA character, Detective Rex Winters, as he worked with Benson to retrieve information relating to Vicki's case.
In the end, Harris walks free and is soon after re-arrested and charged with kidnapping (for holding Vicki hostage during a rape). The resolution of the case is satisfying, even if Harris wasn't put in prison for Vicki's rape. Vicki's closing words to him are the smallest bit cheesy, but also character affirming, so they can be forgiven.
The only thing I really miss is a strong, constant Assistant District Attorney in SVU. I loved ADAs Cabot and Novak and their participation in the overall storyline of the show. Since their departures, you can feel an absence in the show on the courtroom side. I wish they could find another long-standing ADA to boost up the legal side of the show and give us another great character on the show. I did, however, like the reappearance of Judith Light as Judge Elizabeth Donnelly.
It's episodes like this that remind me why I've watched SVU for a number of years.
clarissa @ tvovermind.com
twitter.com/clarissa373