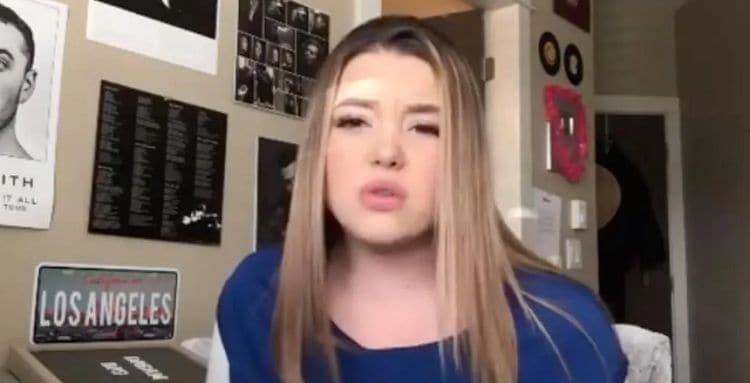 Season 18 of American Idol is already off to an entertaining start. Not only are the contestants interesting, they're talented as well. Among them is Canadian-based singer, Lauren Spencer-Smith. At 16-years-old, Smith is one of the younger competitors. Don't let her age fool you though, Lauren and her voice have already wowed the judges and she's well on her way to becoming a fan favorite. Although she's already accomplished a great deal, Lauren has a lot left in store. If you're interested in learning more about this vocal powerhouse, keep reading for 10 things you didn't know about Lauren Spencer-Smith.
1. She Was Born In England
Lauren Spencer-Smith has spent most of her life in Canada, but she was actually born in Portsmouth England. It was in England where she originally developed her love for singing and entertaining at just three years old. Lauren and her family relocated to Canada when she was 6-years-old.
2. She Went Viral In 2019
Going viral is everything these days. Just one popular video or image can catapult a person into Internet superstardom. Lauren Spencer-Smith got a taste of this in 2019 when a video of her singing "Always Remember Us This Way" went viral. The video was recorded by Lauren's father while she sang the song in his van. In just a few weeks, the video had gained nearly 20 million views on YouTube.
3. She's Performed With Keith Urban
The American Idol stage Lauren Spencer-Smith isn't the first time Lauren Spencer-Smith has performed in front of a large audience. Lauren performed with Keith Urban when she was only 11-years-old after being called on from the crowd. Her rendition of "Make You Feel My Love" quickly captured the crowd's attention and let everyone know that Lauren was working with some serious talent.
4. She Was A Waitress
Every musician has at least one story about a less than glamorous job they had before making it big. For Lauren Spencer-Smith, that job was waitressing. On top of singing and working full time, Lauren has also worked as a waitress. If there's one thing no one can ever say about this teen it's that she doesn't know the meaning of hard work.
5. She's Performed On The Steve Harvey Show
What good is a viral moment if you can't capitalize off of it? Luckily, Lauren was able to turn her 15 minutes of fame into something much more. Lauren's viral video in 2019 led to an opportunity for her to appear on The Steve Harvey Morning Show. While on the show, she got the chance to perform live. Lauren, who is used to her dad filming her while singing, couldn't believe that one video had opened to many doors for her career.
6. She Was Nominated For A Juno Award
Juno Awards are given out each year in Canada as a way to acknowledge musicians for their musical achievements and contributions. Lauren Spencer-Smith's talent and hard work earned her a nomination at the 2020 Juno Awards. Although the winner hasn't been announced, Lauren is proud of her accomplishment and told Monday Magazine that she's excited to see how this nomination (and potential win) will help boost her career.
7. She Mad Her Public Singing Debut When She Was 6
Lauren Spencer-Smith is only a teenager, but she's also a seasoned performer. She's loved singing for as long as she can remember. When she was 6-years-old, she gave her first public performance at a school talent show. Most kids would have been way too nervous to get up on a stage at that age, but not Lauren.
8. She Released Her First Single In 2019
If you couldn't already tell, Lauren Spencer-Smith has been doing her thing long before she took the state at American Idol. Lauren's version of "Remember Us This Way" was so popular that she chose to release it as her debut single in 2019. Releasing an entire project of original music is also something that Lauren plans to do down the line.
9. She Used To Run Track
Singing isn't the only thing Lauren Spencer-Smith enjoys doing. She also has an athletic side and once competed in track and field when she was in elementary school. Unfortunately, it looks like Lauren's running career was short lived.
10. She's Close With Her Parents
Most teenagers can't wait to get as far away from their parents as possible, but that isn't the case for Lauren. She has a close relationship with her parents and appreciates the support they have given her as she pursues her passion for music. Afterall, if it weren't for her father recording her that day in his fan, she may have never gotten discovered.