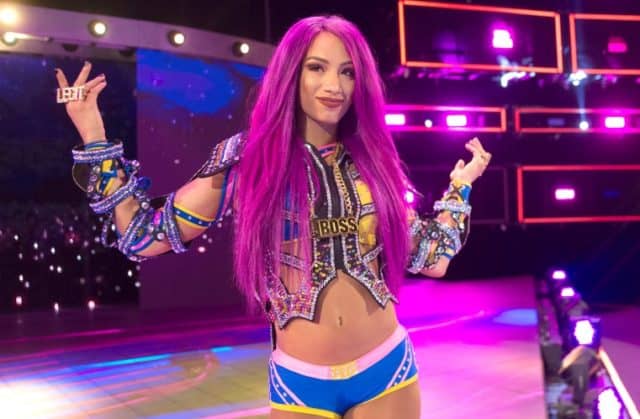 Sasha Banks is a professional wrestler whose real name is Mercedes Kaestner-Varnado. She was born on January 26, 1992, in Fairfield, California. Although she previously wrestled on the independent circuit, including for Chaotic Wrestling, she is now signed to WWE on the Raw brand. Her in the ring performances have hit the headlines on many occasions and she has made a name for herself as one of the top female wrestlers of the current day. Here are five more things you might not know about Sasha Banks.
1. She Has Achieved Many Firsts
During her career as a professional wrestler, Sasha Banks has achieved many firsts. She participated in the first female match to headline a WWE event. This match was voted the Match of the Year in 2015 and was also the first women's Iron Man match and the longest women's match in history. Along with Charlotte Flair in 2016, Sasha Banks took part in a match that was the first women's match to headline a pay-per-view event. Flair and Banks were also the first women to main event Raw, the first to compete in a Hell in a Cell match, and the first women to win 'Feud of the Year' in the Pro Wrestling Illustrated Awards.
2. She Has Several Famous Relatives
The desire to perform must run in the family as Sasha Banks has several famous relatives. Her first cousin is rapper Snoop Dogg and she has credited him with helping her to develop her in-ring persona. Singers Ray J and Brandy Norwood are also cousins of Banks. Ray J has released four singles and has also had small acting parts in films. He appeared in the UK reality show 'Celebrity Big Brother' in 2017. His sister, Brandy Norwood, works in both the music and television industries. Banks is also related to the music producer Daz Dillinger.
3. She is Married to Sarath Ton
Sasha Banks has been married to Sarath Ton since August 4, 2016. Ton is also a professional wrestler and is better-known by the name Kid Mikaze. In addition to working as a wrestler, Ton is a costume designer for WWE.
4. She Has Appeared in Video Games
In terms of her career in other media, Sasha Banks has appeared in two WWE video games. She made her video game debut in 2017 in WWE 2K17. In the game, she is the first entrant along with John Cena. She next appeared in WWE 2K18. Other than video games, she has also appeared in Smosh games, UpUpDownDown, and videos posted on YouTube.
5. She Has a Wide Repertoire of Finishing and Signature Moves
Sasha Banks is famous for the wide repertoire of moves she uses in the ring. Some of her finishing moves are particularly notable. When she performed as Mercedes KV, her most famous finishing moves was the roundhouse kick and the wheelbarrow bulldog. As Sasha Banks, her best finishing moves are bankrupt and bank statement. Banks also has an interesting range of signature moves. Some of these include diving crossbody, Japanese arm drag, frog splash, monkey flip, suicide dive, Superflex, and the crucifix pinning variation.