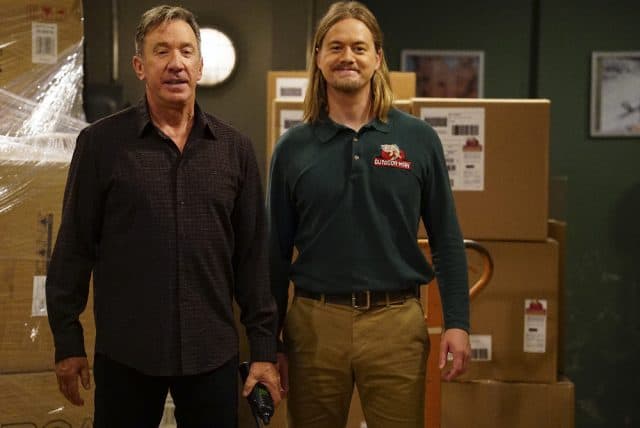 Hello everyone! Welcome back to another season, and therefore more reviews, of the lighthearted family comedy Last Man Standing. Their renewal always goes down to the wire, but I'm always glad to see it back. Friday nights on ABC are always a good time. They came back again this year with a strong, funny premiere episode.
This week on Last Man Standing: Kristin has been working hard on opening her Sunday seafood brunch buffet, at the expense of spending time with her family. Kyle, while working on Sundays, has been feeding stray cats at the loading dock. When Kyle forgets to close the door to the dock, a wild bear wanders into the store.
This was a really fun episode. I mean, I can't imagine that it would actually be fun to deal with a bear in your store, but it was a fun premise for an episode. It explored all the best traits of most of the cast members, and was a really fun way to kick off the season.
I like stories about Kristin and the girls. I do. But I have a lot of fun watching this show when the guys come to the forefront. Mostly, I think Mike's interaction with Kyle, Ryan, and Larabee are funnier because of the friction between them. All of those characters are so different, which makes for great laughs. The women on this show are all strong and independent, which leaves room for the men to be idiots. Which is hilarious. Jordan Masterson, Christoph Sanders, and Jonathan Adams all have a special chemistry with Tim Allen, making for some really funny moments.
Probably my least favorite part of the episode was this: No Eve. When a show has a cast this big, I understand that every character can't be included in every episode when you have a large cast. Normally, it doesn't bother me. But Eve is one of the strongest characters on the show, and to have her not be included in the season premiere? It's a little off-putting. I'm assuming, honestly, that Dever is getting bigger and working on more projects, which would explain her absence. I will be glad to see her when she returns.
As always, here are some of my favorite quotes/moments from the episode:
"I was just there making sure the lobsters don't claw her."- Mike
"Why do her fake illnesses give me a real headache?"- Mike
Larabee's post it note gag was more amusing than it should've been.
"Yeah, I'm the worst. Coming in an hour early on my day off!"- Mike again
"Enhance? This isn't CSI, Baxter!"- Larabee
Call me lame, but I loved all of Vanessa's seafood puns.
"What? You don't need a dollar?"- Mike
"Is there something wrong?" "Not if you enjoyed The Revenant"
"I know I ask you this a lot, but what the HELL are you doing?" – Mike
Overall, it was a really strong, funny premiere. With exception to Eve's notable absence, the "Papa Bear" was Last Man Standing at its best.
What did you guys think? Did you enjoy the episode? Let us know in the comments!
Last Man Standing airs Fridays at 8/7c on ABC