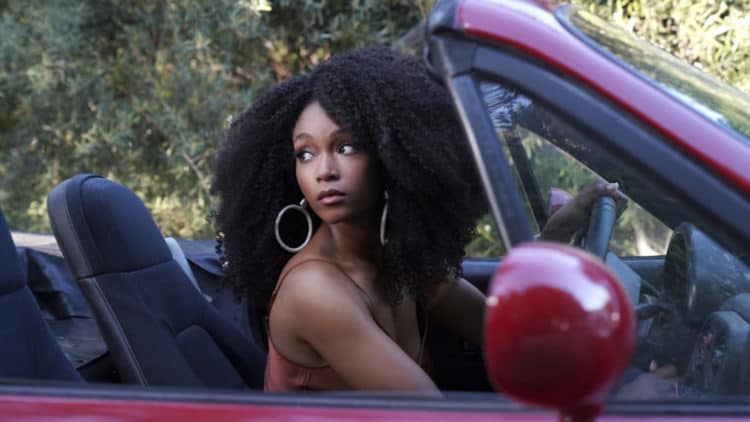 On Our Kind of People Season 1, Episode 8, Teddy was fresh out of the hospital and was determined to make amends with his daughters and Tyrique. For a minute we actually thought that his near-death experience had actually softened the old man's heart, but in Episode 9, Teddy seems to be back to his old self.
A Complicated Mess
With the stadium deal falling through and finding out that his father committed suicide, Tyrique hasn't been in the best mental state. Angela and Nate playing house doesn't make things better. But Tyrique has washed his hands of the situation despite Angela's attempts to make things work between them. It looks like Teddy's plan to break them up is working. Angela finds cocaine in the house and she assumes that it belongs to Nate. Angela warns Nate not to break Nikki's heart by falling into his old patterns. However, we soon find it out that the coke belonged to Patricia, who has just returned to the show after being out of town for the past few weeks. This is big news. Patricia had a substance abuse issue in the past, but she has been sober for years. That is until Teddy threatened to expose a horrible secret that she has been carrying around for years. Patricia was in a abusive relationship with Darius, her dealer, that also happened to be Tyrique's father closer friend. Patricia ended up killing Darius one night in self-defense. She called Eve, Eve called Teddy and Teddy had Tyrique's father Calvin get rid of the body. Teddy has been using this secret to control Patricia and the stress led her to use again. Patricia tells Angela not to trust Teddy no matter what. Angela apologizes to Nate and she confides in him about everything she's had on her plate over the last couple of weeks. There is still chemistry between Nate and Angela because they end up sharing a sweet kiss. Angela stops things before it goes too far. It's way too soon to start anything with Nate, especially since things are still up in the air with Tyrique.
Generational Curse
To establish her business Angela has to get in good with the Graceties but that hasn't been easy, especially since her fate lies in the hands of Olivia, Leah's uptight monster-in law. Leah tries to smooth things over with Olivia but she finds out that her beef with Angela goes goes back years ago. Eve, Olivia and Leah's mom Rose were all friends back in the day. Rose advocated for Eve to become a Gracieties and Olivia used the money Vernon her late husband gave to her to invest in Eve's business to prove to him that she was actually a good businesswoman. When Eve had an affair with Teddy and left the state, Vernon stopped trusting her judgement. Eve's action deaden any opportunity she had to help run their family's business. Olivia is holding Angela responsible for her mother's sins. Leah takes up for her sister and let's Olivia know that she's not being fair.
Accident?
Olivia is angry that Jack is willing to throw Darmon away so carelessly. Since she married into the family, Darmon isn't her birthright so all she can do is try to talk him out of his decision. Olivia has always been like a cool second mom to Jack and she plays into that as she has drinks with him. It doesn't work. When an inebriated John attempts to stop Olivia from leaving by grabbing her arm, she pushes him away and he falls back into the glass coffee table. Jack 's death is very convenient since his stock in the company will now go to Raymond. Jack's body is later discovered by Lauren and Taylor. Raymond knows his mother interfered somehow in Jack's death and makes it clear that she won't be involved in the company. For most of the season, Olivia's character was in the background, but over the next few episodes she's bound to become a main player. Olivia is tired of being told no and undervalued by the men in her life. She's determined to get what she wants even if it means using her power and influence.
Young Love
Life can be just as complicated for the teens in Oak Bluffs as it is for the adults. Lauren has been going through it ever since she found Jack Darmon's hotel key in her mom's car and she doesn't know whether Leah is playing her father and having a secret affair with Jack. Lauren pulls Taylor away from Nikki because she needs her support right now, especially since Taylor went through a similar situation. After the kiss Taylor and Nikki shared last week, it's clear that this trio is in a love triangle. Lauren and Taylor's trauma bonding lead to a trip down memory lane when they start to make out. Nikki doesn't know where her and Taylor's relationship will go because once the summer is over Taylor and Lauren will be heading right back to boarding school together. Meanwhile, things are heating up between Quincy and the lead housekeeper's granddaughter. Will this budding relationship stand the test of time? I guess we'll see next week.
Tell us what's wrong with this post? How could we improve it? :)
Let us improve this post!