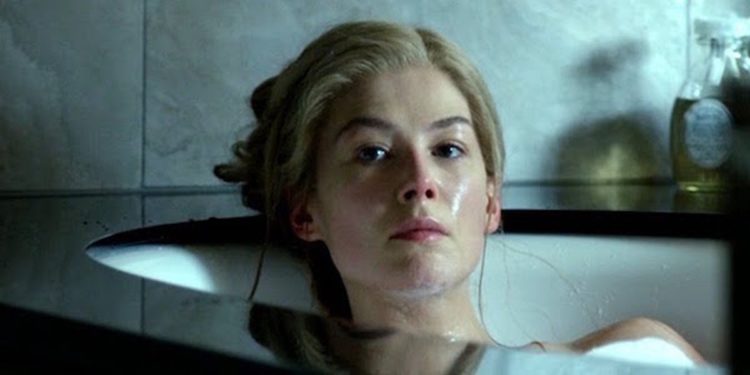 When both of your parents are opera singers it's easy to see how you could be influenced to want a career on the stage or even in front of a camera. Rosamund Pike has made quite the career for herself in the last couple of decades and in all honesty she's been quite impressive in some of her roles despite the fact that she's admitted to quaking at certain times with uncertainty. That's to be expected when you take on roles in movies that are part of franchises that have been ongoing for decades, but she's performed very well and shown people something that is nothing less than impressive when it comes to her skill, stability, and talent as an actress. One of the best things about her is that she can manipulate the emotions of the audience, getting them on her side or making them absolutely hate her character. This is the mark of a truly talented actor.
Here are a few other things that people might not have known about her.
10. She was an only child.
This can be a positive or a negative depending on how people take it and how a child is treated throughout their lives. Being spoiled is much easier, but believe it or not being ignored is much easier as well depending on how a child develops. According to her bio however Rosamund was well-taken care of and came from a fairly stable if mobile living environment since her parents' opera careers kept them moving about fairly frequently.
9. Rosamund was friends with Chelsea Clinton in college.
How many people can say that they went to school with the daughter of a president? They became quite good friends it sounds like and have no doubt kept in touch throughout the years after school.
8. While filming Jack Reacher she was 5 months pregnant.
This almost seems like something that would take her out of a movie like this but unless she was going through risky stunts on a daily basis it would seem that things would be okay. Pregnant women in this day and age are well-cared for it seems on set, but there's still a lot of concern, which facilitates personnel on hand that are there to make sure that nothing untoward happens.
7. She had to beat out a lot of other women for her role in Gone Girl.
Apparently there were a lot of other names in the mix for the role she played in Gone Girl, and to be honest the fact that she beat them out in order to gain the role is kind of impressive, but one has to think that some of them might have also decided to focus on other movies.
6. Rosamund turned down a role in the film Focus.
This role would eventually go to Margot Robbie, and in retrospect while Focus wasn't considered to be that great of a movie it does seem to be that Margot was a better choice simply because she has a much more seductive way about her. Rosamund is very beautiful, but in a very different manner.
5. She was given consideration for a role in X-Men: First Class.
There was talk that she could play the role of Emma Frost or Moira McTaggert. Honestly she seems more like the type to play McTagger than Frost since Emma had to possess something of a more voluptuous figure, and even January Jones didn't really fit the bill.
4. She was rejected by multiple acting schools.
This had to come as kind of a hard and depressing time, but that didn't stop her from pursuing her dream thankfully as she continued to make her way forward, not allowing rejection to really get her down.
3. Rosamund had a crush on Patrick Dempsey at one time.
It seems like a lot of women have had a crush on Patrick Dempsey at one time or another. The guy is something of a magnet to women that a lot of them can't seem to resist even now that he's getting older. Well, now he's more distinguished of course, so that only adds to his allure, I guess.
2. She has plans on being an actress for the rest of her life.
A lot of people have outlines for their life that they want to follow while changing what they need to in order to make things work. Rosamund's is pretty simple though, she just wants to keep acting. So far she's done well enough that her goal should be easy to attain.
1. She was a contender for the role of Lois Lane in Man of Steel but she chose to star in another movie instead.
Obviously this role went to Amy Adams, who did a fairly good job, while Rosamund went to work on Wrath of the Titans, which was a great story but didn't seem to wow a lot of people at the box office.
She's earned her spot at this point and is in many ways an appealing actress.
Tell us what's wrong with this post? How could we improve it? :)
Let us improve this post!