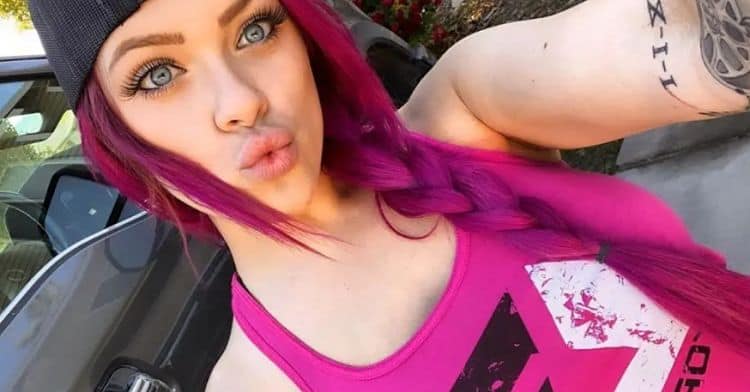 The automotive industry has a history of being dominated by men. Women are often considered clueless when it comes to anything involving cars, and this is especially true when it comes to fixing them. But Lacey Blair is breaking that stereotype. The talented mechanic has been working in the industry for years, and she is now a part of the Diesel Brothers cast. When it comes to fixing cars, Lacey can keep up with the best of them and she's not afraid to show it. Although she's pretty new to the show, she's already getting a lot of attention and she's well on her way to becoming a fan favorite. Keep reading for 10 things you didn't know about Lacey Blair.
1. She Has Her Own Company
Fixing cars isn't the only thing Lacy is good at. Lacey is an entrepreneur and she has been for several years. At the moment, her biggest focus is her apparel company which is named after her. Lacey sells a wide variety of items including t-shirts, hats, and tank tops.
2. She Was A Gauge Girl
Gauge Magazine "is the number 1 online magazine and web site for custom car and truck features, car show coverage, automotive videos and so much more. The publication regularly features models called Gauge Girls who are chosen to represent the magazine. In September of 2018, Lacey was chosen as a Gauge Girl and several photos of her were featured in the issue.
3. She Likes Doing Makeup Tutorials
In addition to her work with cars, Lacey is also a model. Since she spends a lot of time in front of the camera, she has also learned a lot about makeup. She enjoys doing makeup tutorials to share tips with other makeup lovers. Unfortunately, however, she hasn't shared any tutorials lately.
4. She Loves Attending Truck Shows
Lacey has loved cars for most of her life and she is particularly interested in truck shows. When asked about these shows, she told Gauge Magazine that she attends as many as she possible can. She added, "Now I travel to many shows across the country working for Hostile Wheels. That combines my hubby and work together."
5. She's A YouTuber
Lacey has a large following on social media and she loves to create content for her fans. She has a strong YouTube presence and her channel has gained over 90,000 subscribers. She uploads a wide variety of videos including vlogs, stories, and car content. Her videos have gotten a total of more than 9.5 million views.
6. She's A Missouri Native
Lacey was born and raised in Missouri where she spent most of her life. She is very proud of her home state and the things it has taught her. However, like many other people, she wanted to explore the opportunities that were available to her elsewhere. As a result, she currently lives in Utah which is where Diesel Brothers is filmed.
7. She Owned A Hair Salon
Being a hard worker is something that's simply in Lacey's DNA. The apparel line isn't the first business that Lacey has owned. When she was still living in Missouri, she owned a hair salon and a motorsports shop. Lacey's hair salon, Town & Country, appears to still be open while the motorsports shop appears to be closed.
8. She Sells Items On Poshmark
Lacey loves fashion and she has a great sense of style. Not only does she enjoy putting outfits together for herself, but her eye for clothing is something she also enjoys sharing with other people. She has a store on Poshmark where she sells clothes and accessories for affordable prices. At the moment, her store has nearly 2,100 followers and she's already sold several items.
9. She's In A Relationship
Some people may assume that Lacey's busy professional life would make it hard for her to be in a relationship, but that isn't the case. Lacey is currently dating a man named Craig Scanlon who also works in the car industry. It's unclear how long they've been together. However, in her Gauge Girl interview, Lacey said she was dating someone named Zach who she hoped to marry. This means that she and Craig must've gotten together sometime after she was featured in Gauge Magazine.
10. She Loves To Empower Women
As a woman in a male dominated industry, Lacey knows that it's like to be overlooked and undervalued. Despite the negativity, Lacey has always managed to push forward. She hopes that the success she's had can help other women feel empowered and find the confidence to chase their dreams.
Tell us what's wrong with this post? How could we improve it? :)
Let us improve this post!