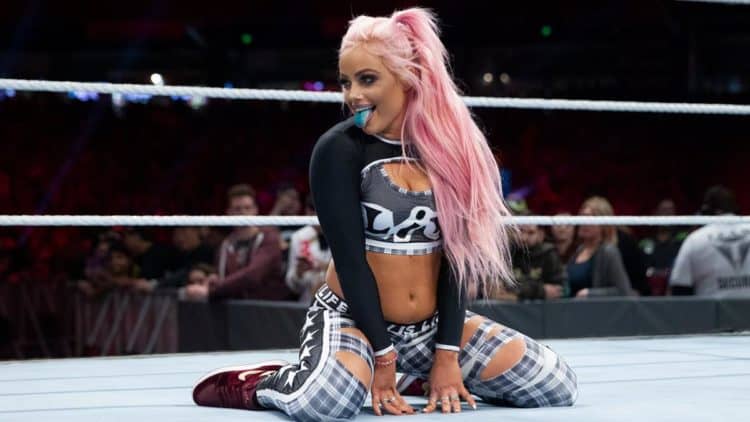 Liv Morgan has undoubtedly made a splash already this year. With her latest plot twist, everyone in the wrestling and LGBTQIA communities has an opinion, from the execs to the fans. Regardless of current storyline based events, Liv has been tearing up the wrestling scene since before she was on the main roster. She always knew that wrestling was the path for her, and the motivated and talented young Diva is living that dream. Here are ten things you didn't know about Liv Morgan.
1. Not to be Confused With…
Liv Morgan isn't the only professional actress who shares that name. However, Gionna Jene Daddio (Liv the wrestler's real name) and Olivia Morgan have little else in common. The diminutive Olyvia stands 4'6 and is best known for her role in Giggles Talk. Meanwhile, the wrestling sensation Liv Morgan spends her time pinning other women to the floor, and according to her latest storyline, that might include when she's not in the ring, but we'll get to that in a moment.
2. What a Twist
In the final moments of 2019, Liv Morgan was a part of one of the best plot twists of the year as she broke up the wedding of Lana and Bobby Lashley to confess her love. When the officiant asked if anyone had objections, she came out in a business suit with one sleeve and tearfully demanded the ceremony stop because the love of her life was in that ring. Bobby confusedly insisted on his innocence, but Liv was having none of it as she told him it wasn't about him, but instead, she was in love with Lana. Unfortunately, her grand romantic gesture went awry, and Lana ended up hitting her. That's certainly not a sign that Liv and Lana are going to have a healthy relationship if they have one at all.
3. Need More Liv?
When you just can't get enough of your favorite stars, there's usually a solution. Social Media has opened doors into our celebs lives that we never had before. You can follow Liv on Twitter to keep up on her latest antics in the ring and in life.
4. The Youngest
How does a gorgeous girl like Liv get so tough? The answer is simple than you might think. She's the youngest of six children. Gionna has one older sister and four older brothers. Being the littlest sib in a big family is enough to teach almost anyone how to defend themselves, and Liv was no exception. In the Daddio family, they played rough and wrestled often. Mostly it was for fun, but that doesn't mean they pulled all their punches. Children rarely do.
5. Fighting Begins at Home
As WhatCulture points out, fighting at home is never a good idea. However, it was the norm for the Daddio kids. Liv and her siblings were back yard wrestlers when they were younger. For Liv, wrestling was something she picked up early and never wanted to let go of.
6. Ex-Cheerleader
Though she wasn't a pro cheerleader, Liv Morgan did do some cheerleading when she was younger. We can certainly see her rocking the uniform. Plus, it helped keep her in shape and active, which was always a lifestyle choice for Morgan. She even spent a little time modeling before she landed her dream job working as a wrestler.
7. Teaser
After leaving the Riot Squad, a lot of fans expected her to become a stand out solo act immediately. People clearly wanted to see more of her, and she was ready to oblige. It's not uncommon for wrestlers to change their character over time, though usually, it's a relatively minor progression. In Liv's case, the changes were more drastic, but at least she warned people they were coming, with a series of carefully structured videos.
8. Unexpected
Most kids who grow up with dreams of wrestling, and who build their own ring in the backyard to practice with their siblings, end up at least trying to get into the amateur wrestling scene. It wouldn't be surprising at all if we said Liv went from high school straight into the indie wrestling community, but she didn't. Liv Morgan was never a part of the independent wrestling scene unless you count what she did with her brothers and sister at home.
9. No Silver Spoon Here
Liv didn't just grow up as one of six kids. When she was still young, her father passed away. That left her mother alone to take care of a half dozen children on her own. They didn't have a lot of really nice things. Liv didn't have expensive clothes or many luxuries as a child. However, her mom did manage to scrape up enough extra cash to keep them all in cable TV. That's where they watched their wrestling and got the idea to stage their own backyard matches.
10. John Cena
As a kid who was a massive fan of wrestling, Liv grew up idolizing wrestlers. One of her favorites was the bad-boy, John Cena. Liv has admitted she had a childhood crush on the wrestler when she watched him on TV. We don't blame her. After all, John Cena is easy to love. He's always been a great character who we truly enjoyed watching both in and out of the ring. If you have to have a wrestling idol or crush, he'd undoubtedly make our top ten list.
Final Thoughts
What's next for Liv? We have no idea, but we'll be watching in fascination to see what she pulls out of her sleeve next. As pro wrestlers go, she may play a baddie (aka heel) in front of the crowd, but she's well-loved by her costars backstage. We have to admire a believable bad guy or girl as the case may be. It's hard to take that kind of hatred from the crowd, but Liv does it beautifully. Do you know any more fun trivia about Liv Morgan? Share it in the comments section.
Tell us what's wrong with this post? How could we improve it? :)
Let us improve this post!