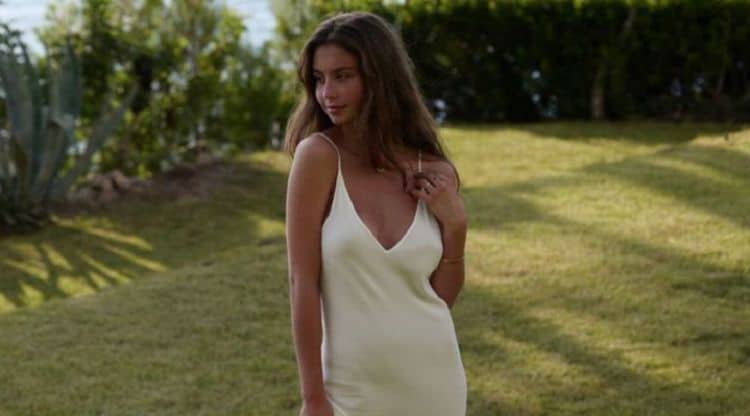 If there's one thing that's cooler than having a famous parent, it's having two. That's the reality for Carys Douglas, the daughter of Catherine Zeta-Jones and Michael Douglas. You may not be familiar with her yet, but we have a feeling that will be changing over the next couple of years. The 17-year-old is slowly making her way into the spotlight, and her parents couldn't be any more proud. Despite her famous lineage, Carys is determined to make a name for herself, and she's already off to a great start. No matter what she ends up deciding to do, Carys is going to work hard to be successful. Keep reading for 10 things you didn't know about Carys Douglas.
1. She Loves Fashion
Carys has loved fashion for as long as she can remember. She considers her mother to be one of her favorite style icons and she grew up looking through her mother's closet and admiring all of her beautiful clothes. Now that she is developing her own sense of style, Carys likes to put her own spin on things and she's already gotten attention from some major brands.
2. Her Mom Is One Of Her Best Friends
Most teenagers can't wait to get away from their parents, but that's not how Carys feels. She has a very close relationship with her mother and the two often discuss things openly. If Carys does decide to pursue a career in the entertainment industry having her mother (and father) to guide her will be extreme beneficial.
3. She Didn't Always Know Her Dad Was Famous
Most people who have famous parents don't see them as stars. Instead, they're simply just mom or dad. However, in Cary's case, she didn't even know her father was famous in the first place. She told Town & Country, "I thought my dad was a pancake maker. I didn't know he was an actor. Honestly." It wasn't until the family moved to New York that she realized her father was much more than a pancake maker.
4. She's Lived In Bermuda
The spotlight can be a difficult place to raise children, which is why Catherine Zeta-Jones and Michael Douglas decided to raise their children in Bermuda for several years. For the early years of her life, Carys was able to avoid all of the chaos that comes with Hollywood and the paparazzi.
5. She Has Considered Pursuing A Career In Medicine
Most people would assume that Carys is interested in becoming an actress, but that might not be the case. Instead, she has her sights set on something else. She hopes to attend an Ivy League school and eventually go on to become a doctor. However, she hasn't completely written off the possibility of becoming an actress.
6. She's Acted In School Productions
Even though Carys really wants to carve out her own path, there's something about entertaining that she simply can't resist. She has already gotten a taste of what it's like to be an actor by appearing in several of her school's theater productions. She is also a talented dancer like her mother.
7. She Loves To Read
Having two famous parents isn't exactly the norm for most teenagers, but in almost every other way, Carys is just like lots of other kids her age. She loves hanging out with friends and when she has time to herself, reading is one of her favorite ways to pass the time.
8. She Had A Close Relationship With Her Grandfather
Carys' grandfather, Kirk Douglas, was a Hollywood legend, whose career spanned more than 6 decades. Carys and Kirk had a very close relationship. After his passing in early 2020, she shared a heartfelt Instagram post about the love she had for him. In the post, she said that her grandfather "was, and still is a tremendous inspiration to the world through not only his incredible acting career, but his philanthropy and generosity that moved mountains."
9. She Enjoys Traveling
On top of living in two different countries, Carys has also visited many more. She is well-traveled and has gotten to see parts of the world that most of us will only see on the internet. Some of the places Carys has visited include India, Dominican Republic, Mexico, and Jamaica.
10. She's Been On Th Cover Of Vanity Fair
Carys hasn't officially entered the entertainment industry yet, but she's already making major moves. In the summer of 2019, she and her mother were featured on the cover of Vanity Fair. The photoshoot proved that Carys is a natural in front of the camera, and many of her social media followers were very impressed.
Tell us what's wrong with this post? How could we improve it? :)
Let us improve this post!