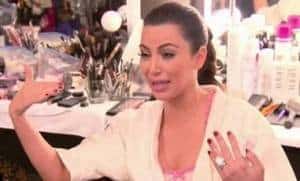 The two part Kourtney and Kim Take New York season finale was hardly a cliff hanger. Unless you were living on another planet last Halloween, we know how the story ends. As we saw in part 1 last week, Kim came to the conclusion that she did not want to be married to Kris anymore. Part 2, therefore, only serves to seal his fate.
Bubbling under the surface are Kim's feelings of distance from her husband. She approaches Kris about this and feels that perhaps they got lost in the shuffle. They went from a high stress wedding to living together in New York with her family. He's been focused on training and neither one of them has much time for the other. They decide to spend their remaining days in New York together.
Good intentions, but it doesn't work. Kim and Kris go to a pilates class together. Even there, they get into a silly tiff, she can't tolerate his attitude so she leaves. Next, they try going to dinner together. Their date is awkward, there's not much for them to talk about and they both feel it.
All the angst Kim experienced all season unleashed itself in a waterfall of tears. What finally broke the dam? It all came down to the boxes. As the foursome begin packing for their departure, Kim is thrown into panic attacks at the sight of Kris's moving boxes. She and Kris both know she has maxed out the space in her L.A. mansion. Kris quite naturally thinks his boxes should be shipped there anyway, but Kim wants him to send his stuff to Minnesota. She thinks he should come to her home with just one bag until they figure out where and how they are going to live. Kourtney overhears this. If she was Kris, says Kourtney, I would hate you. Kris is upset and tells Kim she is just not ready to have someone in her life.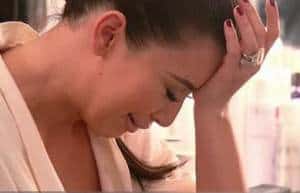 Kim confronts Kourtney privately about calling her out in front of Kris. Kim is trying spare Kris's feelings by not showing her panic, and Kourtney, knowing how Kim really feels, should have had her back. In her defense Kourtney says she felt bad for Kris because he told her about his property in Minnesota where he wants to build a dream home for Kim.
Kim is rattled and calls Khloe. In tears, Kim tells her she is embarrassed and guilty that she fell in and out of love, and what she put everyone through in the process. Khloe tries to calm her, assuring her it's okay that this isn't her fairy tale. Kourtney comes in and Kim unloads on her with more tears. She is anguished that she made Kris change his whole life around to be with her and now she doesn't want him anymore. She admits that while Kris is everything you would want in a guy on paper, her heart isn't connecting. Kourtney is moved to tears. Scott joins them and hearing all this, tells Kim flat out she must get her feelings out to Kris and either move forward or move on.
Kim and Kris leave the penthouse, riding in silence to the airport. Kim knows she has to have 'that talk' with Kris. She won't do it on camera, however. She tells us that even though she lives most of her life on camera, she is not going to have the conversation with him that way. She will wait to she gets to L.A. and have the conversation privately. As we know, Kim filed for divorce on October 31, just a short while after filming of Kourtney and Kim Take New York wrapped. Since Kris was supposedly blindsided by the filing, it begs the question, did Kim ever really have that talk?