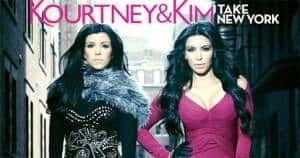 This week's Kourtney & Kim Take New York brought lots of drama to the New York-based Kardashian clan. Kim is drowning in her tears over a photo shoot gone wrong , while Scott & Kourtney hit another bump in the road. As much as I enjoy the glamour of these girls, will somebody please tell Kourtney to get a new stylist. Her outfits detract from her looks, especially the blouse with the lacy kitchen curtain collar. Props to the other sisters as they always look stunning.
Khloe's arrival breathes new life into the penthouse. She cuddles and coos with the sisters, makes out with a giant blow up giraffe, and gets Kourtney to admit she likes her better than Kim. Meanwhile, Kim is upset over the proofs of a magazine photo shoot which show more of her than she bargained for. Promised her body would be covered with artwork, the artwork was curiously absent in the photos. Screaming and crying to a rep and her Momager Kris gets her nowhere, as the magazine has already gone to print. 'Own it and keep your head up'says Momager.
To take her mind off her troubles, Kim hits a nightclub with her sisters and Scott. A male fan gets his picture taken with Kim and proceeds to hit on her. Male fan's girlfriend gets wind of this and gets in Kim's face, throwing a drink right on her. Scott rushes to Kim's defense, trying to diffuse the situation, but a free for all ensues. Kourtney returns from the restroom to witness Scott being mercilessly tossed from the club, and she is furious. Outside, the sisters try to explain to Kourtney what happened, in full defense of Scott, but Kourtney doesn't want to hear it. She insists they return to the penthouse, leaving Scott in their dust.
For the next 24 hours the sisters, especially Khloe, continue to defend Scott and finally persuade Kourtney to hear him out and apologize to him. Kourtney relents and they make up. Kim's magazine arrives and she quickly learns to love her photos, but admits she learned a lesson along the lines of '˜if you don't want to be shot nude, don't take your clothes off.'That's quite a lesson. The best line of the night? Khloe tells the viewers her support of Scott was "a step in the right direction but don't get too excited'. Love Khloe!
Tell us what's wrong with this post? How could we improve it? :)
Let us improve this post!