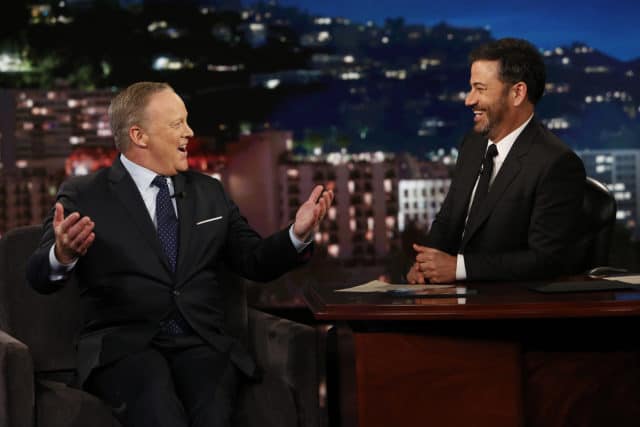 Normally I don't have a lot of regard for those have that much to do with politics. It's easy to look at those individuals that do what seems like nothing and attribute that to anyone and everyone that works in Washington D.C. The difference between some of them is that some get things done while others seem to sit on their butts and collect a healthy pension or salary each year. Spicer seems to have gotten a raw deal though. He was let go from his position, or technically he resigned, after a slew of controversy was launched at the POTUS and his manner of serving the country.
In many ways Spicer was just the patsy when it came to articulating what Trump wanted to say to the American people. If he said something that the POTUS didn't like he got criticized. If he said something that Trump liked he still got criticized since Trump would have said it in a different way. He had a hard job without a doubt simply because of the man he had work for. While he enjoys the fact that having an elected president is a mainstay of American culture that is an overwhelming positive there's no doubt that he had to work for one of the hardest people in the world to withstand on a daily basis.
His likability however goes down just a bit when he continues to protect a POTUS that was obviously difficult but is no longer his boss. When it comes to talk of the press he tries as hard as he can to be fair and even-handed with his description, but he still sounds like he's on the job. He knows very well that the POTUS throws a lot of shade at newscasts and studios that don't hold him in a positive light and tends to favor those screwy newscasts that hold him in good standing. Yet he's still so judicious with his words that it seems at this point that he's slipping into the habit that he's been practicing for so many years.
It's admirable really that he doesn't want to lay into Trump or even Scaramucci, who could be accused of being the absolutely wrong guy for the job. Spicer is simply a nice guy that doesn't want to trash on anyone that might be affected by what he has to say. But for all that he's still someone that's been touched by a political career for way too long and as a result is someone that I can't fully trust, but can possibly like at least a little bit. He's done his job to put up with the current POTUS and despite only lasting six months was able to survive under a hailstorm of press conferences in which he was seen as the puppet of Trump and the one man that could possibly make the current POTUS look good.
That kind of job is enough to keep anyone busy on a regular basis, and Spicer was definitely preferable to his replacement.
Save