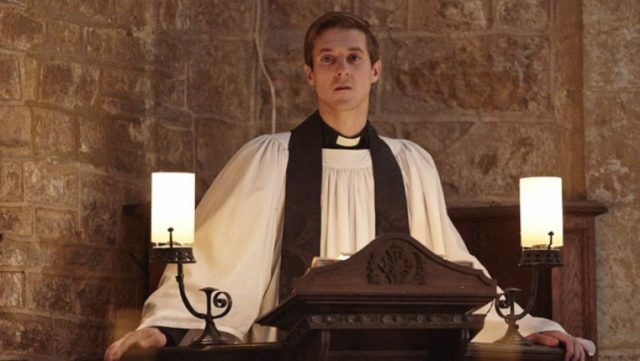 You have undoubtedly heard of Arthur Darvill, the actor that plays Reverend Paul Coates on the hit series Broadchurch. However, there is a big difference between watching somebody portray a particular role on a weekly basis and really getting to know more information about what they are all about when they're not acting. You might be surprised to find out the five following things about Darvill. If nothing else, it should inspire you to find your talents and then develop them.
1. He's also a musician
As if acting doesn't require enough talent, he is also a skilled musician. As a matter of fact, he plays in a band called Edmund and has even sang a song that he wrote onstage. It takes a lot of skill to be a good actor and it takes just as much to be a good musician. Obviously, Darvill has more than enough talent to handle both with relative ease. Nevertheless, the fact that he is capable of doing both should inspire just about anybody to get out there and start doing whatever they are good at.
2. Both parents were in show business
You might say that Darvill was sort of born into having all of this talent. His mom typically worked with the Cannon Hill Theatre, doing everything from setting up the different sets to doing voice overs and pretty much everything in between. At the same time, his dad played the Hammond organ. Since both parents were involved in show business, it sort of stands to reason that Darvill would find his own way while doing the same thing. One thing is certain, his parents certainly passed on their talent to their son when it comes to having an ability to perform in the Arts.
3. He composes music too
That's right, he doesn't just play in a band, he also composes his own music. He also worked on music for projects involving both Artefacts and The Frontline. This is more than a reasonable accomplishment, especially when you consider the fact that he is so busy with acting and everything else that has already been mentioned. Most people would be proud to compose something and actually have it featured in a project like the two mentioned here, but he just keeps outdoing himself and accomplishing more and more.
4. He actively works with the theater
Going back to his roots, Darvill still works with the theater. The company that he spends the most time with is called Nabokov. It's interesting that someone that is so involved in different areas of the Arts still takes time to remember where they came from, but the fact that he continues to work with the theater company only goes to show how deep his love for acting really is.
5. He started on Broadway
Apparently, all of that time spent hanging around the theater with his mom, as well as his own work with Nabokov, has paid off in a big way. In 2013 he starred in the Broadway production of Once. This is a dream come true for most individuals. For Darvill, it is just one more thing that he can add to his impressive list of talents.
Tell us what's wrong with this post? How could we improve it? :)
Let us improve this post!