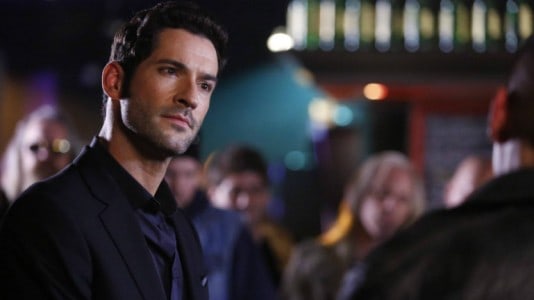 When we own something, we never understand its' true value until it is lost. This couldn't be more true for our favourite Devil in this week's episode of Lucifer as he tracks down who stole what belongs to him and helping Detective Decker solve a homicide in the process.
At first, Lucifer didn't want to help solve the case because he finds it boring (sure sounds like a certain mentalist we all know and love), but after Maze pointed out that the container belonged to him, the former Prince of Darkness rushed back to the crime scene, ready to get to work solving the case. Detective Decker, though she didn't appreciate Lucifer leaving her hanging, allowed him back on the case after Lucifer provided her with a lead and that something extremely important of his had been stolen from him.
I let out a loud laugh when Lucifer called the Los Diablos biker club members "Village People rejects". It was both condescending and humorous at the same time. Tom Ellis, you sir, are awesome! The Lucifer role was tailor made for you! Fan girl moment aside, I was surprised that the leader of the biker club wanted to rebrand the club as a fashion brand, but I suppose that the biker life can get rather exhausting and what Lucifer described as pirates on two wheels with all the pillaging and whatnot.
Oh, the part where Detective Dan (or Douche as Lucifer calls him) was hiding in his daughter's room naked (thanks to Maze) and Trixie blackmailed her father into getting her chocolate cake for a year was too funny and ironic at the same time given that he told his daughter that lying is bad when he took over the "interrogation" when the little girl ate a bit of her birthday cake (the Devil made her do it. Sorry, couldn't resist, but it's true). I would also have to agree with Maze when she told him that a tiny female bartender knocked him unconscious, stripped him naked and put him in his ex-wife's bed would never stick in an assault arrest.
The scene where Detective Decker predicted that the biker club leader would go to the person who owned the metal cross bracelet and deal with this problem himself before his rebranding plans are ruined despite the fact that Lucifer was semi-ranting about waiting for something to happen is useless and pointless made me yell "Eat your words, Lucifer!" at the television screen. I'm also surprised to hear Detective Decker quietly admit to Lucifer that she enjoys working with him aside from all the times that he annoyed her to no end. Hope this doesn't turn into a romance, but I have a feeling that it would. Let's hope that it doesn't come to that.
What shocked me the most while watching this episode, apart from hearing Tom Ellis sing beautifully for the first time on the show (how he managed to get a hanging microphone I'll never know), was that inside the ancient-looking chest were matryoshka dolls. I had thought that his majestic wings were stored in the chest and I was ready to call Lucifer out on his lie to Detective Decker. I never thought that the wings were stored in a hidden compartment within the actual container itself. My eyes were as wide as dinner plates when Lucifer pressed a hidden button of sorts on the right side of the container to reveal an empty hidden compartment that once housed his wings. Hope he can get them back in the next episode or two.
It was interesting to see Lucifer react so emotionally toward Dr. Martin's analysis of who he truly is, that he was God's favourite son and when she told him that ruling over Hell was a gift from God and called him the name Samael, it hit Lucifer hard and he began to rant angrily about his past, which I completely understood.
People blame the Devil for everything bad that they do and that his Father unjustly shunned him by condemning him to lord over Hell for all eternity, that He made him a torturer of dead mortals. I also agree with Dr. Martin when she said that fallen angels are able to rise again. Perhaps after Lucifer gets his wings back from the people who stole it from him, he will, at least, start to think about going home and not act like a rebellious teenager.
I can't wait until next week when we find out just who is responsible for taking Lucifer's wings. I'm thinking that it's Amenadiel because the archangel has been trying to get his brother to go back to Hell since the first episode so he might use the wings as some sort of leverage in order to get Lucifer to come to his senses. I could be wrong.
Photo via FOX
Lucifer Season 1 Episode 6 Review: "Favorite Son"
Summary
Lucifer tracks down what belongs to him and reveals parts of his past in the process in this week's emotional episode of Lucifer.