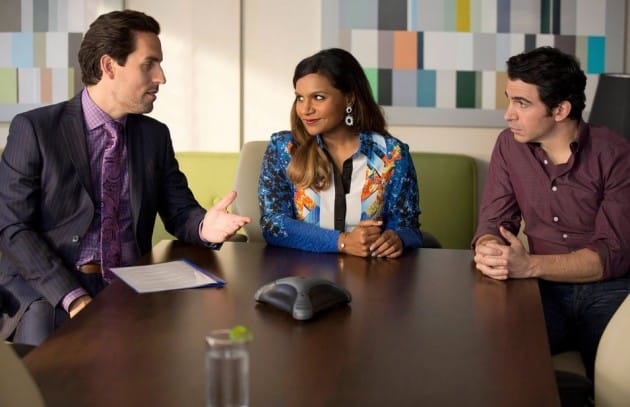 It was Mindy versus Danny in this week's The Mindy Project. They both have unhealthy vices to quit while taking on the task of replacing Peter in the practice.
As the episode title implies, Danny cracks down on Mindy's eating habits now that she's pregnant with their child. Even before Peter officially declares Mindy's pregnancy as "geriatric obese," Danny was already getting on her nerves by freaking out if she stood near a microwave or sipped her coffee. Speaking of Peter, he hasn't officially left the show entirely. Even since his supposed last episode, he's been appearing via webcam calls with Mindy. It sounds like he's turning into quite the stalker down in Texas. The closest he is to getting back with Lauren is a yet to be determined lunch date after he hit her car when he was following her too closely. That's not super creepy or anything!
Danny's big secret is that he's a chain smoker. I can't remember if we knew this about him before, but I was just as shocked as Mindy when she caught him smoking. Especially considering they're expecting a baby, now is as good a time as any to break that habit. He does it surprisingly well without even having to cheat and use a patch.
The way the search to hire a new doctor in the office was integrated into Mindy's morning sickness storyline was perfect. She notices that it's affecting her at all times of day, no matter the place: mailboxes, Morgan's super cool fedora, a bedazzled puke pail in the office, and Dr. Bergdahl's daughter's track jacket. Bergdahl will be an interesting addition to the Schulman and Associates office. He already earned Mindy and Danny's trust after he used his powers of observation to get to the bottom of Mindy's morning sickness, and it wasn't a dietary problem like Danny thought. Instead Danny is responsible for stressing her out so much. It makes sense, and I liked that Bergdahl advised him to take it easier on her because he'll need her on his side once the baby is born.
Notable quotables:
-"That's where I lock myself when I need to be racist." – Beverly referring to the conference room filled with for interviews. As usual, her one line per episode is always a doozy.
-"Oh my god, it's my favorite kind of cake: gigantic." – Mindy, seconds before attacking Tamra's birthday cake
-"I need eggs. I need waffles. I need 4 kinds of pigs meat. I don't need no bowl of oatmeals." – Mindy sounding a lot like a certain mustachioed sitcom character whose show ended last night.
What did you think about this episode?
[Photo via FOX]