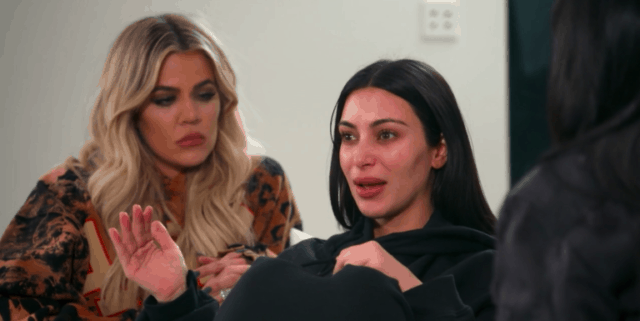 When Kim Kardashian was robbed of millions worth of jewelry in Paris, it was a big news story but even I admit it was taken as seriously as people probably should have taken it. After all, Kim is giant celebrity and it's not the media's job to empathize and imagine how frightening the whole ordeal must have been for her. It's simply the media's job to report on it and be recognized as being one of the outlets who is in fact the first to report on it.
But after the initial coverage of the story, Kim Kardashian was a recluse. She took a considerable amount of time to make her first public appearance let alone talk about the robbery. While we've heard bits and pieces about what happened, nothing was a chilling is Kardashian recalling the entire incident which was publicized on Sunday's episode of Keeping up with the Kardashians.
"Then [one of the armed men] duct tapes my face, my mouth, to get me to not yell or anything, and then he grabs my legs and I wasn't – I had no clothes on under [my robe] – and he pulled me towards him at the front of the bed and I thought, 'Okay, this is the moment. They are going to rape me,'" Kardashian recalled, tearing up. "And I fully mentally prepped myself and then he didn't and he duct taped my legs together."
"Then they had the gun up to me and I just knew that was the moment they are just totally going to shoot me in the head," she added. "I just prayed Kourtney was going to have a normal life after she sees my dead body on the bed."
"If anything would of happened to you, I wouldn't stop until they were dead," Kanye West tells Kardashian West in the episode, after reuniting with her in New York.
I don't care who you are, how famous you are, or how well protected you think you may be, this is one scary incident and will affect a person for the rest of their lives. It's hard not to feel sympathy for Kim Kardashian here. Imagine this happened to you or a loved one. Glad she retold the story but at the same time, kind of sad she had to go through it.
Tell us what's wrong with this post? How could we improve it? :)
Let us improve this post!