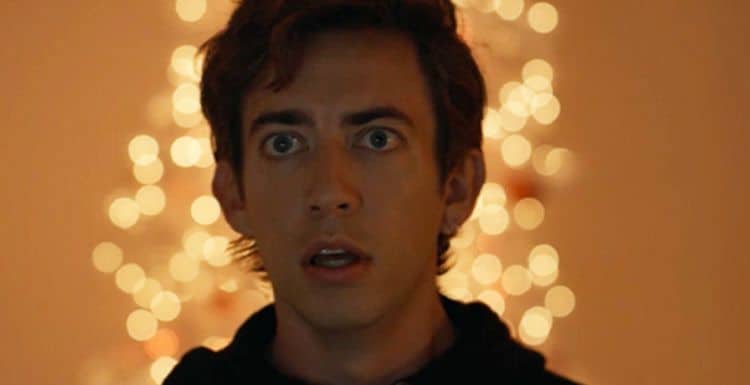 Not to be confused with the legendary basketball player of the same name, Kevin McHale is a multi-talented performer who has accomplished a lot over the course of his career. These days, he's best known for his work as an actor, but he actually got his start as a member of a boy band. Kevin was part of NLT which found moderate success in the mid/late 2000s. However, Kevin got his life-changing break in 2009 when he was cast in the TV series Glee. His role in the show earned him lots of attention and respect and has set the tone for other opportunities that he's gotten in recent years. Kevin has been a part of some great projects lately, and we know there will be even more in the future. Keep reading to learn 10 things you didn't know about Kevin McHale.
1. He Grew Up With Demi Lovato
There are probably millions of people who feel like they grew up with Demi Lovato, but Kevin McHale really did. When asked how the two knew each other, Kevin told D Magazine, "We went to the same singing teacher. It was me, Hunter Parrish, Demi, Ryan Cabrera, Ashlee Simpson. We were all together, which is funny now that we've all had our own successes."
2. He's A Dodgers Fan
Even though Kevin was born in Texas, he has lived in Southern California for a good portion of his life. Needless to say, he's fallen in love with the area's sports teams. Kevin is a big fan of The Los Angeles Dodgers and he likes to get out and see them play as often as he can.
3. He's A Brand Ambassador
The amount of success that Kevin has had in his career has translated into a large following on social media. Thanks to his followers, Kevin has gotten the opportunity to partner with brands to help market their products. He is currently a brand ambassador for Cutwater Spirits.
4. He Was In A Video Game
One of the cool things about Kevin is that he isn't afraid to try new things. As a result, he's gotten lots of cool opportunities over the years. One of those opportunities was the chance to be part of a video game. In 2018, he did some voice and motion capture work for the game The Inpatient.
5. He's In A Relationship
In the spring of 2018, Kevin came out in a tweet. Many of his fans instantly showed their support for the young star. He is now in a relationship with fellow actor, Austin P. McKenzie. Austin has had a very successful theater career that includes a stint on Broadway. He has also had several on-screen roles.
6. He Competed On The X-Factor
Kevin's work as an actor and singer isn't the only time that he's gotten in front of the camera. In 2019, he was a contestant on The X Factor: Celebrity. Unfortunately, he only came in seventh place. We weren't able to find any information on whether he plans to compete in any other shows in the future.
7. He's Passionate About Animal Rights
Kevin has worked very hard to build a large platform, and he has made it a point to use his influence to raise awareness of the things that are important to him. Animal rights are one of those things. In 2012, he collaborated with PETA on a campaign that encouraged people to adopt dogs from shelters. Kevin has also used his platform to show his support for LGBTQ+ rights.
8. He Understood Why Glee Got Canceled
Oftentimes, when actors are part of a show that gets canceled they tend to believe that the cancelation was unfair. When it came to Glee, however, Kevin didn't feel that way. During an interview with Billboard, he said, "Towards the end, there weren't that many people watching Glee…We're off the air for a reason." He also acknowledged that the show was never the same after Corey Monteith died.
9. He Loves To Travel
Kevin is the kind of person who loves to go on adventures and experience new things. Traveling has given him countless opportunities to do that. Over the years he has gotten to lots of traveling within the United States and to other parts of the world. Some of the places he's been to include Spain and Brazil.
10. He Loves A Variety Of Music
Long before Kevin started making his own music, he was a fan of other people's. At an early age, he developed an interest in all kinds of different music TLC and Britney Spears. As an adult, he continues to enjoy listening to a variety of artists including SZA, Lorde, and Frank Ocean.
Tell us what's wrong with this post? How could we improve it? :)
Let us improve this post!