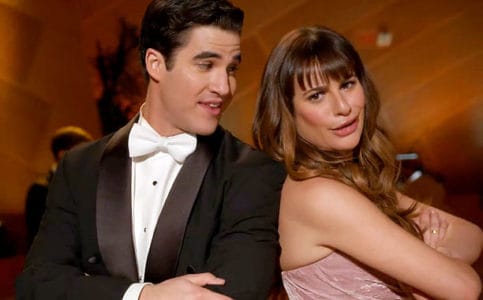 During its time on the air from 2009 to 2015, Glee was one of the most popular shows on TV. The show found the perfect balance between singing and drama and many of its cast members became household names. From the viewers' perspective, everything on seemed to be all good between the cast members, but in reality, there was something not so nice bubbling under the surface. In the years since the show's end, several cast members have spoken out about one of the show's biggest stars, Lea Michele. Allegedly, Lea was quite the bully behind the scenes and she was the reason for some of her co-stars' negative experiences on the show.
Many people, however, have wondered what took Lea's castmates so long to speak out about her behavior. Apparently, though, there's a reason why so many people stayed silent. Keep reading to learn why the stars of Glee were afraid to stand up to Lea Michele.
What Was Lea Michele Accused Of Doing?
Before we get into why people were scared to speak up about Lea Michele, we must first discuss what exactly they would've been speaking up about. For starters, rumors about Lea being rude and difficult to work with started to circulate even when the show was on the air. However, it wasn't until 2020 when the bulk of the accusations came to light. In June of that year, Samantha Marie Ware spoke out about her experiences on Glee and working with Lea Michele. She noted that Lea seemed to be especially difficult when it came to working with people of color.
In a tweet directed at Lea, Samantha said, "Remember when you made my first television gig a living hell?!?! Cause I'll never forget. I believe you told everyone that if you had the opportunity you would 's*** in my wig!' amongst other traumatic microaggressions. That made me question a career in Hollywood."
Not long after, other Glee stars also began sharing their experiences with Lea Michele. Even Dabier Snell, who was on just one episode of the show, claimed to have a negative encounter with Lea Michele. He said, "Girl you wouldn't let me sit at the table with the other cast members cause 'I didnt belong there' f*** you lea."
Heather Morris, who was on the show for all six seasons also chimed in stating: "…was she [Lea] unpleasant to work with? Very much so; for Lea to treat others with the disrespect that she did for as long as she did, I believe she SHOULD be called out."
Lea Michele's Apology
Once the accusations hit the internet, it didn't take long for them to spread. Lea attempted to clean things up by issuing an apology via her Instagram profile.
"While I don't remember ever making this specific statement and I have never judged others by their background or color of their skin, that's not really the point. What matters is that I clearly acted in ways which hurt other people. Whether it was my privileged position and perspective that caused me to be perceived as insensitive or inappropriate at times or whether it was just my immaturity and me just being unnecessarily difficult, I apologize for my behavior and for any pain which I have caused. We all can grow and change and I have definitely used these past several months to reflect on my own shortcomings."
Many felt like the apology was insincere and that Lea was simply attempting to save face. Of course, that usually tends to be the case when it comes to public apologies.
Why People Were Afraid To Speak Up
For a lot of people, standing up to others is one of those things that's much easier said than done. That seems to be the case for the actors from Glee. Heather Morris recently appeared on the podcast Everything Iconic with Danny Pellegrino to explain why so many people didn't say anything.
According to Heather, "It's like, we absolutely could have stepped up and gone to the Fox execs and said how we felt about the situation and nobody really did. So now we are living in a culture where it's acceptable to go do things like that, whereas I think many people were very scared." she continued, "I know, genuinely, I didn't feel like it was my place and I don't know why, because I was a cast member just like everybody else, and we all deserve to feel comfortable on a set."
Had someone spoken up when the show was still filming, and the situation may have had a completely different ending. Hopefully, this story will be a lesson to other people in similar situations that it's important not to let people get away with disrespecting others.
Tell us what's wrong with this post? How could we improve it? :)
Let us improve this post!