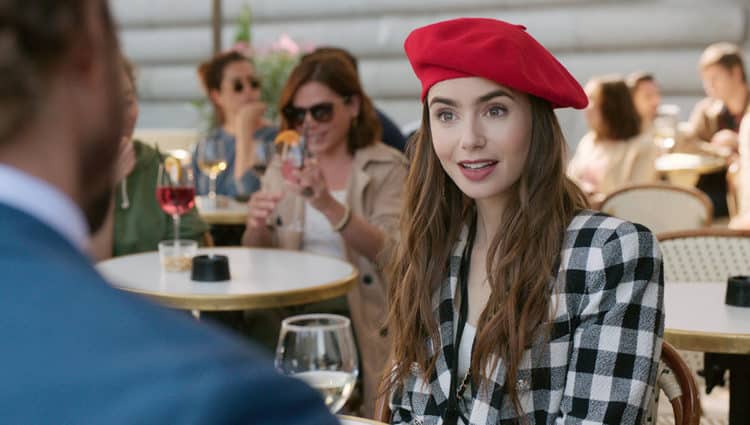 Bonjour, les amis. Get ready to go on another Parisian adventure, as Emily in Paris returns for a new season. Viewers are prepared to live vicariously through Emily's escapades once again. After all, Paris is always a good idea. The hit Netflix comedy-drama series is created by Darren Star, who is behind cult favorites, such as Beverly Hills, 90210, Melrose Place, and Sex and the City. The show first premiered in late 2020, and revolves around the life of a young American girl named Emily, portrayed by Lily Collins (Love, Rosie), who moves from Chicago to Paris for work. Emily is presented an opportunity of a lifetime when Gilbert Group, the company she works for, becomes the parent company of top French marketing firm, Savoir. In order to welcome the French company onboard, Emily is assigned to fly to Paris to offer her French counterparts a fresh American perspective on things. Viewers flew across the globe with Emily, and witnessed as she traded in the Chicago River for the Seine, bagels for freshly baked croissants, and hello to bonjour!
What Happened in Season 1
Relocating to a foreign place can be quite intimidating. The struggle of not knowing how to speak the local dialect, and not being familiar with the culture of the place is real. Being alone in the City of Lights is no different. Emily encounters all sorts of growing pains as she settles in her new life in Paris. This ranges from figuring out how to effectively communicate with her landlady to dealing with snotty French people in the office. It was nothing short of overwhelming. Luckily, Emily crosses paths with people who were able to make her Parisian stint worthwhile. She meets Gabriel, played by Lucas Bravo (La Crème de la crème), a handsome chef who happens to live a few floors below hers, and also becomes friends with Mindy, played by Ashley Park (Nightcap), a stylish au pair who happens to know the ins and outs of Paris like the back of her hand.
The first season focused on Emily's attempt to balance her new career life and her growingly complicated personal life. She falls prey to the charm of dreamy Parisian men, and goes on a string of whirlwind romances. This does not exclude the complications coming from the palpable chemistry she has with Gabriel, who just happens to be in a relationship with Camille, played by Camille Razat (The Disappearance). The storyline thickens as Emily navigate some tough workplace issues and personal decisions, among other things. Under pressure to impress her cold-hearted boss, Sylvie, played by Phillippine Leroy-Beaulieu (Call My Agent !), Emily is determined to win over new clients, including the renowned fashion designer, Pierre Cadault, played by Jean-Christophe Bouvet (Marie Antoinette), whom the firm has been trying to win over for years already. Emily's failed attempts to thaw the icy heart of the famed designer fuels her relentless spirit. Viewers rooted for Emily as she charmed her way through, and successfully convinced Pierre to choose Savoir to represent him as his official marketing agency.
This is just one out of the many workplace hurdles that Emily has conquered. It didn't take long for her snobbish colleagues to warm up to her, and turn into newfound friends. As per matters of the heart, Emily experiences the age-old battle of the heart and mind. Her heart may be screaming Gabriel at the top of its lungs, but her mind is preventing her from making any move. It doesn't help that Camille has already become a close friend, who is nothing but genuine and kind. What a guilt trip. The season ends with the heart overpowering the night. Emily and Gabriel finally spend the night together without any inhibitions, after Gabriel informs her that she broke things off with Camille. The catch is that he has to leave for Normandy to open his own restaurant. Timing can be a funny thing. The final minutes of the finale bring forth a bunch of new twists that are sure to make season 2 worthwhile. Gabriel changes his mind and decides to continue working at his bistro in Paris. Camille finds out about this, and seems to want to rekindle their romance. In the last scene of the season finale, Emily receives a text from Camille asking if they can talk. Nothing like a good old cliffhanger to keep viewers at the edge of their seats.
Updates on Season 2
The series was renewed for season 2 last November, by featuring a note from Sylvie requesting for Emily to extend her stay in Paris. The filming of the new season has already began last May and just wrapped up a few days ago. Viewers will also see a couple of new faces this time around. Some of these include, Lucien Laviscount (Scream Queens) as Alfie, Jeremy O. Harris (Zola) as Gregory, and Arnaud Binard (Guidestones) as Laurent G. Although Netflix has not announced an official release date yet, fans would be delighted to know that season 2 is jam-packed with new surprises, and a whole lot of new adventures. The upcoming season is expected to contain a refreshing storyline, exciting new guest stars, more fashion moments, and even a possible Instagram-worthy out of town trip. Teasers on the new season may still be limited, but one thing is for sure — there's no saying no au revoir any time soon!
Tell us what's wrong with this post? How could we improve it? :)
Let us improve this post!