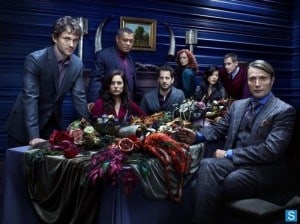 Dr. Abel Gideon has escaped. What a name of epically biblical proportion. Indeed, there is a deep Christian vein that runs through the series Hannibal, from angels, saviors, demons and even the theme of redemption. Will's visions are more vivid and Dali-esque; one might say quite mystical. The scientific explanation is encephalitis, but why are his hallucinations so magical, so powerful?
Dr. Gideon, possible Chesapeake Rippers, kills two guards during his escape and leaves them hanging from trees like some post-modern Greek myth. He scrambles their brains "just like they scrambled his brain." Of course, this now means, as Jack Crawford so skillfully surmises, that Gideon in now hunting any psychiatrist who ever worked with (on) Gideon.
Our Alana Bloom is one of these brain scramblers.
In this rather gruesome episode leading us to the oh-so-close finale just a couple of weeks away, we see Dr. Chilton outfitted with a "Columbian necktie", which is a rather ghastly name descriptive of slicing a victim's throat and pulling through his tongue to resemble a ghastly tie. Carson Nom, a second therapist, is also killed in the same manner but with his arm also cut off. This message, coupled with the Tattler article tells everyone where to go on this macabre treasure hunt: the Observatory.
In the end, a very ill Will shoots Gideon, ending his life. Dr. Chilton, basically operated upon with no anesthetic, lies near death, and Will, the mad saviour lies in a hospital bed with a 105 degree fever. The last scene gives us Hannibal and his own brain scrambler (Gillian Anderson) that he feels Will could be a friend. Oh boy, with friends like these …
"Roti" strikingly played with realities and states and confusion between sleep and wakefulness. If we don't know whether we are awake, or where we are, can we even know who we are? Or what we are? "Psychopaths are attracted to medical fields," someone says and here we see the shifting identities of healer/monster or God/Satan playing out. The monster hunters are the monsters and everyone is trying to discover just who they are. Even Hannibal to a certain extent. Will says to Hannibal at one point: "I feel just like somebody else…I fear not knowing who I am." Gideon himself questions who he is in this episode. Is he indeed between influenced by the manipulations of Dr. Chilton? It is all very fascinating, in a very Iago-oppositional identity kind of way… I am what you are not.
These elaborate gourmet dinners and rich wines that Hannibal serves to various characters make me wonder, at the end of the day, if the series is trying to tell us that the fall of our Western Empire will not come from a natural disaster or a war … but from our desires; that in spite of our collective intellectual power, our greed and lust for pleasure, whether food, drink, or sex will be our downfall. We just cannot control our cravings.
I'd thought to hear your thoughts of this episode.