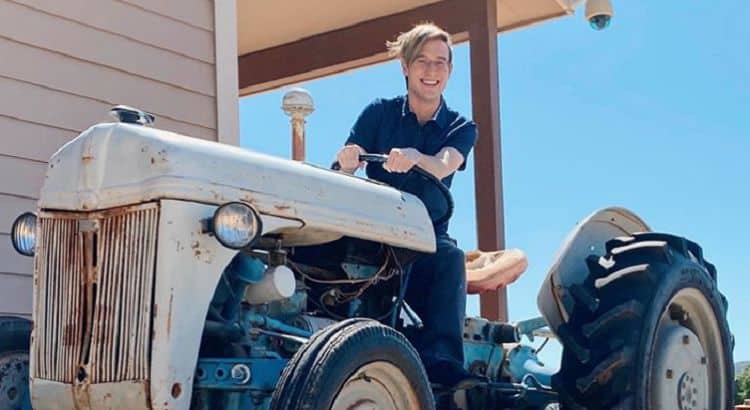 Tyler Henry may have discovered his ability at the tender age of 10 years, but he has made his way to the list of top mediums and psychics and if you would like a reading from him, here are a few ways. First, according to Good Housekeeping, you can always book an appointment with Tyler by going to his website and filling out a form where you have to put in details such as your name email address, country and message in which you can indicate your reasons for wanting a reading.
Of course, as with any other business, you will have to go through the Privacy Policy and Disclaimer before submitting your details. However, seems like it is a first come first serve basis since they disclose that they will respond as they go down the list and admit that it can take a while with Henry's increased shooting of his series so do not hold your breath waiting for a response. Matter of fact is you might have to wait for six months since, by January 2017, the waiting list had 15,000 people on it. However, maybe if you are a celebrity or someone who Tyler adores, the possibility of finding yourself at the top of the list is high going by his confession that he would love to do a reading for Lana Del Ray, who is his favorite musician.
Subscribe to social media accounts for giveaways
Everyone is now on social media and Tyler has many followers on his accounts, and he likes to reward them with free readings. The beautiful thing about these types of readings is that they are free so maybe you can try your luck and wait for a chance to be the chosen recipient of a giveaway. For instance in 2016 on his Facebook page "Hollywood Medium with Tyler Henry," Tyler was giving away a free reading through a video chat. All you had to do for a chance to win was leave a comment telling him why you wanted a reading. However, for you take advantage of such readings you have to be quick since the chance is open for a limited period; this particular one was open for 19 days in February 2016. Eligible contestants also are those who are 18 and older, have to be from the United States, and one only has to submit one comment for consideration.
On April 19, 2019, Tyler had a Skype giveaway and the lucky winner was Vanessa Robinson but he was still feeling charitable because he announced to celebrate the finale of Hollywood Medium, he would be giving away a free Skype call reading to one person. The procedure involved watching the season finale and commenting with the favorite part of the show's readings; the winner was announced on 24 April 2019. For your information, your chances of winning here are also very low given that there are over 2000 comments and only one person stands to win.
Be part of the audience
Yes, this may seem like stretching your luck too far, but it is not; when you are in the audience, there are not as many people as those who are scrambling for giveaways on Facebook and the best part is if Tyler does a reading for you, it will be for free. All the same, you have to be prudent in your choice of the city; do not expect him to go to a little town that is barely on the map. Tyler is now a celebrity, and he will want to visit the places where he can get comprehensive coverage so the larger the city, the higher the chances of him being a guest of a show and consequently the possibility of you seeing him increases.
As Quora reveals in an episode of "The Talk," Tyler did readings for some of the audience members and since it is free to be part of an audience of a daytime show, getting your way into the studio could earn you a reading. Alternatively, you can get acquainted with his schedule since he plans to be on tour around the country through October 2019 for "Life Lessons I've Learnt from the Departed," his new live show. Tyler promises to give his audience live readings. However, you have to be willing to part with some cash to attend some of his events. For instance, according to Ticketmaster for The Hard Rock Live at The Event Center in Hollywood California on 31 May 2019, the lowest priced ticket is going for $40 while the best seats cost $90. The surprising thing is that some of the events are sold out so you might want to hurry.
How much will it cost you to get a reading?
No matter how much you want something, it all boils down to your ability to afford it; otherwise, it remains a mirage. The same case applies when getting a reading from Tyler. Now that you know how you can get a reading, while some methods are free, others are not such as the private readings for which you have to fill out a form. Unfortunately, Tyler does not reveal precisely how much he charges for reading as Famous Psychic Mediums opine especially with his celebrity status. Nevertheless, we can assume that it does not come cheap considering that he does readings for other celebrities such as Sofia Vergara and Kenya Moore. Well, maybe the cost varies depending on who you are so it makes sense to have a tiered cost system for the commoner and for those who have achieved celebrity status.
Final Verdict
Tyler might have received some backlash for the death of Alan Thicke after telling him to take care of his heart, and the man ended up dying of Artic dissection. However that has not slowed down the 23-year old who now has a net worth of $3 million according to Celebrity Net Worth. Maybe the free readings are his way of giving back to the society but considering that he has made that much from readings, you should take advantage of the free readings otherwise the cost of a private session might be a bit too high for your liking.
Tell us what's wrong with this post? How could we improve it? :)
Let us improve this post!