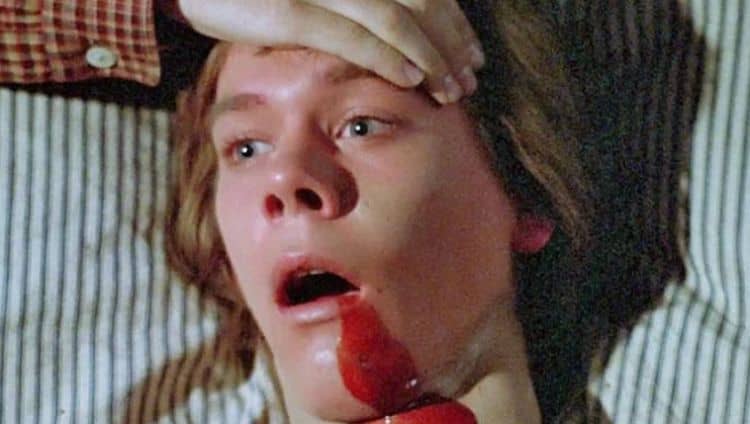 The truth is that a lot of actors become well-known for a certain number of roles, while others might hardly ever become known at all. Those that think Kevin Bacon is being a bit ridiculous in not want to revisit his time on Friday the 13th however might need to come up with another picture for the star to sign since the slasher flick wasn't exactly his favorite. It's very easy to guess why though since a picture of yourself with blood coming out of your mouth and deadly weapon poking through your neck is a little disturbing. Personally one might think that something from Footloose, or Tremors, or even Stir of Echoes would be a little better since he had a chance to be the protagonist in each of those movies. Hell, even Flatliners or Hollow Man might be better than Friday the 13th since he still had the chance to shine and not be another statistic in a movie franchise that would end up killing off a large number of characters just for the effect. Thankfully it sounds as though Kevin has a pretty good attitude about it but he'd still rather never see a picture like this again as it might be a little bit disturbing even at this point in his life. To be realistic the picture I'd love to have autographed is one of him and Fred Ward on the set of Tremors as the two were a great duo that made the original movie work in a big way.
Even a picture from his time in Animal House would have been something to see since the reaction might be a roll of the eyes or a chuckle, or both. Keep in mind that Animal House was first movie credit and he did surprisingly well as one of the Omega's, turning in a performance that was expected and definitely helped push the movie forward a bit. There are a lot of fans that might argue that his time in Friday the 13th wasn't wasted as some think it might have been, and they're definitely entitled to their opinion. But the truth of the movie and of every movie after is that those tossed into the movie are basically names and faces that are about to be run through a meat grinder and remembered later on, maybe, for the more die hard fans. This was something that Kevin did more or less for the money and by his reaction it's pretty obvious that he hasn't had any real connection to the movie ever since. People might remember him for it and they might find that he's a part of the story in a small but noticeable way, but in a horror flick such as Friday the 13th that doesn't really say much.
Kevin has had quite the career following his earlier successes, but thinking of how people fixate on one image is in fact kind of bizarre and a little creepy. He does admit to liking the horror genre, but also to enjoy more cerebral movies such as The Shining and Rosemary's Baby. There is something a little more appealing about movies that are horrifying and can terrify the audience but don't have to rely on blood and gore to do it. This is one of the many moments that it's easy to say to each their own and move on with it, but horror definitely takes a different direction each time one looks. Friday the 13th was popular then just as it is now but for a lot different reason than other horror flicks are popular. The absolute terror is what gets a lot of people, the lack of knowing what's going to happen being a key component to the overall enjoyment of the movie. But implied violence versus actual violence is where a lot of people draw their line since those that don't care for it as much tend to lean away from the gorier movies and seek out horror that has more to do with increasing the level of implied violence while at the same time stoking the fear in various ways that makes the audience continue to tense and grip their armrests. Visceral horror does the same thing, but with far more violence and crimson as it splatters upon every possible surface and more and more victims begin to pile up. While visceral horror can in fact be just as scary it's almost like a release when someone is killed, a way to build up to the next slaying as people have to go through the process of wondering who's going to be next all over again.
With cerebral horror the tension never really stops but instead loosens and tightens like a piece of wire that can be snapped at any moment without any warning. That would appear to be the kind of horror that Kevin really likes, though at the very least Friday the 13th did help him become a little more known in his day.