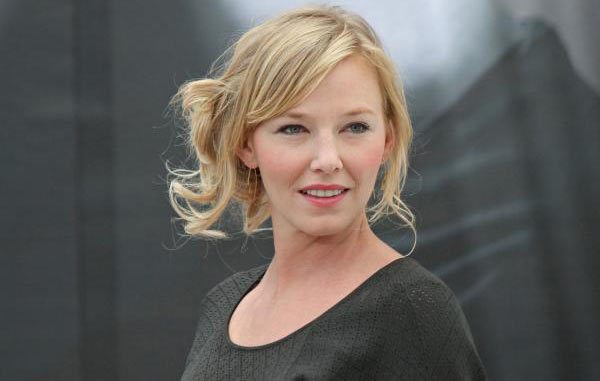 Law & Order: Special Victims Unit has been a popular drama series on TV for years and one of the crime-fighting agents is Amanda Rollins, played by Kelli Giddish. Kelli Giddish is an American television, film, and stage actress, born in Cumming, Georgia on April 13, 1980 to Charles and Nita Giddish, and has one sibling, a brother named Eli Giddish. Kelli Giddish has appeared in a number of television shows as both one-time parts and recurring roles, and has had roles in a number of big-screen films that have spanned from 2005 to current, including, Death in Love, and Breathless. If you're a fan of the Law & Order drama series, you probably recognize this talented actress, but here are 10 things you didn't know about Kelli Giddish.
1. Her grandparents were her support for acting
Many actors will tell you that they had at least one family member in support of their acting career, sometimes it's a parent, but in this case, Giddish says that her grandparents were her biggest supports for her acting bug. The Fox Theater is the oldest theater in Atlanta, Georgia and Giddish got to spend some time in the old theater growing up due to her grandfather, taking her there on a regular basis as a way of nudging her interest along. Along with her grandfather, her grandmother also showed support in her acting and other interests.
2. Got her degree in Theater Performance
Giddish completed her high school years at Forsyth Central High School and was very active in her theater program while there. After high school, Giddish went on to pursue her college degree from the University of Evansville in Indiana, where she received her degree in drama. Other accomplishments she's made include, being an Irene Ryan Acting Award finalist, which earned the ability to perform at the Kennedy Center. In 1997, she also won the region Best Actress award in an Art competition, and in 1998, she was the State Literary Champion for Girls Dramatic Interpretation.
3. She had a role on a Soap Opera
All My Children is one of the most-watched daytime drama soap operas, and Giddish found herself as part of the cast in 2005. She took a role playing Di Henry, but the part only lasted until 2007 when the story line for her character fizzled. Although fans weren't a big fan of the story line and other discrepancies having to do with her character, her performance was well-liked, so much-so that she was nominated for a Daytime Emmy for Outstanding Younger Actress in 2006.
4. She was an athlete
Acting isn't the only thing Giddish does well. Before she got her first roles in television, Giddish shined as an athlete during her high school years. Her game was softball, and she helped her her high school softball team win the championship while playing as a member of the team. She's obviously one who gives whatever she undertakes, her all, and it shows with the way her career has been excelling over the recent years.
5. She grandfather fought in World War II
Kelli Giddish may have been born in America, but her heritage is a mixture of cultures, including German, Irish, and English. Although she has a variety of cultures in her blood, several generations were born in the US, including her grandfather, Ralaph L. Giddish, who is a World War II veteran and married to Giddish's grandmother, Dosia Hildebrand.
6. She had a guest role on Law & Order before her main role
Sometimes actors get a guests appearance on a show before they are offered a main character and recurring role, which is how it worked out with Giddish. Before she was offered the role as Detective Amanda Rollins, she played a rape victim on episode 12, "Outsider," during the show's 8th season. Apparently her performance stood out and they found a permanent spot for her on the drama series.
7. She's appeared in a music video
Giddish is pretty well-rounded with her acting abilities and where she uses her talents. Not only has she been in a wide range of television shows and big screen movies, but she has appeared in a music video for the heavy metal band, Body Count, for their song, All Love is Lost.
8. She splits her time between the east and west coast
After graduating from college, Giddish moved to New York to take a role in Shoes, but over time, as her career blossomed and she began to get more roles demanding of her time on the west coast, she decided to set up two residences and so now currently splits her time between New York and Los Angeles.
9. She's married, and a mom
Giddish is a married woman and she's a mom. Giddish married Lawrence "Larry" Faulborn on June 20, 2015, in Smyran Beach, Florida and the couple have two children together, a son named Ludo,  born on October 6, 2015, and Charlie, born in November of 2018. Between being a wife, mom and very active actress, she is definitely one busy woman!
10. Her pregnancies were part of the show
When an actor becomes pregnant while they're actively filming a show, sometimes the pregnancy has to be hidden to keep the actor in the character's role, which may not call for a pregnancy. Sometimes this can be hard for the actress, however, Giddish was fortunate in that both of her pregnancies were able to be written into her character's role on CVU. I'm sure it made it much easier to act, knowing she didn't have to try to keep her growing belly hidden.