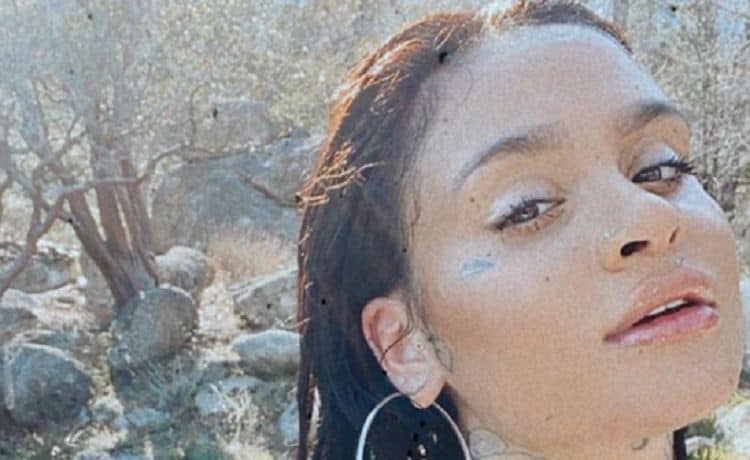 Since the release of her debut mixtape in 2014, Kehlani has become one of the most talked about R&B artists in the industry. Her immense creativity and beautiful voice have proven to be the perfect combination for success. Since 2016, she has received two Grammy nominations and had headlined her only tour. With her sophomore album less than a month away from its release, fans are excited to see if the project will live up to the high expectations that have been set. Continue reading for 10 things you didn't know about Kehlani.
1. She Was On America's Got Talent
Before Kehlani became a solo artist, she was a member of a group called Poplyfe. In 2011, the group auditioned for America's Got Talent where they finished in fourth place. The group ended up splitting after the show due to some contractual disagreements.
2. She Dated A Professional Basketball Player
In 2016, news broke that Kehlani was in a relationship with NBA player, Kyrie Irving. Just a few months after their relationship was made public, R&B artist, PartyNextDoor, posted a photo of Kehlani's hand that insinuated the two were sleeping in the same bed. The public was not aware that Kehlani and Irving had already broken up and many people began to harass her and accuse her of cheating.
3. She's A Mom
In March 2019, Kehlani welcomed her first child, a daughter who she named Adeya. Her daughter's father, Javaughn Young-White, is a guitarist. The nature of Kehlani and Javaughn's relationship has never been officially confirmed, and some have speculated that he may have just been a sperm donor.
4. Nick Cannon Helped Her Get Her Start
After her stint on America's Got Talent, the show's host, Nick Cannon reached out to Kehlani with an opportunity to join a female rap group. Although Kehlani was initially interested, she quickly realized the group wasn't going to be the best fit for her. Although things didn't work out with the group, Cannon and Kehlani maintained a friendship.
5. She's Part Of The LGBT Community
In several interviews and on social media, Kehlani has shared that she is bisexual. However, more recently she has said that she identifies as queer. She took to Twitter to clarify what she meant and said: "not bi, not straight. i'm attracted to women, men, REALLY attracted to queer men, non binary people, intersex people, trans people. lil poly pansexual papi hello good morning. does that answer your questions?"
6. She's Struggled With Mental Health Issues
Amid the 2016 drama of her relationship with Kyrie Irving, Kehlani made headlines for an alleged suicide attempt. The incident was the first time her mental health had been discussed in public, but she has struggled with mental health for much of her life. Kehlani has dealt with issues such as PTSD, depression, and OCD.
7. She Grew up In Oakland
Kehlani was born and raised in Oakland, California. Kehlani's father passed away when she was young, and her mother dealt with a lot of personal struggles. As a result, Kehlani spent much of her life living with her aunt and cousins.
8. She Tries To Find The Good In Every Situation
Although life hasn't always been easy for Kehlani, she is a very positive person who tries to find the bright side to everything. She told The Fader, "I've always been a little light. Something bad would happen, and I'd be like, 'Well, this is happening, but we're lucky in these other ways.'"
9. She's Been Involved In Some Internet Drama
Kehlani genuinely seems like the type of person who likes to stay in her lane and mind her business. Somehow, though, dramatic situations always seem to find her. Most recently, Kehlani was accused of colorism after rapper, Kamaiyah, said her verse was removed from Kehlani's single "All Me". Kehlani responded and said the decision was simply based on business and had absolutely nothing to do with Kamaiyah's complexion.
10. Relationships Inspire Her Creativity
Lots of artists say that heartbreak is their muse, but for Kehlani, it's relationships themselves. She says that love is what her music tends to be about. She adds that being in a relationship gives her something to write about, and the process of getting to know someone helps her uncover new things about herself. But if you're thinking of shooting your shot, just know that Kehlani is looking for someone who encourages her to work harder and keeps her on her toes.
Tell us what's wrong with this post? How could we improve it? :)
Let us improve this post!