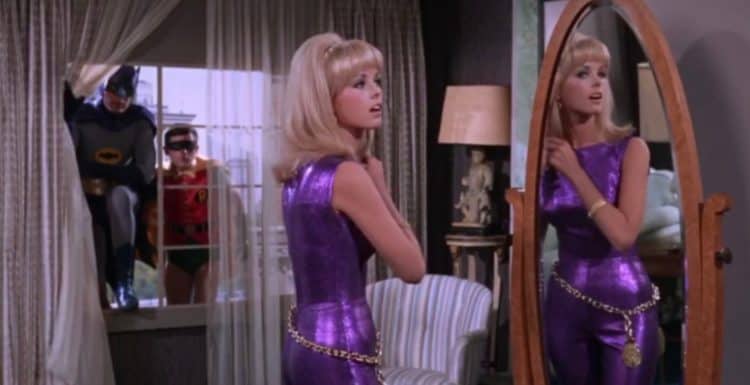 Classic TV lovers everywhere are probably familiar with the name Kathy Kersh. The California based actress began her career in the 1960s and found great success throughout the years. Her most memorable roles include Cornelia on the Batman TV series and Marian Billington on the popular sitcom, The Beverly Hillbillies. Although Kersh's career has been quiet in more recent years, her roles have earned her a place in TV history. Whether you've admired her from the start or are just not getting familiar with her work, there's a lot you can learn about this star. Here are 10 things you didn't know about Kathy Kersh.
1. She Won The Miss Rheingold Contest In 1962
From 1941 to 1964, Rheingold Beer held an annual pageant like contest in which voters were given the chance to 'elect' one woman to represent Rheingold in its marketing effort. The winner would be crowned 'Miss Rheingold' and would be used on beer advertisements all over the country. The contest became so well-known that finalist often made appearances on popular radio and TV shows of the time. Kathy Kersh won the election in 1962. The contest ended just two years later.
2. She Met Her Second Husband On The Set Of Batman
Kathy Kersh has been married twice. Her first marriage to fellow actor, Vince Edwards, didn't even last a year. After their divorce in 1965, Kersh remarried another actor named Burt Ward who played the role of Robin. The two met on the set of the Batman TV show where Kersh was appearing as a guest star. The couple married three months after meeting. Unfortunately, this marriage didn't last long either. The couple married in 1967 and were divorced by 1969.
3. She Is Originally From Los Angeles
In the entertainment world, it's very common for people to claim Los Angeles after their home town. After all, the City of Angels usually does eventually become home to the biggest names in the industry. But not everyone can say that they were actually born and raise in L.A. Kathy Kersh is an exception. The actress was born in Los Angeles in December of 1942.
4. She Hasn't Appeared On Screen In Over 40 Years
Acting doesn't tend to be a career that people retire from. Many stars enjoy being in front of the camera until their health no longer allows them to. However, it seems like Kersh has taken a voluntary hiatus from the entertainment industry. Although she made several TV appearances in the 60s and 70s, she hasn't been credited with a role since 1975.
5. She Released A Single
Actors who attempt careers in music aren't always successful, and that was the case for Kathy Kersh. Although there isn't much information on her stint in the music business, we do know that she released a single in August 1967 titled "Hurt So Bad". The B side of the vinyl is a song titled "St. James Infirmary". Her then husband, Burt Ward, is listed as a producer on the project.
6. She Has A Child With Vince Edwards
Kathy Kersh was Vince Edwards' first wife. Although the couple was married for less than a year, they gave birth to a daughter, Devera Edwards, during that time. The couple divorced in 1965 with Kersh citing 'mental anguish' as the cause. Kersh's daughter with Edwards is her only child. Edwards went on to have two more daughters with his second wife, Linda Foster, who is also an actress.
7. She Was Overshadowed By Sharon Tate
Producer Martin Ransohoff had big plans for Kathy Kersh when he met her in the 60s. He hoped to make her a major star but his attention quickly shifted to Sharon Tate who eventually went on to become one of the most famous names of her time before her death in 1969. Although many believed that Kersh and Tate had a bitter rivalry, Kersh says that wasn't the case and she remembers Sharon Tate fondly. In an interview, Kersh stated "We were rivals in a way but it didn't matter. We were both nice people."
8. She Appeared On Multiple Magazine Covers
Even to this day, gracing the front page of a magazine is still a pretty big honor. This place is typically reserved for well-known names and faces. Kathy Kersh may never have become an A-list celebrity, but she was still popular and respected in her own right. Through the 60s and 70s, Kersh appeared on several magazine covers including the January 1964 issue of The Sunday Star and the August 1961 cover of U.S. Camera.
9. She Briefly Dated "Jethro"
Kersh made several appearances on The Beverly Hillbillies where she met one of those show's stars, Max Bae Jr who portrayed the character Jethro. After meeting, the two briefly dated although Kersh didn't seem to have much to say about their time together. When asked about her experience working with Bae and other members of The Beverly Hillbillies cast, Kersh simply said, "Some people are just incredible to work with and Irene Ryan and Buddy Ebsen were two of those people. Max Baer, Jr. was fine too. I dated him for awhile."
10. Her Last Film, Gemini Affair, Was Ahead Of Its Time
Kathy Kersh's final film to date, Gemini Affair, was released in 1975. In addition to Kersh, the film also stars Marta Kristen. Both women play aspiring actresses whose dreams of making it big are quickly crushed by the the dark side of Hollywood. The film touches on topics such as exploitation, homosexuality, and drugs. Although the movie was not a huge commercial success, it has become somewhat of a cult classic.