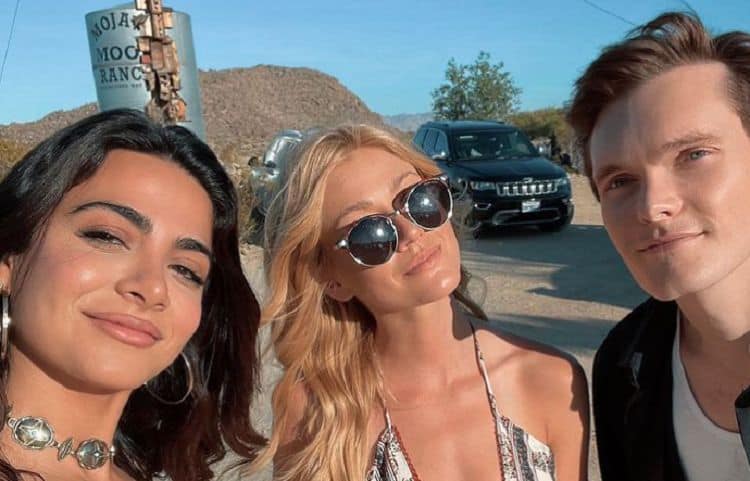 Trying to build a career in the entertainment industry can be a discouraging experience. As a result, there are a lot of people who give up before they even come close to accomplishing their dreams. Luke Baines, however, is one of the people who has always found ways to keep moving forward. Over the years, he has managed to work hard and persevere through trying times, and all of the effort he's put into his career has paid off. Luke got his first major opportunity in 2019 when he was cast as Jonathan Morgenstern in Shadowhunters. Since then, he has has continued to show the world just how talented he is. Here are 10 things you didn't know about Luke Baines.
1. He Likes To Travel
Luke was born in England, but he grew up in Australia. Needless to say, the love for visiting and exploring new places was instilled in him at an early age. He has been fortunate to do lots of traveling over the years. Some of the countries he's been to include Italy, France, and Mexico.
2. He Started Acting As A Kid
Performing has been a big part of Luke's life for almost as long as he can remember. He started taking acting lessons when he was only around five years old. He has also studied dance and music. On top of the work he's done as an entertainer, Luke also has some modeling experience.
3. He's All About Speaking His Mind
People in the entertainment industry often struggle with standing up for what they believe in because they're afraid to alienate their fans. Luke, however, has never been shy about letting people know what he believes in. He is a strong supporter of human rights and he has used his platform to raise awareness to various causes.
4. He's A Writer And Producer
Luke is most widely known for being an actor, but at his core, he is truly a storyteller. As a result, he has also explored what it's like to tell stories from the other side of the camera. In 2021, he wrote and produced a movie called Untitled Horror Movie. He will likely do more writing and producing in the future.
5. He Loves Giving Back To Others
Luke doesn't just like to post about the things he cares about on social media, he also likes to put his money where his mouth is in real life. He told Pop Sugar, "I've been interested in humanitarian work for as long as I can remember. I hate any kind of injustice, whether it's bullying or someone not getting their fair share. It's always been something that I can't stand."
6. Acting Has Helped Him Learn About Himself
Getting into character isn't just about learning the role, it can also have the opposite effect. This is is something Luke has experienced many times over the years. All of the characters Luke has played throughout his career have had a role in teaching him about himself.
7. He Would Love To Do Some Voice Acting
So far, all of Luke's roles have been live-action. However, there's a chance that will change in the future. While talking to Schon Magazine, Luke shared that he would love to voice an animated Disney character someday. He didn't go into any detail about which character he would like that to be.
8. He Loves Fashion
As someone with a background in modeling, Luke knows the importance of being able to put an outfit together and step out confidently. That being said, however, fashion is about more than just knowing what looks good together. Having the style to pull it off is also a key component, and Luke is fortunate to have plenty of style.
9. He Likes To Spend Time Outdoors
Luke may not look like the rugged outdoors type, but that doesn't mean he can't enjoy some time out in nature. In fact, when he has free time, he loves to head outside and enjoy the beauty of his surroundings. He likes to go hiking and hang out near the ocean.
10. He Enjoys Projects That Keep Viewers Guessing
Keeping viewers on the edge of their seats is something Luke always hopes to accomplish. Luke told Schon Magazine, " I love a film that keeps you guessing. As an audience member, that's where my engagement in a film or show comes from. I want to know what happens next…As an actor, I love the opportunity to take someone on a journey and, for me, that's about building intrigue. I never want to give anything away right of the bat; I want to take my time to reveal a layer of the character, one piece at a time, just as real people do."