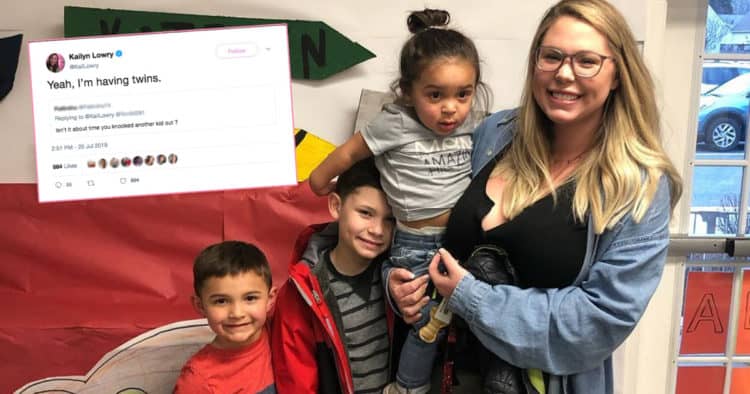 Kailyn Lowry first came to our attention as a cast member on the second season of the reality TV show, 16 and Pregnant. The show chronicled the lives of a group of teenagers as they traversed the trials of pregnancy and the first few months of motherhood. In 2010, Kailyn joined the likes of Jenelle Eason, Chelsea DeBoer and Leah Messer in the MTV spin-off series, Teen Mom 2, and has been a regular fixture on our screens ever since. That said, there's a whole lot more to this mom-of-three than just a reality TV show star- to discover more, keep reading.
1. She thinks Teen Mom will be fine without Jenelle
Jenelle Evans may have been one of Teen Mom's biggest draws, but Kailyn has no concerns about the show suffering following her departure. Jenelle was given the boot in May 2019 following the release of a video showing her husband, David Eason, shooting and killing the family's French bulldog after it nipped the couple's young daughter. During an interview with TMZ, Kailyn acknowledged Jenelle's contribution to the show, but was equally quick to suggest she'd been dragging the show's reputation down, and that MTV's decision to replace her was the right one.
2. She's got her own haircare line
If Kailyn's salary for appearing on Teen Mom isn't enough to keep her out of the red, the proceeds from PotHead probably is. Kailyn created the hair care line at the end of 2018, throwing a huge party in New York to celebrate its launch. All items in the line are infused with CBD oil… which turns out to be highly flammable. As viewers of Teen Mom know, Jenelle Evans and Kailyn have been feuding for years. In an attempt to heal the rift, Kailyn sent out a gift pack of her new products to Jenelle as an olive branch. Jenelle clearly didn't appreciate the peace offering and proceeded to post a video of her dousing it in gasoline and setting it alight to social media.
3. She almost didn't attend this year's Teen Mom reunion
This year's Teen Mom reunion came close to missing an appearance from Kailyn, who reveled during her podcast, Coffee Convos, how's she's tired of all the drama and aggro that goes on during filming. "I didn't want to be in the same vicinity as [Jenelle Evans' husband] David Eason, specifically, and Briana and her family," she said. "I'm not afraid of Briana and her family, I just don't want to be around people like that. For David, I am truly scared for my safety, period, point-blank, that's what it is."
4. She's been accused of bad parenting
After a video emerged of Chris Lopez (the father of Lowry's youngest child) speaking to their son in a less than pleasant tone, Kailyn faced a social media backlash about her parenting skills, driven largely by her long-time adversary, Janelle Evans. Fans of Kailyn were quick to pick up on the irony of Janelle calling out Kailyn (or anyone else) for bad parenting, but it's doubtful Janelle will think twice before stirring the pot again.
5. She's written several books
In 2014, Kailyn added the title of "published author' to her list of achievements when she released her first book, Pride over Pity. The book told the story of Kailyn's life so far, revealing her troubled past and the secrets she'd kept guarded for years. Two years later, she released Hustle and Heart, a collection of stories from her own life peppered with inspirational advice. Her third book, Love is Bubblegum, saw Kailyn venture into the world of children's literature for the first time, while her forth, 2018's A Letter of Love, was written as an apology to her three children for the effect some of her decisions have had on them.
6. She has a degree in Mass Communications
In 2017, Kailyn graduated from Delaware State University with a bachelor's degree in Mass Communications. Juggling parenthood, financial struggles, marriage, and divorce with studying wasn't always easy, so Kailyn was understandably proud when she finally graduated. "This has been an extremely long and emotional road for me and for my family," she shared on her blog. "There are a select few people around me that have helped make this possible for me, they know who they are and I'm so thankful for them. I love you!"
7. She's open about her sexuality
While Kailyn has spoken openly about her past relationships with women, she doesn't like to be labelled in any particular way. "Sometimes people feel comfortable in labels, and they prefer to say, 'I'm gay' or I'm a lesbian' or 'I'm bisexual,'" she's said. "Some people like that and some people feel secure in that. But for me, I just love people, and it's whoever I fall in love with." Perhaps that explains her eye-rolling response when a fan recently asked, "Are you a lesbian again?" after she revealed a possible new love in her life with the tweet "She like how I smell, cologne,". Clearly unimpressed, Kailyn responded with a dismissive "Yeah, that's how it works lol."
8. She hosts her own podcast
In November 2017, Kailyn launched Coffee Convos, a podcast she co-hosts with Lindsie Chrisley. The podcast, which is still going strong, invites listeners to tune in as the reality TV stars open up about their lives, loves, parenting experiences, and opinions.
9. She appeared on Marriage Boot Camp
In 2012, Kailyn married Javi Marroquin. 2 years and 2 children later, the couple filed for divorce. Prior to the marriage ending, the couple tried to heal their relationship by appearing on an episode of the marital reality TV show, Marriage Boot Camp. The episode featured in season 11 of the popular series, which also included appearances from the likes of Mehgan James and DeAndre Perry, JJ Lane and Juelia Kinney, Asifa Mirza and Bobby Panahi. The show failed to work its magic, with the couple finalizing their divorce on October 23, 2016.
10. She's worth $25 thousand
Thanks to her reality TV show career, her work as a writer, and her flourishing hair care line, Kailyn has managed to accuse a healthy fortune. According to Celebrity Net Worth, the star is worth an estimated $25 thousand.