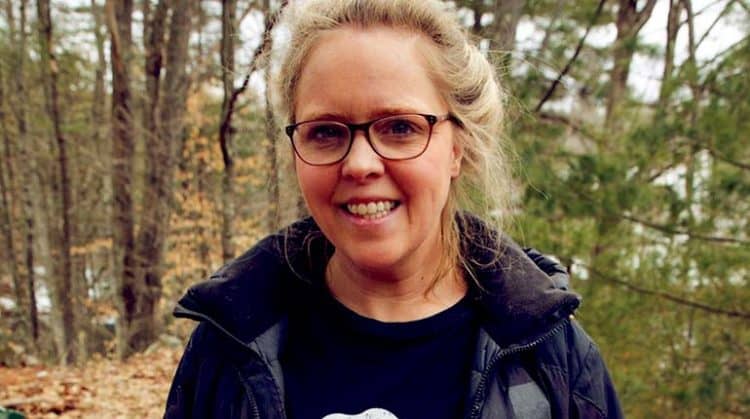 Don't be alarmed if you don't know Ashley Morrill by name. She's part of the DIY Network. She and her brother are featured on "Maine Cabin Masters," as the brother-sister duo who make it their mission to go through Maine finding remote cabins and saving them from certain disaster. It's an interesting concept, and many people adore the show. It's not as mainstream as many of the other DIY shows you see on other networks, so not everyone is overly familiar with her. However, she's an interesting woman and absolutely worth getting to know.
1. She's in Her 40s
Born on January 27, 1976, she's the older sibling. Her brother is almost two years younger than she is despite the fact that he was born the following year. She and Chase not only star on the same show, they were born on dates close together. Her the first moth of 1976, him in the last month of 1977. One more month and he'd be exactly two years younger than her. Instead, he came on Christmas day.
2. She Learned it All from her Father
Her father was a builder himself. He led a very successful life within his family and his career, and he made sure he taught both his son and his daughter everything he knew in his line of work. They were very close. Sadly, she lost her father in 2014 following his heartbreaking battle with cancer.
3. She's College Educated
She knew she wanted to follow in the footsteps her father left for her, and that meant going to college and obtaining her degree. Her degree happens to be in graphic design, which is a great degree to have and undoubtedly helpful to her in her current line of work. She went to the University of Maine.
4. She Doesn't Care for the Fame
One thing that she's not in this business for is the fame. She likes to work. She's a creative mind and personality, and she likes to spend her time creating, and then she likes to go to the supermarket without people recognizing her. One time, she and her family were in Italy when a fan recognized her. it caught her very much off guard.
5. She's Married to Her CoStar
This show really is a family business, if we are being honest. Her husband is Ryan Eldridge, who also appears on the show alongside her and her brother. They like to keep their lives as private as possible, but they do occasionally surprise us with some information we might not have otherwise known. For example, did you know that these two are the matching Christmas pajamas kind of couple? We didn't, but now we do.
6. She Doesn't Have Her Husband's Last Name
If you think she's only using her maiden name because she's famous, that's not the truth of the matter. She's using her maiden name because she is overwhelmed by the concept of the name change process and has no idea where to start. She'd like to change her name to her husband's name, though.
7. She's Messy
She is the messiest person she knows, and she does admit that. However, she's going to clarify she's not a disgusting or nasty kind of messy. We get the feeling she's just a clutter kind of messy, as so many people really are.
8. Her Husband Better Take Out the Trash
If he wants to stay on her good side, he needs to take out the trash and then replace the bag. It's not enough for him to take out the trash when the bag is full. The bag needs replacement. It's her biggest pet peeve, and it leaves me wondering who takes out the trash and doesn't replace the bag? In our house, it's a game of "everyone is blind" when it comes to seeing the bag is full…but when my husband finally realizes none of us are touching the full bag, he takes it out and then replaces it.
9. She's Very Private
You won't get much from Ashley Morrill if you look her up. She likes to keep her private life to herself. She's not hiding anything from anyone. She simply enjoys her privacy and likes to keep her family to herself. We get that.
10. She's a Fan of A Few Things
We all have a few things we like a lot in life, and hers are just like everyone else's. Morrill really likes Willie Nelson. She also really likes baseball. She's also a fan of travel, and she likes to see the world anytime she has the chance to see it.