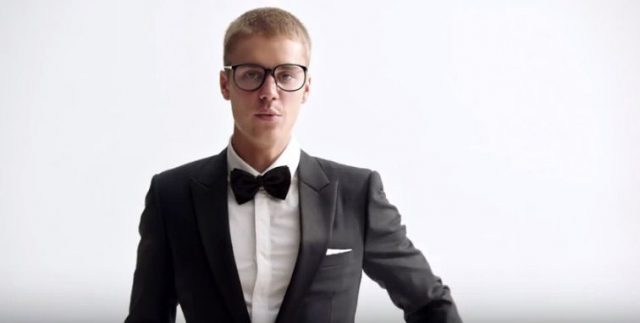 I'll be the first person to admit that I'm not a huge fan of Justin Bieber. I think much of the antics he's displayed in the last decade have been immature, inappropriate and have set a horrible example for future generations. But if there's one thing I've never denied about the Biebs it's that he's talented. It's very difficult to ignore this fact about the young star. Perhaps that's why T-Mobile tapped Bieber for their upcoming Super Bowl commercial spot.
While T-Mobile has been very focused on Verizon and AT&T bashing in their advertising, they took a completely different route in this one, at least for one day. In this ad we see Justin Bieber presenting an oral history of the Super Bowl touchdown celebration.
Bieber, a self-styled celebration expert, is here in a tuxedo, while the New England Patriots' Rob Gronkowski is a caveman. Some feel this entirely encapsulates at least half of NFL players. But not former San Francisco 49ers receiver contestant Terrell Owens, who also makes an appearance with his well-worn act.
So what does this even have to do with T-Mobile? The premise is that touchdown dances have become unlimited. Unlimited is the angle T-Mobile's been hitting for years. Is it a stretch? Of course it is but what advertising campaigns aren't a stretch these days? You have 30 seconds to imprint a message into the minds of millions of people. Using Justin Bieber in a tuxedo flanked by Terrell Owens and Rob Gronkowski is certainly a viable way to do that.
Check out the ad below
https://www.youtube.com/watch?v=Kg_4tX4XwI8
Tell us what's wrong with this post? How could we improve it? :)
Let us improve this post!