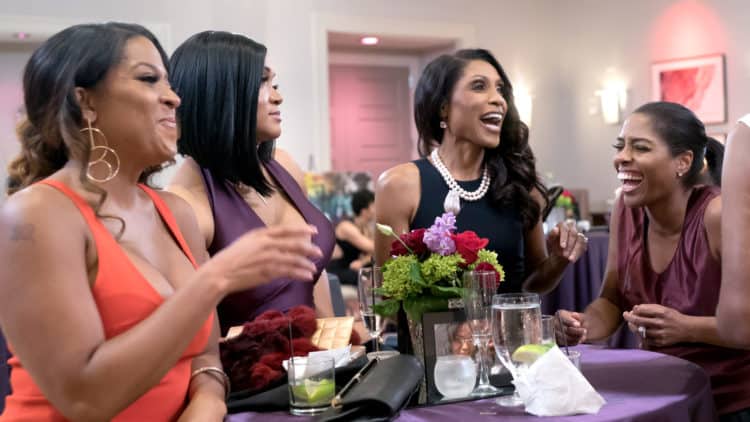 If there are two ingredients that almost always make a reality show successful: drama and glamour. Married to Medicine has a whole lot of both. The show, which follows a group of women in Atlanta who have close ties to the medical world, made its debut on Bravo in 2013. While some of the women on the show are doctors themselves, others are married to men who are doctors. As the cast tries to navigate life and work, they often find themselves in the midst of some drama. Of course, they aren't going to make themselves look bad on TV for free. As a result, it's no secret that the women who are cast on the show are paid for their appearances, but is the same true for their husbands? Even though the husbands aren't technically main cast members, some of them do play a pretty significant role on the show. Continue reading to find out whether the husbands on Married to Medicine get paid.
How Much Does The Main Cast Make?
If you're a reality TV fan, you've probably wondered how much the people on these shows make. After all, lots of people have made a career out of being on shows like Married to Medicine, so most of us would assume that they're making a decent amount of money. Unfortunately, though, there doesn't seem to be any clear information on how much the cast makes per episode. There are several sources that list the cast members' yearly salaries from work, but nothing detailing how much they make on the show. However, reality TV salaries usually range from $1,500 to $10,000 per episode; sometimes even more depending on the person and the show. Since Married to Medicine isn't one of the most popular reality shows on TV, the pay per episode is probably a little closer to the four figure mark.
It's important to note that cast members usually do make more over time. For example, shows that have been on the air longer usually come with higher salaries than newer shows.
Plus, unlike other reality shows, many of the women on Married to Medicine don't plan on making a career out of reality TV. They have great jobs in the medical field, so even without the show their pockets aren't hurting.
Do The Husbands Get Paid?
As with the main cast, there aren't any sources that reveal if the husbands on the show are paid. In reality, the most of the husbands play such a small role on the show that they probably can't command top dollar. However, most people don't agree to be on reality TV without some sort of financial compensation, so there's a good deal the husbands have negotiated some money in exchange for allowing the show to film them. With that said, the husbands probably don't make much. Fortunately, like their wives, many of the husbands on the show also have great jobs. Even without the show, all of the Married to Medicine households are bringing in 6 figures per year.
An article on In Style explained that reality stars on Bravo are considered independent contractors as opposed to employees. As contractors, cast members are paid a stipend that depends on their popularity.
The Future Of Married To Medicine
Married to Medicine has been somewhat controversial since its inception. Some felt that the drama associated with reality TV could potentially paint black women physicians in a negative light. Before the show aired, there was even a Change.org petition asking the network to have the show canceled. The petition managed to get 3,132 signatures. But that clearly wasn't enough for the network to even consider removing the show from its lineup. Still, it doesn't have as big of a following as some of Bravos other reality shows. For example, Real Housewives of Atlanta has been on since 2008 and still averages over a million viewers per episode. On the other hand, nearly half of the episodes in season 7 of Married to Medicine had less than a million viewers. However, after 7 seasons, the future of Married to Medicine is a little uncertain.
An 8th season for the show hasn't officially been announced. On top of that, the COVID-19 pandemic has left a lot of things up in the in the entertainment industry. Still, many people are hopeful that the show will be renewed. If not, a 7 season run certainly isn't bad. Even though we don't know the exact pay per episode, I'm sure everyone involved has made a lot of money in the process.