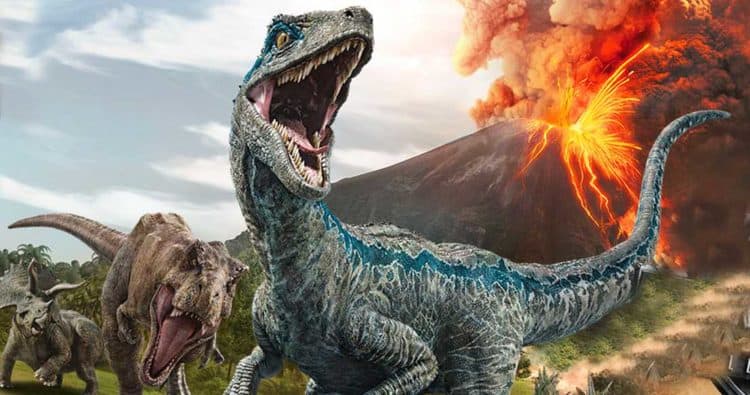 Would it be an honor to get eaten by a dinosaur in a Jurassic World movie? For many people that answer would be an emphatic 'yes' since it would mean getting on film and getting to tell people that they were made into dinosaur dim sum for one of the most popular franchises in Hollywood. Chris Pratt and a couple of other stars have pulled together to gather donations for various food charities and the person that donates the most is going to be given the chance to be a part of Jurassic World: Dominion, and get chomped on by one of the dinosaurs in the process. Chances are there are going to be a lot of people that want to jump on this offer since even being an extra in one of these movies would satisfy a lot of people, and as Rachel Labonte of Screenrant might agree, it could be their lucky day since just being on set is bound to be a real treat. It's likely that the moment will be quick and over in a blink, but there are still plenty of people that are going to find this to be a once in a lifetime opportunity that they simply can't pass on. It's unknown whether the lucky individual would get the chance to meet the stars or not but just the off chance that it might happen would be worth a shot.
As of right now production on Dominion is stalled thanks the pandemic, but it does sound as though director Colin Trevorrow has been editing the footage that does exist so there's a big hope that once the lock down ends that the movie will be back on track and perhaps able to finish a little quicker than was expected. At this point all we do know is that there are going to be some familiar faces returning to the movie as Sam Neill, Laura Dern, and Jeff Goldblum will be coming back, but apart from that it's not really known just who else will be making the return trip. It'd be great to see as many people as can be found for the last movie in the franchise, but putting in too many might be something of a mistake simply because it would take too much away from the dinosaurs. Another interesting idea though is whether or not this will spell the end for one or more of the main characters since at this point the original cast are getting pretty old and the idea of fighting against or simply trying to survive dinosaurs sounds like something that a younger individual would be best suited for, while the elders sit back and try to give the best advice they can.
Obviously Ian Malcolm, Alan Grant, and Ellie Sattler are going to be among the most seasoned of the bunch since like Owen and Claire they've been face to face with some of the worst, nastiest creatures to ever walk the planet, monstrosities that are far and away not complete creatures such as their predecessors were, and are anything but the same as the dinosaurs that once ruled the earth so long ago. That's the one thing that a lot of people don't continually remember apparently, the fact that every dinosaur in Jurassic Park or World was made possible by science and as a result are only distant echoes of the creatures that used to dominate the landscape. The thing about those distant echoes though is that they're about to sound off long and loud in Dominion since the idea of bringing the dinosaurs into contact with human beings on a much larger scale is going to have huge ramifications that will likely cause Dominion to be the most epic chapter in the Jurassic Park franchise if it's done right. Pitting humans and dinosaurs against one another, as this is what it will be no matter how many want to think that preservation of the beasts would be a priority, is bound to get a little bloody, so it's fair to say that Dominion is going to get a bit violent and possibly even have a few hard moments to watch depending on the sensibilities of the audience.
But at the very least, the last movie should have a humongous kick to it that people will really appreciate since it's being hyped as the last movie in the franchise, supposedly, and will mark a definite milestone for the Jurassic Park saga. When it's going to come out is in question obviously but the hope is that things will calm down eventually and life will get back to whatever passes for normal these days at some point. You can bet that once Dominion hits theaters that people are going to be flocking to see it without any hesitation.