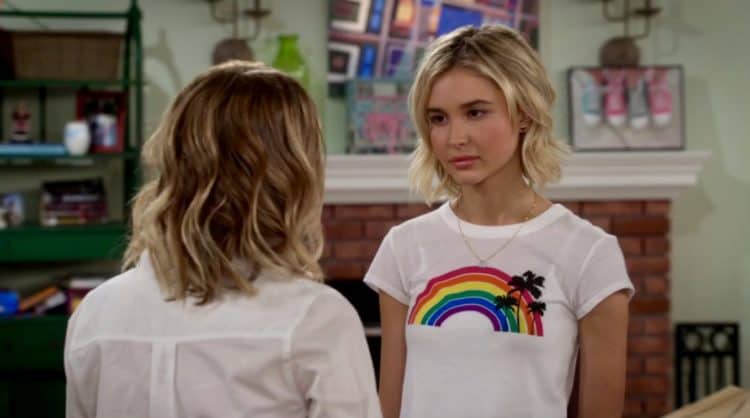 Even though she's still in the early stages of her career, Isabel May already has a track record of success. She has a recurring role in Young Sheldon as well as a starring role in the Netflix series, Alexa & Katie. Despite all of the things she's accomplished so far, it looks like the best has yet to come for Isabel. At just 19-years-old, Isabel has lots of good years ahead of her, and she's on the right track to make the most of them. After doing a great job on the small screen, Isabel has some upcoming big screen roles that will introduce her to an even wider audience. Fans of Isabel's work are definitely in for a treat over the next couple of years. Keep reading for 10 things you didn't know about Isabel May.
1. She Auditioned For Three Years Without Getting A Role
Although it seems like Isabel May came out of nowhere, that isn't exactly the case. She auditioned for three whole years and never landed a single role. When she finally landed the starring role on Alexa and Katie, she admits that she didn't really have any acting experience.
2. She's Always Loved To Read
Isabel hasn't always known that she wanted to be an actress, but she did always know that she loved stories. She told Terroir Magazine, "I was an avid reader, at a young age, completely engrossed in fictional worlds. I love to write, as most actors do, they find other ways to express themselves, and my English teacher pulled my parents to the side in sixth grade, and said you gotta get her doing something else, cos she has to express this in some way."
3. She's A Big Fan Of The Crown
Not only is Isabel a Netflix star in her own right, but she's also a fan of the platform. She says that her favorite show on Netflix is the period drama, The Crown, which tells the story of Queen Elizabeth II. Isabel also says that she's a fan of Arrested Development.
4. She'd Love To Play A Dark Role
So far, all of Isabel's roles have been lighthearted and comedic. However, she hopes to tap into something much darker in the future. She says, "I'd really love to play someone twisted. I've always been a hardcore fan of psychological thrillers and bizarre dark stories. I absolutely love watching people on screen become these very terrifying people. Dark and twisted stories and characters, I'm all in."
5. She Loves Fashion
Acting may be her passion, but Isabel also has room in her heart for fashion. She loves expressing herself and feels like fashion offers her an opportunity to do just that. She also believes that fashion can be an important element when properly portraying a character.
6. She Encourages Young Actors To Be Comfortable With Rejection
Isabel May knows a thing or two about rejection. She's probably gotten way more no's over the course of her career than anything else. However, she understands the importance of being able to bounce back after dealing with rejection. She wants up and coming actors to understand that "rejection isn't a bad thing" and that it can be a great opportunity for growth.
7. Her Friendships Inspired Her To Take Up Acting
Isabel's reason for wanting to become an actress is much different than most. During an interview, she said, "I'd always said I'm gonna be an actor someday because my other two friends are a dancer and singer. Meanwhile I had zero experience and was terrified."
8. She Doesn't Consider Herself Funny
If you've seen Isabel on Alexa & Katie, you may have assumed that she's a pretty fun person off camera. However, she doesn't consider herself funny at all. In fact, when she first landed the role she was nervous because she didn't feel she had any comedic qualities.
9. She Isn't Very Active On Social Media
Most teenagers spend way more time on social media than they probably should. But that doesn't seem to be the case for Isabel May. Although she does have an Instagram account with 328,000 followers, she doesn't post very often. Over the last two years, she's only posted 20 times.
10. She Believes Everything Happens For A Reason
When you work in the entertainment industry, it can be easy to get caught up in the drama and negativity that sometimes comes with the business. However, Isabel likes to keep a positive attitude no matter what is going on. Part of the reason she's able to do that is because she believes that everything is meant to be.
Tell us what's wrong with this post? How could we improve it? :)
Let us improve this post!