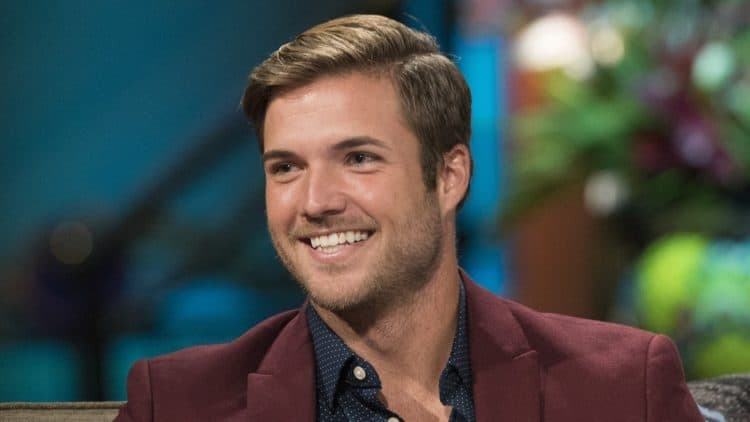 Jordan Kimball is a reality TV star that is best known for starring on The Bachelorette and Bachelor In Paradise. He is currently starring on Bachelor In Paradise for the second time and refers to himself as the 'Mayor of Paradise'. Here are ten things about him that you may not know.
1. He Is A Professional Male Model
Before he starred on any TV show, he worked as a model and he still continues with this career today. He is signed up to the Wilhelmina agency, which is very well regarded in the industry. It has offices all over the world and Kimball is currently represented by the Chicago office. He shares many of his modelling shots on his personal Instagram page.
2. He Is Originally From Florida
According to Earn The Necklace, he is originally from Crystal River in Florida. He attended the College of Central Florida where he majored in business and accounting. Although he now lives in LA, it is thought that his family are still based in Florida and so he still has a lot of connections in the area.
3. He Has A Close Relationship With His Mother
There are several posts on Instagram that suggest he has a close relationship with his mom. She often comments on his posts and it is clear that she is very proud of what he has accomplished. He also posted a tribute to his mom on Instagram on Mother's Day thanking her for the support that she always offers.
4. He Proposed To Jenna Cooper The First Time He Was On Bachelor In Paradise
The end of the first season of Bachelor In Paradise that he was in ended with him proposing to his girlfriend from the show, Jenna Cooper. The couple seemed to be very happy and they even asked the host of the show, Chris Harrison, to officiate at the wedding. However, even though it seemed as if they would get their happy ending, it did not turn out like that as is explained below.
5. The Engagement Turned Out To Be Short-lived
Women's Health reported that the engagement was soon on the rocks because of a cheating scandal. Someone who claimed to be Jenna's boyfriend shared texts that she had reportedly sent saying that Jordan meant nothing to her. The boyfriend claimed that she was never on the show to find love, just to raise her profile to further her career. Jenna responded by saying she could prove the texts were fake but the couple still decided to call it a day. At one point she even accused Jordan of being the one sending the texts, something that he denies. The break up was not amicable and there is still a degree of bad blood between the pair.
6. He Creates Videos With Well Wishes For His Followers
Fans can request that Jordan records a video for themselves or a loved one to celebrate a special event. This could be for a birthday, anniversary or any other special occasion. He responds to as many of these requests as he can and they are very popular amongst his fans. Many people choose to organize a video for a loved one to surprise them on a special occasion.
7. His Estimated Net Worth Is $1 Million
According to Article Bio Kimball has a net worth of approximately $1 million. The majority of this is from his salary for his modelling work. His average earnings are in the region of $100,000 per year. He also would have earned a fee for the TV shows that he has taken part in. The main investment that he has made with his money is buying himself a sports car worth $45000. The money that he is earning now has the potential to set him up for the rest of his life if he makes the right investments. His average earnings are in the region of $100,000 per year.
8. He Keeps Fit By Running And Kayaking
As a model he needs to keep himself in good shape and one of the ways that he does this is through running. It is also a way for him to de-stress as well as keeping fit and it gives him time to think things through as he is running. He is also a big fan of kayaking, and this comes as no surprise as there are plenty of places to do this in Crystal River. Although he does not get as much chance to take part in this as he used to, it is still something he enjoys when he gets the chance.
9. Spoilers Suggest That He May Not Find Love In This Season Of Bachelor In Paradise
There are spoilers for this season of Bachelor In Paradise that suggest his stay in the show may not be a long one. He reportedly ends up in a fight with another male contestant and both contestants leave the show soon afterwards. He certainly makes an impact when he enters the show but there does not seem to be any hint of any romance developing. It remains to be seen whether he will try his luck on another season of the show or he will start to look for love elsewhere.
10. He Has Refused To Comment On Jenna's Tell All Book
Jenna Cooper has released a book which gives her side of the cheating scandal as well as her thoughts about her time on the show. Jordan has refused to comment on the book, instead saying that he feels as if it is time that Jenna let it go. She makes accusations of bullying in the book but it is not clear whether she is referring to Jordan or the producers of the show. Jordan has previously denied that he ever acted inappropriately towards her and that a lot of things she has said about their relationship has been exaggerated.
Tell us what's wrong with this post? How could we improve it? :)
Let us improve this post!