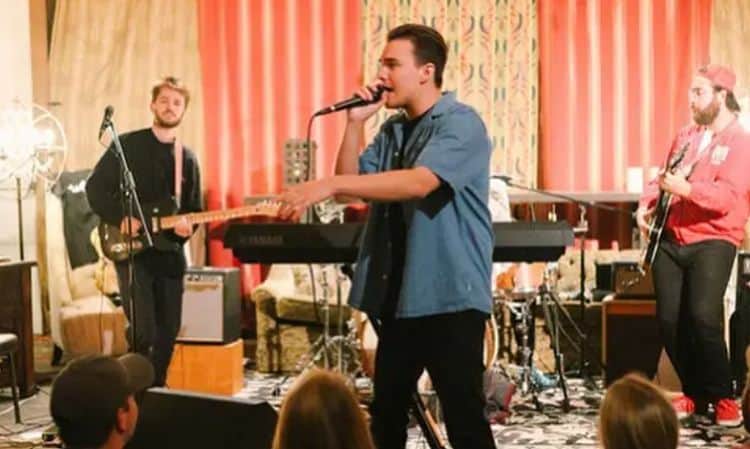 Jonny West initially joined the American Idol competition to support his singer girlfriend, but he quickly proved himself to be a star in his own right. With his vulnerable energy and captivating performances, Jonny has made it to the top 10. Here are 10 things you might not know about this talented artist.
1. He's Released an EP
Jonny is not only a gifted singer but also a talented songwriter. In the fall of 2019, he released an EP titled Oh. This project showcases his immense creativity and artistic abilities.
2. He's Passionate About Rap
During his audition, Jonny demonstrated his rap skills to the judges. However, his love for hip-hop runs much deeper. As a teenager, he spent a lot of time writing raps and even performed under the name Skinny Neutron.
3. He's a Piano Teacher
Before showcasing his talents on the American Idol stage, Jonny worked as a piano teacher in California. Regardless of the competition's outcome, his career is likely to skyrocket, making it doubtful he'll return to his previous job.
4. He's Co-Directed a Music Video
Jonny's creativity extends beyond music. In February 2020, he co-directed a music video for his single "I'll See" with Jasmine Thomas, in addition to starring in it.
5. He's Had Some Unusual Celebrity Encounters
Jonny has used social media to connect with celebrities, leading to some peculiar interactions. Kylie Jenner once DM'd him, accusing him of defacement after he posted a video of her billboard with a filter over her face. Celebrity chef Guy Fieri also reached out to Jonny to share his thoughts on his EP, initially disliking it but changing his mind after a second listen.
6. He's Savoring Every Moment of His Idol Journey
Jonny never expected his time on American Idol to last as long as it has. Now that he's made it through the initial rounds, he's taking the time to enjoy every moment and not take the experience for granted.
7. He's All About Taking Risks
Success in the music industry often requires fearlessness and a willingness to put oneself out there. Throughout his American Idol journey, Jonny has embraced the concept of taking risks, which has paid off significantly so far.
8. He Loves Interacting with Fans on Social Media
Jonny is very active on social media, using Instagram and Twitter to engage with his fans. He has amassed a solid following on both platforms, with over 74,000 followers on Instagram and over 5,000 on Twitter.
9. He's Active on YouTube
Jonny West fans can find his music and videos on his YouTube channel, which he started in 2019. He already has 12,200 subscribers and more than 548,000 total views.
10. He Has a Strong Relationship with His Parents
A solid support system is invaluable, and Jonny's parents have been incredibly supportive of his artistic pursuits. They have cheered him on throughout his time on American Idol, and it's clear they are already very proud of the person and artist he has become.
Tell us what's wrong with this post? How could we improve it? :)
Let us improve this post!