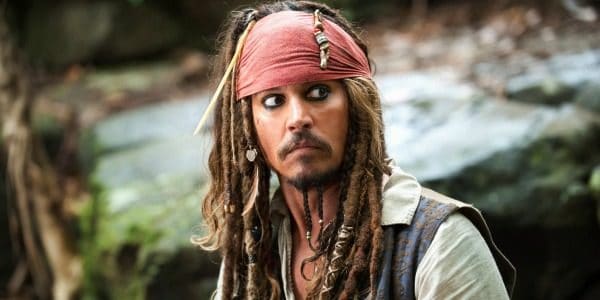 As Jonathan Wright of We Got This Covered reveals, it's not looking too good for Amber Heard these days when it comes to her case against her former husband Johnny Depp, especially given that Penelope Cruz and Winona Ryder have stepped up to the plate to speak to his character. While allegations that he lost his spot as Captain Jack Sparrow in the Pirates of the Caribbean franchise over this mess have been muddied to the point that the truth of it is hard to figure out, it doesn't tend to matter at the moment thanks to Disney shutting down production on just about every movie they've had coming through the pipeline. In the matter of his messy court case though, Depp has had a lot more stable support than Heard at this point as her case appears to be swiftly crumbling around her ears as her allegations of abuse and the supposed attack from Depp towards her sister are fading quickly into the murk as the actor is being given more support to bolster his character and help with the lawsuit that Depp has against Heard. Many fans have been divided as to their loyalties throughout this case thus far and it doesn't appear that anyone is willing to back down when it comes to where they stand, though some are becoming slightly less vehement in their defense of Heard.
There have been petitions to have her removed from the Aquaman sequel and for L'Oreal to have her step down from their label, but petitions, as many people are finding, aren't really a viable reasons to commit to any action that the fans demand. While L'Oreal has kept Heard on, the fact is that thanks to the COVID-19 virus the DCEU is pretty much in the tank at the moment along with many other Hollywood ideas that are currently suffering as they languish in the wake of the disease. The idea that Warner Bros. might be moving beyond the DCEU, almost as if giving it a wide berth just to make sure that it doesn't taint the rest of their projects, is one that is gaining a bit of strength since the movies belonging to the over-reaching idea have been less than successful when it comes to keeping the fans, no matter that the box office numbers were kind of impressive. In any case, Heard's appearance in the Aquaman sequel might be in jeopardy without any need for a petition since the current state of Hollywood is one that is best described as panic mode since people are wondering just when they'll be able to go back to work full tilt.
In the case of Depp vs. Heard though one has to look at the facts and the propaganda that's been levied against and for them and against them in turn. Depp has been described as a man that is not violent, is definitely eccentric at times, but is usually quite kind and doesn't have a mean bone in his body. Heard on the other hand has apparently orchestrated a giant smear campaign that paints Depp as an aggressive drunk that might not have any idea that he's becoming a threat to those around him. While some folks might not want to take Winona Ryder's words as gospel, the fact that Penelope Cruz, who has stood up for Depp, and the laundry list of people that have spoken to Depp's character should be more than enough to make a person realize that as much as actors might stick together at times, they're also known to snipe at one another when the chips are down, especially if they have any type of grudge to air. The fact that so many people have stood up for Depp to speak of how he's one of the most gentle people they've ever known is kind of damning for Heard, especially given this fact: they're actors. How is one to know who's perpetrating an act and who is attempting to be genuine? The allegation that Emily Smith of Page Six and many others have covered concerning the idea that Heard painted on fake bruises to show Depp's assault is yet another mark against the actress, though this legal battle is far from over as both parties are bound determined to have their say. How it will turn out is anyone's guess at this point, but it's not looking all that good for Heard's camp, and it's not looking bright for the MeToo and TimesUp movements when the whole idea of believing women begins to unravel as even one woman attempts to be petty and vindictive.
It is of course necessary and vital to believe the victims of actual domestic abuse, but in cases such as this it undermines that belief in a big way and makes it that much harder for others that are being abused.