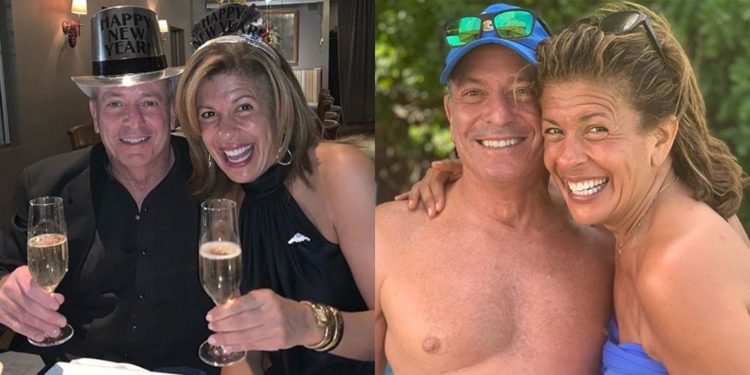 We like to get to know famous people, and we do it through our '10 Things' lists. Sometimes we write about movies stars, and other times we gather information on musicians. If a guy that skateboards and jokes on YouTube is making the big bucks and gaining popularity, we'll throw him in the mix, and if a news anchor has gained big-time attention, she likely find her name here as well. Today, though, we are covering someone who is living in celebrity limbo…sort of. It's the boyfriend (now the fiancé) of famous Today Show anchorwoman and Kathie Lee Gifford sidekick, Hoda Kotb …we would like to introduce Joel Schiffman to all of you!
We don't believe Joel ever really meant to enter the limelight. At least, not the way he did. His job doesn't warrant many public appearances, if any. And it doesn't require that he know how to sing, dance, or even skateboard. Instead, he has a position as a financier that likely brings him into business with many famous people, but we're willing to bet that he never thought it would drag him into fame. But fate deals the cards, not EF Hutton, and that's just the way it is. So, Joel finds himself under the critical, sharp-sighted eye of public scrutiny because of his affection for a woman. We'd say 'Poor fella', but most all of them end up this way in one manner or another! Rather than judge or make fun, we're going to enhance his celebrity status by helping or devoted readers get to know him better than he ever thought possible.
Below we have, for your approval, a '10 Things' list about none other than…Joel himself. Maybe you wake up to Hoda in the morning and maybe not, but you'd have to live under a pretty big rock to not heard something, at least second-hand, about Joel. Well, now we have actually taken the time to make him a bit more real to our adoring fans, rather than just letting him live in the shadow of one of the biggest morning show hosts in the nation. Not that he cares…we're pretty sure he likes things the way they are. Regardless, it's his turn now. So, with no further ado…enjoy!
1. Joel's Background
Born March 21, 1958, the American financier is an Aries. Joel attended both the University of Pennsylvania and the University of California, as well as the Wharton School, and earned a BA in Economics from UCLA and a degree in Investment Management Analysis from Pennsylvania. Famous in the mainstream for dating and being engaged to NBC news anchor Hoda Kotb, Joel was married once prior, from 2005 to 2007 to an unnamed woman with whom he had one daughter, Kyle. He has also gained renown for his entrepreneurial activities.
2. Career History
At the current time Joel is the vice president and director of Janus Capital Group. In the past he has worked for Reed, Connor, and Birdwell, Lord Abbett, &Company, LLC, and Trail Ridge LLC.He was also employed by Columbia Threadneedle Investments as a Senior Relations Manager. Based in both New York City and Boston, the financier's professional life is the most publicly-known thing about him, besides his engagement to Ms. Kotb.
3. Life with Hoda
While the exact date of their meeting is unsure due to their relationship being kept under wraps for so long, we can tell you that the pair met at a convention meeting being held by Wall Street businessmen; Hoda claims she almost didn't attend because she just didn't want to go. When their relationship finally came to light through a publication, she admitted the truth, and the pair dated publicly for a year or two before becoming engage in 2016 and moved in together. They have a daughter whom they adopted in 2017 named Haley Joy Kotb, and another daughter that Hoda adopted previuously, Hope Catherine. While they are currently engaged, keep in mind that Joel was married before, and Hoda was also married previously to tennis coach Burzis Kanga, which may also explain their hesitation to rush. For now they simply plan to live together with their daughters. Hoda affectionately refers to Joel as 'Boots'.
4. His Proposal
The couple became engaged in just the last couple of weeks or so. According to Hoda on the Today Show, the couple was on vacation in Mexico when he sprung the question on her, which she claims she didn't even see coming. He asked her with a poker face after a nice dinner on the beach, she said. According to Heavy, when friend Andy Cohen asked her when they were going to get married she responded with, 'I'm going to be with Joel until my last breath'.
5. Rugby is Life
Joel played Rugby for UCLA during college, and is still a huge fan of theirs to this day. He claims he learned some very valuable life lessons from playing the sport, lessons that everyone should learn. He has carried these lessons with him and applied them throughout his lifetime. He is also a fan of football, and claims that while all sports have lessons that apply to life, rugby teaches some that simply cannot be found anywhere else.
6. Schiffman's Net Worth
We can put it simply or carry it out, but we have chosen the former. It should also be noted that Schiffman's reported net worth does not reflect the income of his fiancée in any way. According to Just Richest, between his employment and some wise investments that he has made over the years, Joel is worth approximately $15 million.
7. On Flying
While he does have to travel for his job (and to touch base with Hoda now and again, we're sure), it seems that over the years Joel has had nothing but problems with United Airlines, even to the point that he has vowed to change airlines for good. While he doesn't often take to social media (only 30 tweets in a handful of years), that is one thing that he cuts loose on Twitter about…United Airlines. They are a source of constant vexation to him.
8. Physical Stats
Just for good measure, we thought it would be interesting to add his basic physical features to our list today, as we don't typically do this. Since he's with Hoda and they are such a good couple, why not? Joel has gray hair and brown eyes, and he stands 5 feet, 9 inches tall. Hoda, who appears to be taller, is said to be the same height. If she's wearing heels it's no wonder she towers above him in photographs. His weight, for whatever reason, isn't freely given.
9. Where Is He From?
It's true that it's difficult to track down any real solid information about his youth or upbringing. We were surprised to find his net worth! He is a private man, and this particular personality trait is something that his daughter Kyle possesses as well. However, after much searching we were able to narrow down the information about his home state. It seems that Joel Schiffman was born and raised in Colorado. So, he must be a Bronco at heart?
10. Family Life
This was another topic that was hard to track down, but we were able to get a little information. In addition to being from Colorado, Joes is said to have at least one sibling, a sister by the name of Beth Schiffman. The names of his parents, high school, and most other early life facts proved to be unattainable for the most part.
Whether you are a Hoda fan or not, it was difficult during the early, more secretive, time during their relationship, to not wonder who she was dating. By the time we discovered who Hoda's beau was, we were ALL dying to find out about him, fans or not. Maybe this was out of an Americanized sense of familial responsibility to the anchorwoman…we're not sure. But now we all know so much more than we did before, and I'm pretty sure we are feeling much more comfortable with who our favorite Today Show anchor is living with. We hope they are blessed in their lives together, and that they both enjoy only the purest of happiness with their daughters in their future.