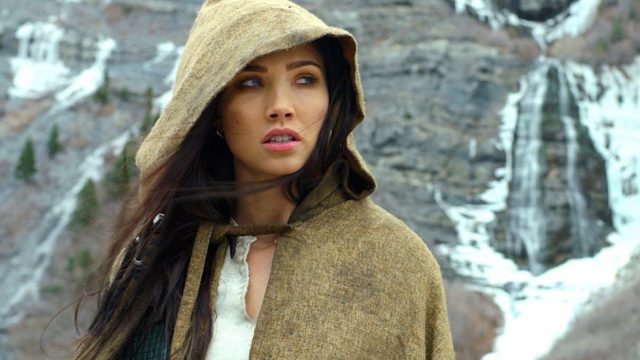 If you haven't already heard of Australian actress Jessica Green, you soon will. The talented star is about to light up our screens (and our summers) in the action-packed second season of The Outpost- and if her performance in the first season is anything to go by, we're set to see a lot more of her over the coming years. The actress may be taking LA by storm at the moment, but she began her career as a model on the Gold Coast. To find out what inspires, drives and entertains the rising star, keep reading.
1. Her brother dated Paris Jackson
Jessica isn't the only member of her family to hit the news in recent years. Back in 2017, her brother Tyler (who's been blessed with the same good looks as Jessica and is currently pursuing a career in modeling), was spotted getting friendly with Michael Jackson's daughter, Paris Jackson. The relationship fizzled out shortly after the pair were snapped canoodling at the Melbourne Cup, but if Paris' Instagram is anything to go by, she continued to hold a candle for her ex for quite some time, sending him a Valentine's card the February after their split that made no secret of her continued affections.
2. She's in a long-term relationship
Millions of men around the world will be disappointed to learn the Australian beauty is off the market. She's been in a long-term relationship with boyfriend Cayden for some time (ever since she was 17, in fact), and if the Instagram pictures she posts of the pair together are anything to go by, they're well and truly in love.
3. She started working at 14
Blessed with the kind of natural good looks that make others green with envy, modeling was a natural career choice for Jessica. She began auditioning at just 14 years old, and the jobs soon started lining up. In addition to working as a commercial model for brands such as Billabong and Nike, she's also worked as a social media influencer for Mossy Australia and Fashion Brand, and as brand ambassador for Oscar Hair, Celliini Australia, ProBio Skincare, Bella Bronze tan, Porsche Gold Coast and Mayella Skincare.
4. Her biggest influence is her mom
Ask Jessica which 5 actors and actresses have inspired her the most, or would be her dream to work with, and she'll answer Leonardo DiCaprio, Ryan Gosling, Jennifer Lawrence, Margot Robbie, and Rachel McAdams. Ask her who her main inspiration is in life, and the answer will be quite different. "My mum," Jessica answered when Relate Magazine asked her the same question. "She is there for me every step of the way, supporting me and encouraging me."
5. She has a tattoo
Let's face it, Jessica isn't averse to posting the occasional bikini-clad picture to Instagram, but even the most eagle-eyed fan of the young star is unlikely to have spotted a tattoo on her body. And yet, apparently, she has one- and not the kind you'd expect. Rather than opt for an inspirational quote along her wrist or a colorful butterfly dancing above her ankle, Jessica went for something else entirely — a tattoo of the word "thug" on the inside of her bottom lip. The tattoo is less a statement of Jessica's lifestyle and more a tribute to her affection for hip-hop legend, Tupac. At the same time as Jessica was getting her tattoo, her friend was getting her own lip imprinted with the word "life" to complete the theme.
6. She can ride a horse
When Jessica landed the role of Kiki in "Lightning Point", she not only had to get over the nerves of playing her first major character, she also had to learn a brand-new skillset. As part of the action-packed series, Kiki was regularly seen riding a horse — something that at that point, Jessica had no experience of. However, she quickly mastered the skill and continues to ride to this day.
7. She has a pet parrot
Exotic creatures might be all too familiar to the residents of Australia, but we doubt many of them keep a parrot as a pet. Jessica, on the other hand, does and has given her beloved bird the somewhat unusual name of Pepeeto. Pepeeto isn't the only pet in Jessica's life, however, and has to share her affections with her pet dog.
8. The Outpost is her US breakthrough role
Jessica may have been making a name for herself in her native Australia for some years, but it was her casting in The Outpost that proved to be her breakthrough role in the US. In a rare feat, Jessica managed to get the part without coming face to face with the casting director: "I sent tapes to them and got cast purely off my tape, which is awesome," she told Courier Mail. "I was always skeptical as to whether that would work or not, if the casting director would ever even watch the tape.' Apparently, he did, and the rest, as they say, is history.
9. She's no fan of LA
Given the direction Jessica's career is taking, it's likely she's going to be spending a lot more time in LA over the coming years… something she's not entirely happy about. "I don't like LA that much. I don't really want to live there, so if you can audition and tape at home you get the best of both worlds," she's revealed to Perth Now. "LA is a very cut-throat place. Everyone is there for a reason, to get somewhere. There's a lot of people who will stand on your head while you drown to get ahead of you. Everyone is out there for themselves."
10. She's featured in a music video
As well as making her mark in modeling and acting, Jessica has also dabbled in music- or, at least, in music videos. In 2013, she was invited by Australian YouTube sensation Cody Simpson to appear in his video to "Pretty Brown Eyes", a chance she jumped at. "Cody and his family a good friends they are also from my home town the Gold Coast in Queensland, Australia," she explained to Teen Ink. "I was lucky to be in America at the time he filmed the video we had the best day. I love working with talented people like them."