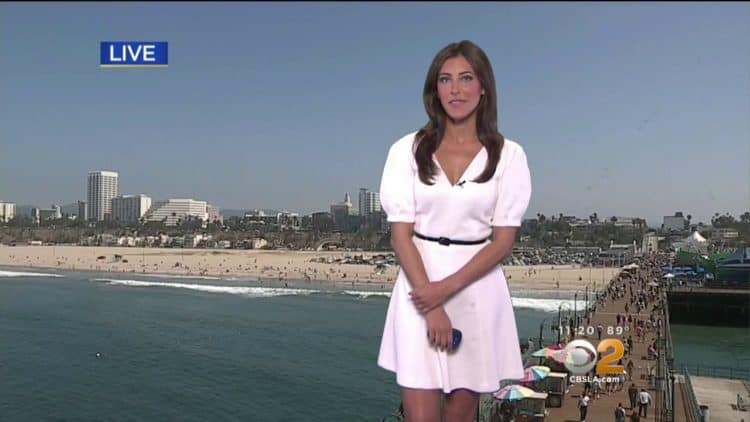 If you live in Los Angeles and you watch the local news on CBS, you know Danielle Gersh quite well. She's your lovely weather forecaster who spends her time focused on helping SoCal natives figure out what to wear, what to bring with, and how to spend their days based on what kind of sunny and warm day it will be that day. However, she's nowhere to be found all of a sudden, and her fans are not sure what happened to her. Where did she go? What do you really even know about Gersh?
1. She is Young
It's been reported that she is currently only 30. This would mean that the Los Angeles meteorologist was born sometime in either 1990 or 1991 depending on when her birthday falls this year. She's young, but she's earned her way to this position with her skill, her camera presence, and her ability to make people feel welcome when they watch.
2. She is A College Graduate
When Danielle Gersh decided to go to college to study journalism, she chose to attend school at Dallas' Southern Methodist University. She graduated with her degree in convergence journalism after her four years in Dallas.
3. Her Career Began in California
Following her college graduation, she was hired by the CBS Local 2 station in Palm Springs. Gersh headed that direction in 2013 and spent two years working as a journalist for the station before she took off. Those two years were invaluable to her.
4. She Worked on the East Coast
Before making her way to LA, she headed east for a few years. Gersh went from Palm Springs, California to Boston, Massachusetts. She was a traffic and weather anchor for a local channel there. She worked for the Boston station from 2015 to 2017.
5. She is No Longer Working for CBS
Well, we don't know if she's working for CBS elsewhere – or will start a new job soon – but we do know that she announced on March 28 via Instagram that the Friday prior to that was her last day as the meteorologist on her local station. She said that she closed one door so that she could open another, and that leaves us believing she has a new job elsewhere.
6. She's an Animal Lover
There appear to be two things in her life that she loves more than anything, and those two things appear to be horses and dogs. Many of her Instagram photos show her posing with one or the other. Sometimes, she poses with both.
7. She's a Travel Fan
Another fact about Danielle Gersh we can ascertain from her social media profile is that she enjoys traveling. She appears to find some joy and some peace when she is seeing the world. From the beaches of the Caribbean to the mountains of Colorado, you will find her having the time of her life doing things that keep her outdoors and having fun.
8. She's Very Private
Something we cannot find on her social media profile is any mention of her personal life. While it's clear she enjoys spending time with her friends and her family, she doesn't say anything at all about her personal life. She either enjoys keeping her private life to herself or she doesn't have much to talk about. We imagine that she simply doesn't like to share things that are deeply personal to her.
9. She's Not Afraid to Try New Things
From fishing in the lakes of Aspen to golfing on beautiful courses, she is someone who likes to try all kinds of things. She's clearly very outdoorsy and enjoys spending her time outside, and that is something we can appreciate. Being outside is always the best way to spend time, and there is nothing wrong with wanting to be outdoors, try new things, and be adventurous anytime you have the opportunity.
10. She Gives Back
Danielle Gersh finds giving back important. She takes part in different activities around her area that give back, and one such program allows her to help raise money and awareness for families who have kids with special needs. She is someone who knows the importance of education and finding a way to help those who are looking for the resources they need, and she along with CBS LA spend a lot of time giving back to their local community as part of their jobs and as part of their desire to make the world a little better each day. She's lovely.